On July 12, 2016, the Rosenberg Institute of Global Finance at Brandeis International Business School, Olin Business School at Washington University in St. Louis, and the Brookings Institution's Hutchins Center on Fiscal and Monetary Policy hosted the 5th annual Municipal Finance Conference at Brookings. The conference brought together academics, practitioners, issuers and regulators to discuss recent research on municipal markets and municipal finance.
---
About the organizers
Daniel Bergstresser is Associate Professor of Finance at the Brandeis International Business School. Bergstresser's research focuses on municipal finance and on the impact of taxation, regulation, and market structure on financial markets. This research has been published in the Journal of Law and Economics, the Journal of Financial Economics, The Quarterly Journal of Economics, Review of Financial Studies, and Journal of Public Economics, and has been widely cited in both the academic and business press. He earned a Ph.D. in Economics at MIT, and earned an A.B. at Stanford. In 2006 and 2007, he worked for the investment manager Barclays Global Investors, serving in London as Head of European Credit Research. Prior to graduate school, he worked for the Federal Reserve Board in Washington D.C.
Richard Ryffel is a senior lecturer at Washington University's Olin Business School. During his 30-year career in investment banking and asset management, Ryffel advised colleges and universities, hospitals, cities, states, airports, school districts, and corporations on financings and capital structure, and led hundreds of financings in both the taxable and tax-exempt markets. Mr. Ryffel joined Washington University full-time in 2015 after having worked at IBM Corporation, A.G. Edwards (now Wells Fargo Advisors), Bank of America, Edward Jones, and J.P. Morgan.  He consults and writes in the areas of municipal finance and endowment management and governance.
Louise Sheiner is a senior fellow in Economic Studies and policy director for the Hutchins Center on Fiscal and Monetary Policy. She had served as an economist with the Board of Governors of the Federal Reserve System since 1993, most recently as the senior economist in the Fiscal Analysis Section for the Research and Statistics Division. (At the 2013 municipal finance conference, Sheiner and Byron Lutz at the Fed presented their work on state and local retiree health obligations.) She also has served as Deputy Assistant Secretary for Economic Policy at the U.S. Department of the Treasury (1996), and served as Senior Staff Economist for the Council of Economic Advisers (1995-96). Before joining the Fed, Sheiner was an economist at the Joint Committee on Taxation.
David Wessel is director of the Hutchins Center on Fiscal and Monetary Policy, which provides independent, non-partisan analysis of fiscal and monetary policy issues in order to further public understanding and to improve the quality and effectiveness of those policies.  He joined Brookings in December 2013 after 30 years on the staff of The Wall Street Journal where, most recently, he was economics editor and wrote the weekly Capital column.  He is a contributing correspondent to The Wall Street Journal, appears frequently on NPR's Morning Edition and tweets often at @davidmwessel.
---
Advisory committee
David Abel, William Blair & Company
Tim Coffin, Breckinridge Capital Advisors
Karl Dean, Boston University
George Friedlander
Allen Garman, Maryland Transportation Authority
Tracy Gordon, Urban Institute
Nikki Griffith, Department of Finance of Howard County, MD
Andrew Kalotay, Kalotay Associates
Brian Knight, Brown University
Byron Lutz, Federal Reserve Board of Governors
Peter Orr, Intuitive Analytics
Kim Reuben, Urban Institute
Daniel Shoag, Harvard University
Bryan Sullivan, State of Delaware
Stephen Winterstein, Wilmington Trust
Clint Zweifel, State Treasurer of Missouri
Related Content
Changing patterns in household ownership of municipal debt
Why has regional income convergence declined?
U.S. Economy
Why has regional income convergence declined?
Daniel Shoag, Peter Ganong
August 4, 2016
Lessons learned from Detroit: A judge's perspective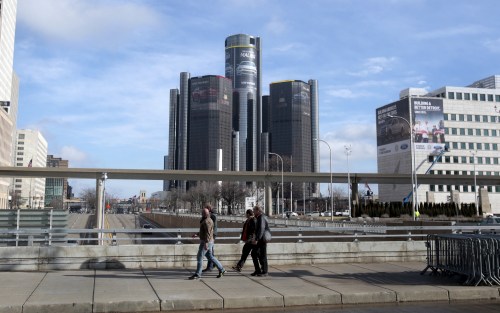 Federal Fiscal Policy
Lessons learned from Detroit: A judge's perspective
Evan Bursey, David Wessel
July 20, 2016