Esquire magazine collaborated with Brookings experts to present "fateful choices to make right now" in its December/January (2015/16) issue. Calling Brookings "a bullsh*t-free zone of critical inquiry, original research, and public-policy solutions for one hundred years," Esquire notes that "our choices ought to bind us together rather than absolve us from responsibility for one another, because that's what having a country—a commonwealth—means." The issues are:
• Climate change
• Corporate tax rates and tax inversions
• Transportation infrastructure
• H-1B visas and skilled immigrant workers
• Social mobility and "stuckness
• Marijuana legalization
• The state of public defenders
• Health care
• Gun policy
• Money in politics
• American "greatness"
Highlights of the article and Brookings experts' contributions to the ideas are presented below. You can download a PDF of the entire article here, or find it in magazines on newsstands. It will be available online in the new year.
(Esquire) "There's not a ton the United States can do on its own about the Michael Bay movie that the earth is slowly becoming."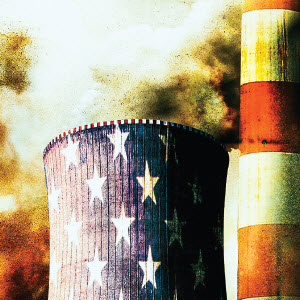 Senior Fellow Adele Morris is an expert on the economics of climate change. She told Esquire that "If you're not talking about putting fundamental changes into the market—if you're not talking about pricing carbon—you're not serious about climate change."
In the leadup to the Paris climate conference, Morris and frequent collaborators Warwick McKibbin and Peter Wilcoxen (both nonresident senior fellows at Brookings) offer their carbon pricing plan (PDF) that "creates broad, efficient incentives to reduce greenhouse gas emissions."
---
"Because of these so called [tax] inversions—ten more of which are in progress, and all of which are stunning acts of national disloyalty—we lose not only jobs but also tax revenue."
Senior Fellow Bill Gale has written that although the Obama administration issued new regulations in 2014 to limit the tax inversion practice, "Congress has not addressed the underlying tax causes of inversions, including high statutory U.S. corporate tax rates." Gale moderated a panel of experts in an event on corporate tax inversions that featured remarks from Sen. Orrin Hatch (R-Utah). As we learn of Pfizer Inc.'s plan to buy Ireland-based Allergan in an inversion deal, which will also create the world's largest drugmaker, the issue maintains its resonance.
---
"147,870 bridges … have been deemed structurally deficient or obsolete, as well as … 570,673 miles of public road in the United States … are now in poor condition."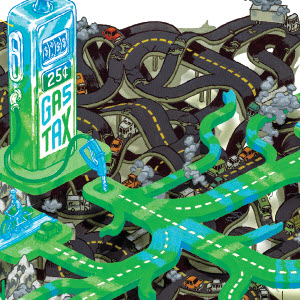 "We're not even maintaining our basic transportation infrastructure," Senior Fellow Rob Puentes, director of the Metropolitan Infrastructure Initiative at Brookings, told Esquire. "We look with envy at Europe and Japan and their high-speed rail and great leaps forward in 21st-century ideas, and wonder why we can't be more like them." These countries are, Puentes says, "just doing there what we used to do here."
In a recent paper, he and co-author William Galston, also a senior fellow, explain four positive outcomes of closing "the infrastructure investment gap": 1) boost jobs; 2) enhance economic growth by decreasing business overhead; 3) better connect households to jobs, health care, and education; and 4) reduce greenhouse gas emissions.
---
"Should we limit the number of smart people living in the U.S.?"
The H-1B visa allows highly-skilled foreign workers to take positions in specialty occupations, such as engineering and computer programming, in the U.S. Esquire observes that in 2015, 148,000 highly-skilled workers applied for the visa but did not get one of the limited number of available visas. Brookings experts have studied the H-1B visa system and recommended reforms including making the system less complex, finding ways to retain STEM foreign students, and paying attention to the geographic distribution of H-1B demand to better allocate visas.
---
"At the very heart of the American idea is the notion that, unlike in other places, we can start from nothing and through hard work have everything. … But what if that's just a myth?"
Senior Fellow Richard Reeves writes, in a full essay in this edition of Esquire, that "America is stuck." The problem isn't the American Dream, he argues, but "the growing failure to realize it. Two necessary ingredients of Americanism—meritocracy and momentum—are now sorely lacking." And the result is what Reeves describes as stuckness, a feeling of "limited possibilities and uncertain futures," and "weak circulation and mobility across class lines." Reeves offers many data points to back up the argument, including:
• 7.5 percent of American children born into the bottom rung of the ladder rise to the top, compared to 13.5 in Canada
• Those born at or near the top of the economic ladder stand a 56 percent chance of staying there as adults
Reeves further explores the social mobility problem as it disproportionately affects black Americans. The average white household has 13 times the wealth of the average black one, and 66 percent of black children live in America's poorest neighborhoods, compared to 6 percent of white children. In the Esquire article and also on the Social Mobility Memos blog at Brookings, Reeves offers ideas for rectifying the problem. "The future success of the American idea must now be intentional," he says.
Watch this video for Reeves explanation of the social mobility problem:
---
"For the purposes of federal regulation, law enforcement, and all-around sanity, all Americans deserve some clarity on the legality of marijuana …"
Fellow John Hudak's research on marijuana policy shows that over 149 million Americans live in states with full medical marijuana programs, and over 17 million live in states with legal recreational marijuana. As he tells Esquire, "the conversation around legalization almost always begins with a false premise: if we legalize, all of the sudden we'll start having drugs everywhere, as if these drugs and the economies around them don't already exist." The alternative is to tax and regulate marijuana to create effective and efficient markets that lead to what Hudak calls "an aboveground, white-market economic impact." 
One particular aspect of the marijuana debate that has been on Hudak's radar is the conflicting regulatory regime around medical (i.e., not recreational) marijuana. "Of all the controlled substances that the federal government regulates, cannabis is treated in unique ways that impede research." Watch the video about this below:
---
"Anywhere from 60 to 90 percent of criminal defendants rely on public defenders. The only hitch is that there aren't enough of them."
Esquire notes that all Americans "have a constitutional right to attorney" but that it would take up to 6,900 additional public defenders just "to handle the current caseload." This gap can "undermine everything from policing to prisons" and higher-quality representation in the judicial system "would result in a justice system actually worthy of the name."
---
"With each and every one of the Republican candidates for president vowing to repeal and replace Obamacare … and with Republicans all but certain to maintain control of [Congress through 2018], there's a good chance that this dog might actually catch the car."
Eighteen million people currently have health insurance through the Affordable Care Act's exchanges or through expanded Medicaid programs run by states. Brookings health policy experts, including Senior Fellow Alice Rivlin (who directs the health policy center at Brookings) and Senior Fellow Henry Aaron in particular have offered analysis and ideas on health costs, coverage, and the ACA.
Rivlin argued, in a recent paper on economic issues the presidential candidates should address, that "the GOP must have a detailed plan to 'replace' the ACA if they repeal it" while "Democrats should go beyond ACA defense and a technical corrections bill" to focus on specific policy modifications. Aaron has recently looked at what United Health Care's announcement that it might stop selling health insurance through ACA exchanges in 2017 might mean.
Get more research and commentary on health policy issues from the Center for Health Policy at Brookings.
---
"So if you buy a gun off the Internet, should you have a NICS check done just as if you were buying a gun from a licensed dealer?"
Esquire observes that "an interesting thing has been happening at the grassroots level—an earnest effort by gun owners to close the personal-sales loophole" that permits this type of gun sale to bypass the National Instant Criminal Background Check System.
Gun control—or gun safety—policy isn't a policy focus for Brookings scholars, but in 2013, a Brookings Essay treated the issue following the massacre of 20 children and six adults at Sandy Hook Elementary School in Newtown, Connecticut. In that essay, Matt Bennett, senior VP for public affairs at Third Way, wrote of the attempt in the shooting's aftermath to close the gun show loophole. 
That same year, John Hudak also wrote of efforts in Connecticut to make gun control work. "As the first anniversary of the tragedy at Sandy Hook Elementary School nears," Hudak wrote in late 2013, "officials across Connecticut are working together, in a bipartisan manner, to meet citizen demands to address gun violence, lapses in the mental health care system, and weaknesses in school safety."
---
"When money has been legally found to equal speech, how much speech can you afford? Even if it's to support a cause or candidate you find worthy, should anyone have that kind of power?"
John Richardson, a contributor to Esquire, writes in a short essay in the Brookings-Esquire spread that the Supreme Court decision in Citizens United allows "unlimited sums of money … [to] concentrate power in a way the robber barons could have only dreamed." 
VP and Director of Governance Studies Darrell West explored the phenomenon of the super-wealthy in politics in his 2014 book "Billionaires." In the book, West examined how the top one percent own about a third of the assets in America and around 40 percent of assets worldwide, giving them extraordinary influence on elections, public policy, and governance.
Visit West's billionaires political power index to see a ranking of U.S. billionaires in terms of their political influence and election activism through the 2014 midterm elections.
---
Esquire's tenth critical issue is "Should we make America great again?" echoing a certain candidate's campaign slogan. "All depends, kemosabes," they write. Read the piece (PDF) to find out on what it depends.
Note: All images are from illustrations by The Heads of State in the Esquire article.