After two decades of unprecedented cooperation between the major nations, great power competition has returned. Russia and China are seeking spheres of influence and doubts surround the United States' commitment to maintaining a liberal international order. But what will geopolitical competition look like in the 21st century?
In his new book, "All Measures Short of War: The Contest for the 21st Century and the Future of American Power," Thomas Wright, director of the Center on the United States and Europe and fellow with the Project on International Order and Strategy, examines this new era of strategic competition. Wright shows why the post-Cold War era of convergence came to an end and how major powers are now using interdependence to gain a strategic advantage over their rivals. He argues that the great powers all seek to avoid a major war with each other but will compete will all measures short of that, including cyber war, economic war, proxy war, and coercive diplomacy.
Following opening remarks from Wright, Susan Glasser, chief international affairs columnist with Politico, moderated a conversation among Wright, Gérard Araud, ambassador of France to the United States, and Robert Kagan, senior fellow with the Project on International Order and Strategy at the Brookings Institution. The discussion considered a new American strategy—responsible competition—for navigating these challenges and strengthening the liberal order.
Related Content
All Measures Short of War: The Contest for the 21st Century and the Future of American Power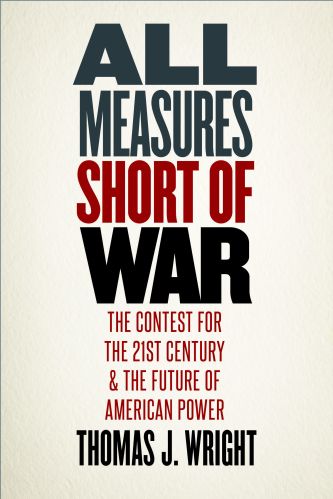 U.S. Foreign Policy
All Measures Short of War: The Contest for the 21st Century and the Future of American Power
Building "situations of strength"

U.S. Foreign Policy
Building "situations of strength"
Derek Chollet, Eric S. Edelman, Michèle Flournoy, Stephen J. Hadley, Martin S. Indyk, Bruce Jones, Robert Kagan, Kristen Silverberg, Jake Sullivan, Thomas Wright
February 22, 2017
Trump's NATO Article 5 problem