Now, more than ever, the world needs growth-oriented and socially inclusive policymaking.
Is the world giving up on the promise of ever-greater prosperity for all, on functioning democratic institutions, and on long-term peace? Is the special set of circumstances that led to the recent rapid growth in emerging markets unlikely to be present in the future? Will the second decade of the twenty-first century end with "secular stagnation"? Does the rise of authoritarianism, populism, and fanatic nihilism—all experienced over the last few years—threaten to unravel what has been built painstakingly since the catastrophe of World War II?
Kemal Derviş addresses these and similar questions in this thought-provoking series of essays written for Project Syndicate from 2011 to 2015. The essays are organized in three sections: global economic interdependence, inequality and the political economy of reform, and the specific challenge of Europe.
The common theme is the need for growth-oriented and socially inclusive policymaking in an interdependent world. These kinds of policies offer the potential for another wave of unprecedented human progress aided by breathtaking new technologies. However, a huge and destabilizing disruption is possible if policymaking is not globally cooperative and is not focused on inclusion and greater equity.
These essays synthesize the experience and analysis of a scholar and policymaker with national, regional, and international experience at the highest levels. Derviş exhibits a passion for combining strongly held values with political feasibility.
Related Books
Europe's Crisis, Europe's Future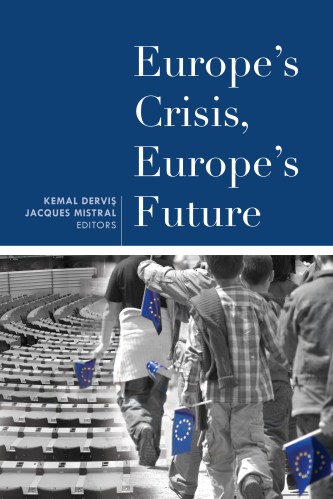 Greece
Saving Europe
Praise for Reflections on Progress
Dervis's book is an intelligent trip about a period of time in which we lived through deep transformations, economically and politically. He deals with those changes knowledgably and with care, and in the company of those who were less well treated by those interns.
He has taught be a great deal.—Javier Solana, former Secretary General of NATO and High Representative for Common Foreign and Security Policy of the European Union
In a series of brilliant essays, Kemal Dervis presents a kaleidoscopic view of the tumultuous years between 2012 and 2016. The essays focus on key issues of today: the future of globalization, the politics of inequality, and the fate of the most ambitious project of supranational governance, the European Union. With his vast knowledge and experience spanning continents, cultures, and decades, there is no better guide to these themes than Dervis.—Branko Milanovic, Visiting Presidential Professor, Graduate Center, City University of New York
Kemal Dervis is vice president and director of Global Economy and Development at Brookings Institution. Formerly head of the United Nations Development Programme and minister of economic affairs of Turkey, he focuses on global economics, emerging markets, development, and international institutions.