"Even among Latinos, immigration reform is not a top-tier issue," Senior Fellow Bill Galston said today during a panel discussion of a new Brookings/PRRI survey on what Americans want from immigration reform in 2014. Galston, a co-author of the report, was joined by fellow co-author and Brookings Senior E.J. Dionne, Jr., Robert Jones of PRRI (Public Religion Research Institute), the Washington Post's Robert Costa, and Stella Rouse, a professor at the University of Maryland.
Galston noted that, according to the survey, for Latinos, "bread and butter issues such as jobs and health care emerged at the top." In fact, across the board, job creation was the top priority for Americans in all political and demographic groups.
Galston observed that immigration was in the bottom tier, or outside the top three issues, for all groups. "We found much more agreement than disagreement across all of the lines you can imagine," he said, "whether its ideology or partisanship or age or gender or race or ethnicity, you name it. We found more agreement or disagreement about the top priorities for president and Congress."
Watch:
---
Jones, CEO and founder of PRRI, opened the event with a presentation of the survey's findings. He said that while a more pessimistic view of the country and leadership prevails overall, particularly with respect to President Obama's job approval numbers, there is a more positive view of immigrants. The perceived cultural threat from immigrants, Jones explained, has dropped significantly since 2010, while the view that newcomers from other countries strengthen American society has increased: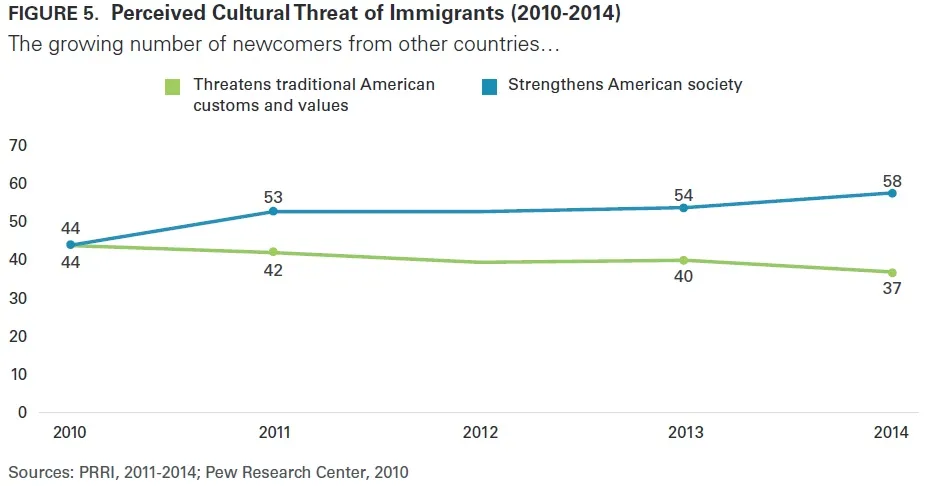 At the same time, Jones pointed to a "fairly remarkable stable finding" that support for a path to citizenship for immigrants currently living in the U.S. illegally has remained about the same over the past year.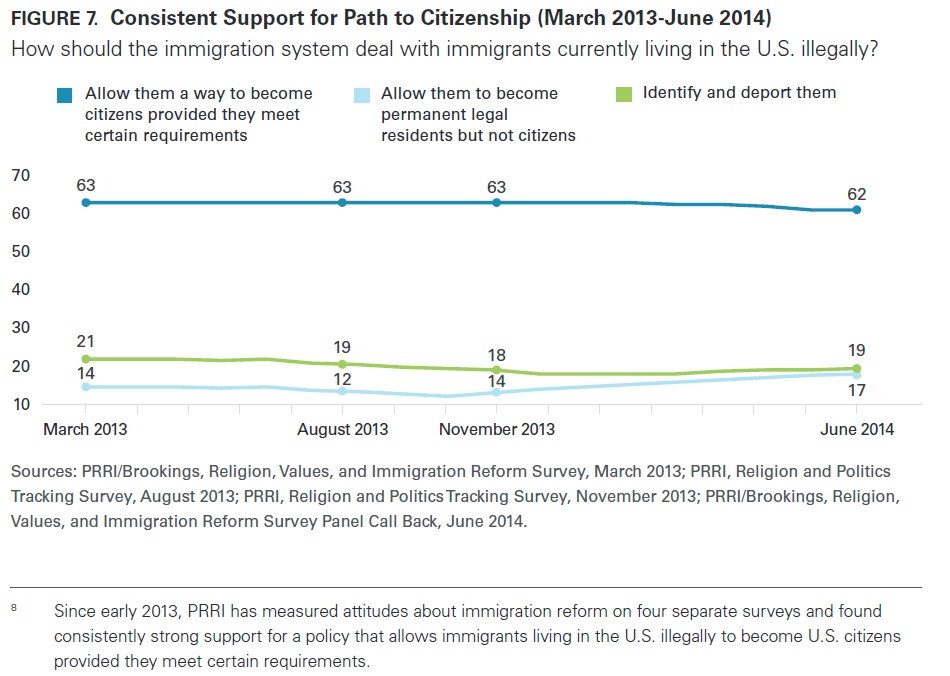 ---
"The one thing people seem to agree on about immigration," Professor Rouse said, "is that it's not really a priority for most Americans." While this finding might be surprising to some, she said, it is consistent with other polls and her own research. It is "more of a headline grabbing issue than a life-changing issue for most Latinos" and, while not de-emphasizing its importance for those who are undocumented or who are trying to bring a family member to this country, she said that it is tied to other issues, like education.
Watch:
---
In discussing the effects of religious affiliation on immigration views, panelists cited prior research as well as the report's findings on the distinctiveness of white evangelical Protestants in their opinion on immigration and its effect on American culture. As Rouse explained, the survey's findings "show the importance of examining immigration through a religious lens as well as an important cleavage on topic that is sometimes overlooked by mainstream media."

"What is striking to me is how white evangelical Protestants stand out in their attitudes to immigration," said Rouse. In comparing the attitudes of other religious groups, Rouse pointed out that "60 percent of white evangelical Protestants say immigration hurts the economy … and a majority of them say immigrants threaten traditional American values."
Jones explained that "while white Catholic concerns about immigration were mostly driven by economic concerns, about jobs and resources, white evangelical Protestants were driven both by economic and cultural concerns." Jones continued to stress the cultural anxieties felt by this group in the face of changing demographics and the perceived changes to American culture in the face of immigration. Jones argued that these fears were enhanced by the changing demographics in the south where many white evangelical Protestants are concentrated.
---
In his comments, Dionne focused more on the survey's findings about media consumption, polarization, and Americans' attitudes about how the United States should engage in the world. He made the point that "not everything in this survey supports the idea that media are pushing people in a particular direction."
Dionne focused considerable attention on the survey's findings for media consumption, especially what he termed "Fox News Conservatives" and "Fox News Independents." In speaking more broadly about the position of Fox News on the conservative side, Dionne said that the data show that "Fox News has an acceptance, a popularity it is better to say, among Republicans and conservatives. Among liberals and Democrats, there is no dominant media source."
Citing the data above, Dionne said that "There is no hegemonic liberal news source." Continuing:
One can give various reasons for this. I had mentioned these findings recently to a conservative friend who said, "Well look, of course we rally to Fox; Fox is all we have!" Now I disagree with my friend that all these other media sources, with the exception of MSNBC in the evening, are clearly liberal sources. But it doesn't really matter what I think, what matters is a lot of Republicans and conservatives feel that way. But I think this suggests a political power on the Republican side of Fox News that no other medium has on the Democratic side.
---
Robert Costa of the Washington Post spoke in some detail about the political challenges to Republicans in Congress of acting on immigration reform. For one thing, in this election year, "they don't really feel forces from the left" which might influence them to support more action. Since, as Costa observed, President Obama lacks political capital, Republicans "are not really feeling the heat from the broad electorate" on immigration. But many Republicans also fear a revolt from the base of their party.
Watch:
---

You can
download the full survey here
.
Full event audio and video are also available here.
Elina Saxena contributed to this post.