What's the latest in health policy research? The Essential Scan, produced by the Schaeffer Initiative for Innovation in Health Policy, aims to help keep you informed on the latest research and what it means for policymakers. If you'd like to receive the biweekly Essential Scan by email, you can sign up here.
Julie M. Zissimopoulos, Douglas Barthold, Roberta Diaz Brinton, and Geoffrey Joyce find that high statin use, defined as an individual who was within at least the 50th percentile of filled prescription days over two years, was associated with a 12.5 percent lower incidence of Alzheimer disease (AD) in males and 14.6 percent for female Medicare patients relative to individuals with low statin use during the same time period. The association between AD incidence and statin use varied across sex, race/ethnicities, and statin type. For example, Simvastatin was associated with declined incidences among white men and women, Hispanic men and women, and black women. Among black men, high statin use was not associated with a statistically significant reduction in AD risk. The authors used claims data from 2006 to 2013 from a 20 percent sample of Medicare beneficiaries to compare high and low statin use across the four most common statin types with diagnoses of AD. These findings highlight the potential opportunity to decrease AD risk relatively inexpensively, as well as the need for more research into the relationship between statins and the mechanisms affecting AD. Full article here.
Graphic credit: Urban Institute
"A repeal limited to what can be included in a Reconciliation bill would leave us
worse off in terms of insurance coverage than we were before the ACA."
– Paul Ginsburg, PhD, Director of the Schaeffer Initiative
Linda J. Blumberg, Matthew Buettgens, and John Holahan estimate that a repeal of the Affordable Care Act (ACA) via the budget reconciliation process would increase the number of uninsured people by 29.8 million – 82 percent of which would be in working families – to a total of 58.7 million in 2019. The authors' analysis is based on the passage of a reconciliation repeal bill similar to the one that was vetoed in early 2016, which eliminated the Medicaid expansion, individual and employer mandates, and federal financial assistance for Marketplace coverage, but left in place the ACA's insurance regulations. Although state and local governments stand to save an estimated $76 billion over 10 years on Medicaid and CHIP spending, the authors note that the rise in uninsured would increase uncompensated care by $1.1 trillion over the same period, which would likely fall to some combination of health care providers and state and local governments to pay. These findings underscore the immediacy and magnitude of the impact repealing the ACA would have on both coverage and finances for health care stakeholders. Full article here.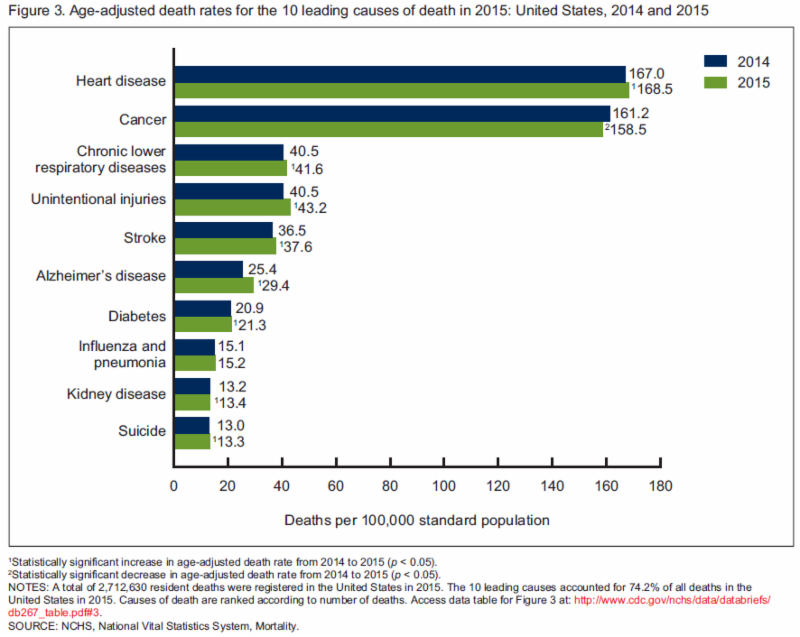 Graphic credit: the Centers for Disease Control and Prevention
Jiaquan Xu, Sherry L. Murphy, Kenneth D. Kochanek and Elizabeth Arias find that Americans' life expectancy dropped from 78.9 to 78.8 years in 2015, the first decline since 1993. They found the decline was slightly larger for men, at 0.2 year compared to 0.1 year for women. The report attributes much of this increase to rising incidences of heart disease, chronic lower respiratory diseases, unintentional injuries, stroke, Alzheimer's disease, diabetes, kidney disease, and suicide. Despite the overall decline, the CDC notes that life expectancy beyond age 65 for men and women remained unchanged from 2014 to 2015, signifying the overall decline is from deaths at younger ages. Advocates of chronic disease prevention and public health or social interventions may look to the CDC's report as evidence for further investment in these policies. Full article here.
Daria Pelech finds that Medicare Advantage insurers were 9 and 13 percentage points more likely to discontinue plan offerings in service areas with concentrated hospital and physician markets compared to those in service areas with the lowest levels of provider concentration. Further, insurers with less market power were more likely to exit compared to those with a large share of the market, particularly in areas of high provider concentration. Pelech studied the relationship between provider and insurer market concentration using data from 2009 to 2012, following an administrative change in 2011 that required Medicare private fee-for-service plans to negotiate with providers to establish provider networks. These findings may help policymakers better understand causes of insurance market concentration and consider tools for provider negotiation as one means of supporting insurer competition. Full article here.
Amy Finkelstein, Matthew Gentzkow, and Heidi Williams find that patients' health and care preferences account for 40 to 50 percent of the variation in geographic utilization, with the remainder attributable to doctors' incentives and beliefs, endowments of physical or human capital, and hospital market structure. Moreover, the authors found that provider characteristics of a patient's new location had an immediate impact on utilization, but that the patient's utilization did not converge over time with prevailing new market utilization rates. To evaluate the sources of geographic utilization variation, the authors use the claims and patient data for a 20% sample of Medicare beneficiaries from 1998 to 2008 and analyzed changes in utilization when a patient relocated. With this analysis of the relationship between patient and provider characteristics in health care utilization, policymakers may be better positioned to design reform policies that optimize the immediate and long-term responses of both stakeholders. Full article here.
The Essential Scan is produced by the Schaeffer Initiative for Innovation in Health Policy, a collaboration between the Center for Health Policy at the Brookings Institution and the USC Schaeffer Center for Health Policy & Economics.