Past Event
Low Carbon Development in the United States and China
Past Event
Low Carbon Development in the United States and China
The United States and China are the two leading emitters of greenhouse gases in the world. The individual approaches and results achieved in both the U.S. and China, including the success or failure of efforts at meaningful collaboration between the two countries will have a major impact on the global picture. China has decided to establish trial cap-and-trade systems in seven localities with a view to rolling out a nationwide system in 2016. The United States has also experimented with various approaches locally and nationally to reducing greenhouse gas emissions.

On December 14, the John L. Thornton China Center at Brookings hosted Qi Ye of the Climate Policy Initiative (CPI) and Tsinghua University for the launch of CPI's third Annual Review of Low-Carbon Development in China. Professor Qi, who is known throughout China as a leading expert on local level compliance and reporting on national environmental policy, discussed China's past experience with facilitating low-carbon development and its future prospects, with a focus on China's planned cap-and-trade system. He was joined by Brookings Managing Director William Antholis, a former White House climate change official, who discussed national and local action on climate change in the United States, and reflected on his own travels across China and India earlier this year. Brookings Senior Fellow Kenneth Lieberthal, who leads Brookings's yearly U.S.-China Clean Energy Conference, moderated the discussion.
Agenda
Introduction and Moderator
Director, The Climate Policy Initiative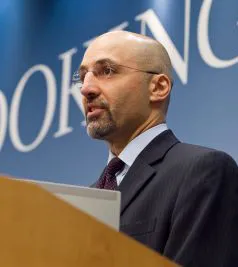 More Information
Contact
Brookings Office Of Communications
202.797.6105
To subscribe or manage your subscriptions to our top event topic lists, please visit our event topics page.
Mao Zedong did not see the value of reform and opening up. The China part of Nixon's 1967 Foreign Affairs article suggested an implicit bargain that provided the conceptual basis for China's new direction after 1978. That bargain was if China focused on domestic development and didn't threaten the security of its neighbours, the United States would help.
Sentiment inside the Beltway has turned sharply against China. There are many issues where the two parties sound more or less the same. Trump and others in the administration seem heavily invested in a 'get very tough with China' stance. It's possible that some Democrats might argue that a decoupling strategy borders on lunacy. But if Trump believes this will play well with his core constituencies as his reelection campaign moves into high gear, he will probably decide to stick with it, if the costs and the collateral damage seem manageable. But that's a very big if, especially if the downsides of a protracted trade war for both American consumers and for American firms become increasingly apparent.