With every new presidential administration, thousands of highly accomplished individuals face one of the greatest challenges of their lives: learning to become an effective presidential appointee. This handbook will help ease that task. In clear, crisp language, punctuated by numerous examples, Edward DeSeve explains the ten core competencies that distinguish successful presidential appointees. These skills and abilities range from personal dedication to public service and the ability to manage change to global awareness. In illustrating these concepts, DeSeve draws on ideas developed by scholars of public and business management, as well as his many years of government service. Equally important, he presents a guide to the key terms, laws, and regulations that new appointees will have to deal with once in office. Not surprisingly, presidential appointees have typically been successful in their professional lives. These are people accustomed to getting things done. But for many of them, the federal government constitutes a brave new world, full of daunting challenges and potential pitfalls. The Presidential Appointee's Handbook will help them find their footing and effectively formulate, implement, and enforce the policies of the president at whose pleasure they serve. It will also help political observers grasp more fully the enormity of installing and operating a new government.
Related Books
The Presidential Appointee's Handbook
The Obama Moment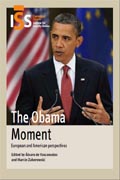 Presidency
The Obama Moment
Álvaro de Vasconcelos, Marcin Zaborowski
July 31, 2010
Government's Greatest Achievements
G. Edward DeSeve is senior lecturer at the University of Pennsylvania's Fels Institute for Government and senior fellow at the James MacGregor Burns Academy of Leadership at the University of Maryland School of Public Policy. He previously served as chief financial officer of the U.S. Department of Housing and Urban Development, controller of the Office of Management and Budget (OMB), and deputy director for management at OMB.