A non-incorporated territory of the United States, Puerto Rico operates under U.S. legal, monetary, security and tariff systems. Despite sharing in these and other key U.S. institutions, Puerto Rico has experienced economic stagnation and large scale unemployment since the 1970s. The island's living standards are low by U.S. standards, with a per capita income only half that of Mississippi, the poorest state. While many studies have analyzed the fiscal implications of Puerto Rico's political relationship with the United States, little research has focused broadly on the island's economic experience or assessed its growth prospects. In this innovative new book, economists from U.S. and Puerto Rican institutions address a range of major policy issues affecting the island's economic development. To frame the current situation, the contributors begin by assessing Puerto Rico's past experience with various growth policies. They then analyze several reforms and new initiatives in labor, education, entrepreneurship, fiscal policy, migration, trade, and financing development, which they incorporate into a proposed strategy for jumpstarting Puerto Rican economic growth. Contributors include Gary Burtless (Brookings Institution); Orlando Sotomayor, Luis Rivera-Batiz, Ramón Cao, Maria Enchautegui, José Joaquín Villamil, Eileen Segarra, Marinés Aponte, and Juan Lara (University of Puerto Rico); Richard Freeman and Robert Lawrence (Harvard University); Helen Ladd (Duke University); Francisco Rivera-Batiz (Columbia University); Steven Davis and Bruce Meyer (University of Chicago); James Alm (Georgia State University); Ingo Walter, Rita Maldonado-Bear, and William Baumol (New York University); Belinda Reyes (University of California, Merced); Alan Krueger (Princeton University); Carlos Santiago (University of Wisconsin); David Audretsch (Indiana University); Ronald Fisher (Michigan State University); Fuat Andic (UN Advisor); Arturo Estrella (NY Federal Reserve); James Hanson and Daniel Lederman (World Bank); James Dietz (University of California, Fullerton); and Katherine Terrell (University of Michigan).
Related Books
Restoring Growth in Puerto Rico
The Chilean Economy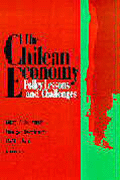 Open Budgets
Authors
Susan M. Collins is a senior fellow in Economic Studies at the Brookings Institution and a professor of economics at Georgetown University. Her publications focus on various dimensions of economic policy and performance for developing countries. Barry Bosworth is a senior fellow and Robert V. Roosa Chair in International Economics at the Brookings Institution. Miguel A. Soto-Class is the executive director of the Center for the New Economy, a Puerto Rico-based think tank focusing on economic development issues.