From Cleveland and Chicago to Philadelphia and Minneapolis, Infrastructure Week has highlighted a number of innovative efforts underway across the country to invest in the major physical assets  essential to economic growth. Whether focused on transportation, water, energy, or freight infrastructure, several states and metropolitan areas are taking matters into their own hands, even as Washington limps toward another deadline to shore up the Highway Trust Fund. By doing so, public and private leaders are accelerating improvements in support of more efficient transportation, cleaner water, expanded trade, and, perhaps most importantly, millions of good-paying jobs.
Memphis, Tenn., one of the final destinations for Infrastructure Week, embodies many of these themes quite well. As a global hub for trade and transportation, the metro area stands at the intersection of five major freight railroads, two interstate highways, and the Mississippi River to drive industrial growth. In addition to hundreds of warehouses and truck terminals, Memphis houses several port facilities linking a variety of global producers, consumers, and shippers in extensive value chains—led most notably by FedEx.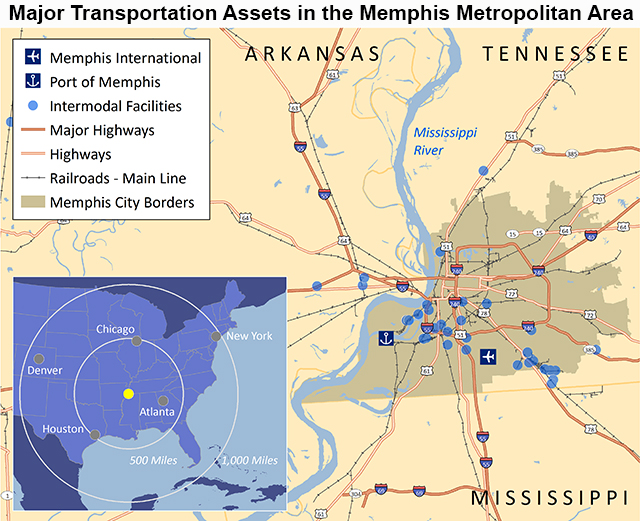 Source: Brookings analysis of Bureau of Transportation Statistics data
With more than $184.3 billion of domestic and international goods cycling through its borders every year, Memphis is able to build off its freight advantages to connect with dozens of regional trade partners. Baltimore, Chicago, and Atlanta are the largest in this respect, trading a combined $17.3 billion in goods with Memphis. Critically, these exchanges span many advanced industrial products, such as pharmaceuticals and precision instruments, which can further the area's long-term innovation and economic diversity.
Beyond these physical investments, Memphis also benefits from its infrastructure to directly support 100,190 jobs, or about 17 percent of its entire workforce, a share that leads all the nation's largest metro areas. Material movers, truck drivers, and cargo agents rank as the area's most significant infrastructure occupations, but thousands of additional workers are also employed as electricians, plumbers, and bus mechanics, occupations that provide competitive wages with relatively low barriers to entry.  As more of these workers are expected to retire in years to come, infrastructure can expand greater pathways to opportunity throughout the region.

Source: Brookings analysis of BLS Occupational Employment Statistics

Note: For a full list of metropolitan rankings, see the downloadable file on the

report webpage

Ultimately, several different development strategies and employment opportunities will propel future growth in Memphis, and infrastructure should continue to play a central role in these efforts. Dysfunction in Washington hinders the nation's economic competitiveness, but the major lessons from Infrastructure Week—including the need for targeted spending, increased public-private collaboration, and strong local leadership—signal a clear path forward for regions like Memphis to address their infrastructure challenges head on.