In the face of congressional gridlock, the Obama administration's Clean Power Plan represents major environmental action, aiming to simultaneously address the country's air pollution concerns, public health needs, and climate future. Building off several previous initiatives, the plan looks to cut power plant emissions by 32 percent under 2005 levels in the next 15 years, an undertaking not without its detractors.
Although the country as a whole has a long way to go to rein in air pollution —with more than 5.5 billion tons of carbon dioxide spewed out annually— and states are ultimately responsible for meeting the Clean Power Plan's regulatory targets, metro areas should also be a big part of this discussion. In addition to their growing energy demands, these regions contain some of the nation's largest power plants by total capacity, which can lead to a host of different environmental hazards and economic costs for nearby residents and businesses. In turn, seeking cleaner, more sustainable ways to produce energy directly implicates many metro areas.
For example, more than 2,600 of the country's 7,000-plus power plants (38 percent) operate within the 100 largest metro areas, ranging from coal and nuclear plants to wind and solar facilities. While many power plants are located in non-metro areas, they still have an enormous physical presence in the most populated markets; collectively, facilities in the largest metro areas have the capacity to generate 468 gigawatts of electricity, or about 44 percent of the national total by all fuel types (1,065 gigawatts), driving up pollution in several areas already coping with serious air quality concerns. 
Coal plants are particularly concerning in this respect, as they continue to emit the highest levels of carbon dioxide and other harmful air pollutants compared to all power plants nationally. In total, the 100 largest metro areas house 149 coal plants, with a combined capacity of 111 gigawatts of electricity, out of 511—representing more than twice the capacity of metro area nuclear plants (44 gigawatts) and six times that of hydroelectric plants (17 gigawatts). Together, the Detroit, Kansas City, and Louisville regions contain more than 20 coal plants alone, with a total capacity exceeding 14 gigawatts.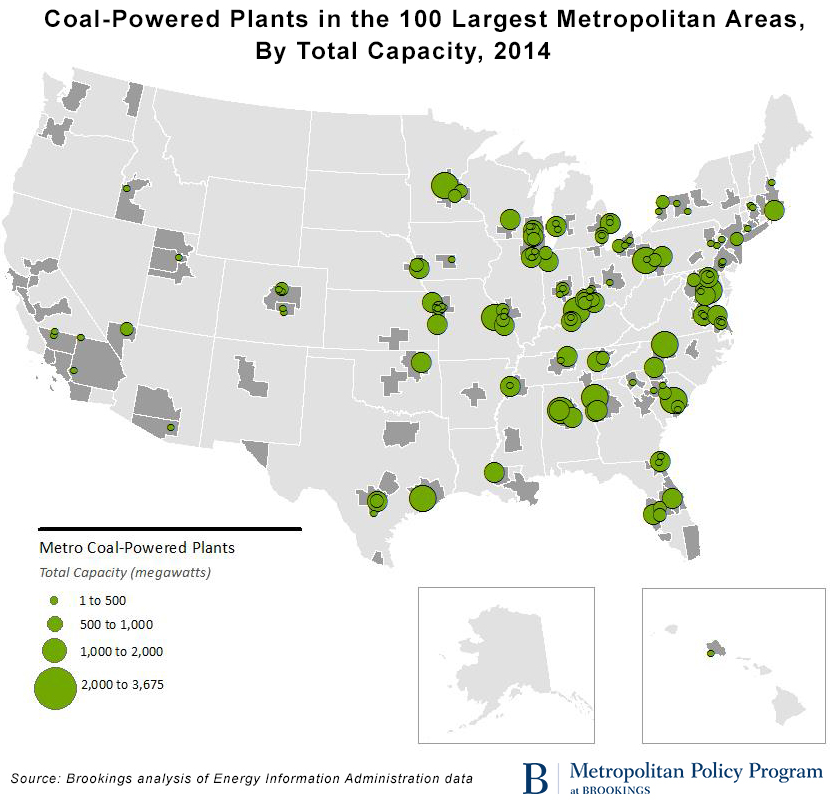 In some markets, coal plants also account for the majority of all electricity generated, even as more of these facilities close due to cost constraints and other changing market forces, including the widespread proliferation of natural gas. For instance, coal is responsible for more than 85 percent of the total capacity in places like Winston-Salem, Birmingham, and St. Louis. Still, cleaner sources of electricity, such as hydro power, are becoming more widespread in other areas; Portland and Los Angeles each have more than a dozen hydroelectric plants within their borders, while Seattle contains 11 facilities that help provide up to 90 percent of its electricity
As the federal government and states look to meet new carbon reduction targets under the Clean Power Plan, ensuring that metro areas produce energy in a cleaner, more efficient manner is crucial. Additional community engagement, in particular, represents a key step to alleviate pollution in neighborhoods close to dirty facilities. While the plan's benefits and costs are still widely debated, largely depending on the specific regions and plants in question, moving toward cleaner energy sources should represent an environmental and economic imperative at the federal, state, and metro level. 
Hat tip to the Washington Post, whose excellent piece on state-level electricity generation inspired this analysis.