Introduction
As we enter fall, children across the country have headed back to school. For decades, researchers have investigated the "summer slide"—when children's achievement scores are lower in the fall than they were at the end of the previous school year. Since the COVID-19 pandemic disrupted in-person learning, fears about children's "learning loss" are of great concern for parents, practitioners, and policymakers. Children from low-income families are disproportionately impacted by COVID-related challenges, further exacerbating pre-existing inequities across socioeconomic lines.
Most solutions to address summer learning loss focus on formal schooling, tutoring, or other structured enrichment programs. However, such activities are themselves often limited in scope and duration and may not be easily accessible to many children and their families, especially those from low-income backgrounds. Because children spend only 20 percent of their waking time in school, efforts focused solely on traditional educational practice are insufficient, and overlook other "everyday" opportunities to support learning.
Playful Learning Landscapes, an initiative of the Playful Learning Landscapes Action Network and the Center for Universal Education at the Brookings Institution, offers thoughtfully designed playful learning activities—in everyday spaces like bus stops, grocery stores, and parks—that can joyfully extend children's learning outside of a school-based environment. Philadelphia's Playstreets program provides an example of what can happen when city streets themselves became learning playgrounds that help students retain or even advance their math and reading skills during the summer months—while having fun in the process.
The scourge of the summer slide
In Philadelphia, almost 40 percent of children live below the federal poverty line, and many low income families are concentrated in neighborhoods long-challenged by racial segregation, disinvestment, and limited access to green space and recreational opportunities. Such inequities, coupled with public safety concerns in many of these communities, restrict children's opportunities to engage in play activities that can support learning and skill development—and help to put them behind peers from more resourced communities when they reenter the classroom at summer's end.
In the short term, summer learning loss increases the amount of time teachers spend repeating the previous year's content—time that could otherwise be spent building on existing skills and engaging in new subjects. Over the long term, these disparities manifest in Philadelphia children's achievement scores. In 2022, the percentage of students in Philadelphia who performed at or above the National Assessment of Educational Progress (NAEP) Basic level was 38 percent, lower than the average score for students in most large U.S. cities.
Typical solutions for combating the summer slide include summer school, summer homework assignments, tutoring, and public or philanthropically supported programming such as library-sponsored reading challenges. For example, programs like Philadelphia school district's Summer School/Credit Recovery and Extended School Year (ESY) are designed to maintain the progress students make on their most critical goals during the academic year. Extra-curricular programming during the school year can also help to support and advance children's learning, helping them stay ahead of the curve before summer begins. Such efforts should continue to be employed, evaluated, and expanded. But there are other ways to engage children in summertime learning activities that literally meet children and families on the streets where they live and travel.
Playful learning on Philadelphia Playstreets
Even when school is in session, children spend most of their waking hours outside of the classroom. During this time, cities themselves can become the playgrounds that encourage fun and learning. Playful Learning Landscapes (PLL) in public spaces make use of this informal learning time, and by engaging caregivers and children in everyday spaces, these opportunities are made accessible to all. Initiatives led by Temple Infant and Child Lab, KABOOM!, the Playful Learning Landscapes Action Network, and public sector and community leaders in numerous cities leverage playful learning to support student success.
The Play Every Philadelphia Playstreets Program closes designated streets to traffic during the summer to provide children a safe, free place to play outdoors. Each summer for six weeks, Playstreets selects hundreds of city blocks around Philadelphia and transforms them into learning hubs. Supported by Fab Youth Philly, trained local teens known as Play Captains engage children in playful learning. Children sing, read, and jump their way through learning activities designed to promote literacy and STEM-based language associated with academic achievement.
Play Captains are trained to innovate on typical playground games to transform them into playful learning experiences. For example, in Playful Learning tag, children are assigned numbers between one and ten, and as they are tagged, the tagger calls out the new sum of all the tagged children. In a Playful Learning relay race, children are prompted to count to 10 while jumping on one foot, before passing the baton to their partner, who must then count backwards from 10 while jumping on the opposite foot. Simple, yet effective activities like these embed ordinary play with joyful opportunities to practice addition, counting, and important executive function skills like integrating multiple sources of information and adapting to changing rules.
The positive impact of Playstreets
The impact of Playstreets has been documented and assessed across four years of studies in collaboration with the Temple Infant and Child Lab. Based on this research, we know that, from 2019 through 2022, children used more academic language on Playstreets when compared to children on typical playgrounds. For example, Play Captains on Playstreets helped elicit children's use of literacy-related language (e.g., reading aloud to a partner) and numeric and spatial language (e.g., counting, comparing more or less). Notably, even during the tumult of COVID in 2020, when children's learning was expected to decline, children's language use on the streets still increased. The most recent data in 2022 demonstrated a facilitation carry-over effect, whereby children's increase in language use continued even after the Playstreets closed in the afternoons. These studies provide evidence that the benefits of playful learning opportunities extend even after explicit facilitation ends.
Efforts like Playstreets also have benefits beyond children's learning. Community-based programming engages residents in transformative placemaking that strengthens communities. Physical improvements include improving streets by cleaning up litter and debris and enhancing them with resources provided by Philadelphia Parks and Recreation. Playstreets also combats rising rates of social isolation by providing spaces where children (and adults) can connect with peers and mentors. Finally, from a civic perspective, neighbors can build relationships with each other and with the city, which can foster stronger community bonds and civic engagement over the longer term.
Conclusion
Numerous other cities have launched their own Playstreets-type programs, including New York City, Cambridge (Massachusetts), Los Angeles, and Chicago, as well as in Tel Aviv and London—providing additional models other communities can look to for inspiration and ideas. It's worth the time and effort to do so: In the wake of unprecedented challenges exacerbated by the COVID-19 pandemic, now more than ever children need access to reliable, effective programming that can be a resilient source of learning, engagement, and fun.
For its part, the city of Philadelphia can continue to build on its success by expanding the program to more streets in more neighborhoods in the years to come. It can continue to evaluate program benefits for children and families, which can then inform future program goals and expand activities that promote joyful, equitable educational opportunities.
In the meantime, students who engaged in Philadelphia's Playstreets this summer will have started school ready—and hopefully eager—to learn.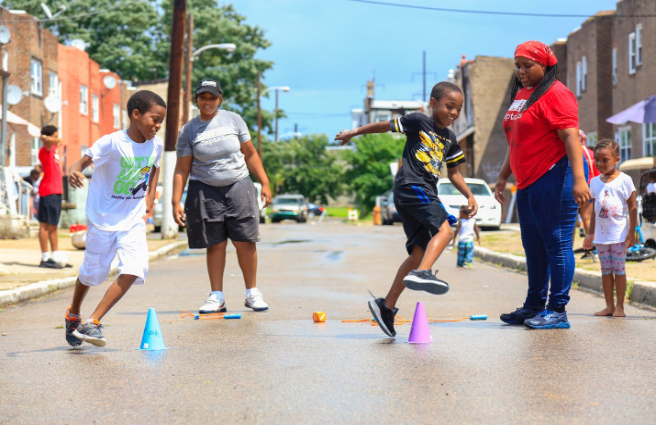 Source: Fab Youth Philly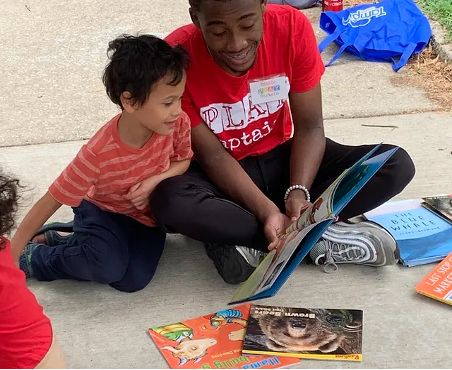 Source: Fab Youth Philly