This week, leaders from around the world will convene in New York at the United Nations to launch the Sustainable Development Goals (SDGs), an ambitious plan to end poverty that includes 17 goals from eliminating hunger to building more sustainable cities to providing a quality education for every child.
One of the best investments to achieve the wide variety of development outcomes demanded by these goals is providing high-quality education to every child in the world. In particular, ensuring girls enroll and stay in school all the way through secondary levels, has high returns across a number of different areas, including saving children's lives, reducing child marriage, improving economic growth, leading to smaller and more sustainable families, and making them more resilient to the effects of natural disasters. And yet there are still millions of girls around the world who cannot access school, who are not safe when they are there, or whose schooling is of such poor quality they aren't learning the skills they need to thrive.
Very quickly the SDGs will need to move from being a point of discussion among global leaders in the halls of the United Nations into programs of action within all countries in the world. To accelerate and sustain progress in education, and especially girls' education, it is necessary to have strong networks of local girls' education advocates, thought leaders, and social entrepreneurs.  More than ever before, the girls who are left behind face multiple barriers to getting into school and receiving a quality education.  Finding sustainable solutions to overcoming these barriers will need to draw upon global good practice but will ultimately need to be developed, adapted, and owned locally in communities across the developing world. For example, we know that violence in many forms limits girls' ability to get an education, but solutions to overcome violence will look very different in South African townships than they will in Pakistan's rural villages.
This is why ensuring that developing country girls' education advocates are at the forefront of this work is so important. Ten such leaders, whom we have had the great pleasure of working with through Brookings's Echidna Global Scholars program, are showcased below. They have all worked toward improving girls' education in their countries across three important dimensions: getting and keeping girls in school, improving the quality of girls' learning opportunities, and empowering girls to lead. You can get involved—read up on the work these leaders are doing or reach out to connect with them personally to learn more.
Getting and Keeping Girls in School
Khaddim Hussain, Pakistan
Mr. Hussain is the founder and CEO of Grace Association Pakistan, a nonprofit organization committed to empowering and improving the lives of people in marginalized and vulnerable communities. He works with grassroots organizations to promote community schools that foster inclusion for girls and children with disabilities, helping more than 7,000 girls enroll and graduate from primary school in remote northern villages in Pakistan.
"I want a girls' school in each village. Not only a girls' school, but, as I call them, inclusive schools, a school for all. In this way we can develop education in our society. Education is the power. When people are educated, they can go address their own issues. The first thing is education."
Follow Khadim on Twitter at @khadim5 and learn more about Grace.
Judith-Ann Walker, Nigeria
Dr. Walker is the managing director and co-founder of the development Research and Projects Center, a nonprofit organization in Nigeria whose mission is to build capacity of local civil society groups, communities and social institutions on a range of development programs, including work to strengthen education for girls in Nigeria. She has spearheaded efforts for girls' education such as building a national network of girls' education champions, advising the government on girls' education policies and also working directly with secondary schools for girls.
"The key lesson that I've taken away from 12 years of running this community project is that success for girls in traditional settings demands building partnerships—both to legitimize and sustain education programs."
Relebohile Moletsane, South Africa
Dr. Moletsane is the J.L. Dube Chair in Rural Education at the University of KwaZulu-Natal in South Africa. She works to ensure that every girl in South Africa, but particularly the most marginalized girls who live in rural areas, have the opportunity to complete a full course of schooling and are not forced out due to pregnancy or poor sexual and reproductive health.
"At the heart of the matter is that without the requisite [sexual and reproductive health] knowledge, including knowledge of their rights and the resources available to them, girls' agency is compromised and they are not adequately prepared for life transitions."
Follow Relebohile on Twitter at @RelebohileMolet and learn more about her work.
Ensuring Girls have Quality Learning Opportunities
Urvashi Sahni, India
Dr. Sahni is the founder and CEO of Study Hall Education Foundation, which is reaching children through primary and secondary schools in both urban and rural areas of India. Included in this network is the Prerna Girls School, a school for underprivileged girls with a focus on empowering girls and ensuring they succeed in academics and are ready for life. The Prena school model is being scaled up across hundreds of government schools in India.
"These girls have brutal home lives…Yet they engage in their studies, come to school regularly and put in the work they need to do. This is their hope to get a new life."
Find out more about Study Hall Foundation.
Madalo Samati, Malawi
Ms. Samati is the director of Programs at the Creative Center for Community Mobilization (CRECCOM) an organization in Malawi that helps improve the quality of girls' schooling by working with communities to design and implement programs, and she recently helped develop the national Gender Analysis Tool in education.
"When we ask an adult, a father or mother, what's your vision for the future, who will take care of you, they always talk about the girl child. And yet, they don't invest in that girl child in terms of education… So, that is also another inspiring thing that we share with the communities; examples of what it means to educate a girl child, and the benefits that come with the society when you're educating a girl child."
Learn more about CRECCOM, and follow them on Facebook.
Musammat Badrunnesha, Bangladesh
Ms. Badrunnesha is the founder, CEO, and chairperson of the Empowerment and Human Development Society, a nongovernmental organization based in Sylhet, Bangladesh. Over the past three years, she has worked in over 300 madrassas, or religious Muslim schools, with a particular focus on how they are educating some of the most marginalized girls. The organization provides training for teachers, promotes gender equality in schools with their campaign "No Girl Left Behind," and holds empowerment workshops for women. She is currently at Brookings as an Echidna Global Scholar.
"Hope is a renewable energy source. I meet many deprived women… They touch my soul and again I start to dream with passion, desire and demand for a better world. In their eyes I can still see a more balanced society."
Follow Musammat on Twitter at @MusammatB and learn more about EHDS.
Jamila Razzaq, Pakistan
Dr. Razzaq is the education advisor for the Aga Khan Foundation Pakistan, which has promoted girls' education for decades through its schools that educate more than 30,000 students, including the Diamond Jubilee Schools in Northern Pakistan that were established for girls and that employ girl-friendly teaching. She is currently an Echidna scholar at Brookings researching how community-based education models could improve girls' education in Pakistan.
"In Pakistan, I work and live close to the contexts where girls cannot access education.They are denied their basic right to education due to conflicts, fragility of the security situation, culture, tradition or utter poverty… As the issues are multiple, so should be the solutions. My passion is to find solutions and create options for these girls."
Learn more about the Aga Khan Foundation Pakistan.
What Works to Empower Girls to Lead
Mayyada Abu-Jaber, Jordan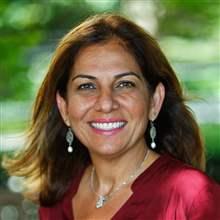 Ms. Abu-Jaber is the founder and CEO of World of Letters, a social enterprise dedicated to promoting quality education in the Arabic language, and in the past was the CEO of Jordan Education for Employment, a group working to solve the youth unemployment crisis in the MENA region. Her current initiative, Jordan Womenomics Initiative, aims to ease the transition for women from education into productive careers, identifying the cultural barriers they face from the start of their educational career.
"Today in textbooks and mirroring real life, women and girls are confined to glass houses and trapped behind glass doors. They can contemplate economic futures, but they cannot pursue them. Those who do manage to shatter these glass doors find themselves under a glass ceiling in institutions where they do not have the opportunity to lead. Through education today we can shatter that ceiling tomorrow."
Follow Mayyada on Twitter to hear the latest about girls' education and employment in the Middle East @Mayyadajaber and learn more about World of Letters.
Dileni Gunewardena, Sri Lanka
Dr. Gunewardena is a girls' education researcher and professor at the University of Peradeniya in Sri Lanka, who has worked on a variety of research projects to inform policy change on topics such as gender wage gaps and the labor market, including for the World Bank and as a Fulbright scholar. She is currently an Echidna Global Scholar at Brookings researching the constraints to girls' transitions from secondary school into the workforce in Sri Lanka.
"Sri Lanka 'punches above its weight'  in so many areas, including getting and keeping girls in school, and in how well girls do at school, yet two out of three women choose not to work outside the home. This is an incredible waste of the great opportunity that education provides to empower their lives."
Follow Dileni on Twitter at @dilenigun
Suman Sachdeva, India
Dr. Sachdeva is the Technical Director of Education for CARE India, a nongovernmental organization that works to empower women and girls in order to fight poverty. The Girls' Education program works in more than 200 districts to increase girls' access to school and improve the quality of education. She is currently researching the barriers that hinder girls in tribal settings from accessing quality learning as an Echidna Global Scholar at Brookings.
"EFE -Education for Empowerment is a right for all the girls in the world. Let us make it a reality for those who are marginalized and discriminated, wherever they are."
Learn more about Care India and follow them on Twitter at @CARE.