Indian Prime Minister Narendra Modi begins a multi-day trip to New York City and Washington, DC this week during which President Obama and he will hold a summit meeting on September 30. This is Prime Minister Modi's first visit to the U.S. as leader of the world's largest democracy, and the first meeting between the two leaders.
The Brookings India Initiative, which consists of the India Project in Washington and the Brookings India center in New Delhi, has issued a briefing book on the U.S.-India relationship containing 28 memos by over two dozen scholars in Delhi and DC. 
In a memo on the view from Washington, India Project Director Tanvi Madan and Brookings President Strobe Talbott call attention to "the sheer breadth of the India-U.S. relationship." They write that:
It involves more bilateral interaction than ever before—not just at the federal government level, but also at the state and local government levels, as well as between the two countries' militaries, private sectors and civil societies, and their citizens. And it has taken on global significance with the emergence of India as a key member of the G-20 and the BRICS.
In his memo on the view from New Delhi, Senior Fellow Waheguru Pal Singh Sidhu writes that "Prime Minister Modi's election provides a unique opportunity to re-energize relations between India and the United States." Sidhu outlines three areas that are "ripe for cooperation"—clean energy, defense, and infrastructure and investment—but also other issues that could derail U.S.-India ties.
Visit our Modi-Obama Summit page to get all the memos and related videos.
---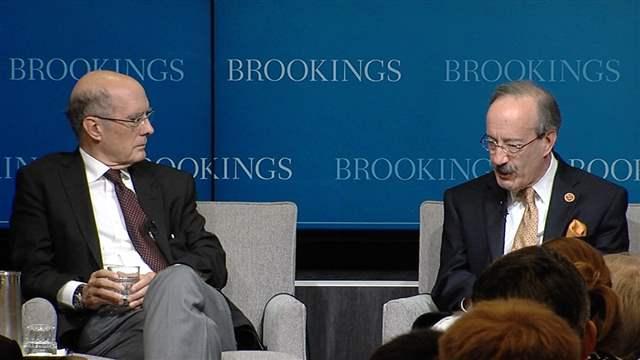 During an event today, Brookings President Talbott and Rep. Eliot Engel (D-N.Y.), ranking member of the House Foreign Affairs Committee, discussed the U.S.-India bilateral relationship. Rep. Engel observed that as the world's largest democracy and the world's oldest democracy, "India and the U.S. are natural allies, should be natural allies."
Rep. Engel also pointed to the Indian-American community, which is "highly educated, very highly motivated" and whose members have forged strong ties between their home country and their adopted country.
When asked about what he hoped for from the visit, Rep. Engel said he hoped that President Obama and Prime Minister Modi would build a personal relationship. "I'm hoping," he said:
that the first impressions that both Obama and Modi have of each other are good and any kind of past irritants or past piques of annoyance are put away. I just think this is a great opportunity. I think there is such pride … in the Indian-American community with Modi. I think that this is a great opportunity for our countries to really work closely together. And I believe that Obama and Modi will have a good meeting and a good relationship and things will move in a positive direction.
Rep. Engel also spoke about the economic relationship, the importance of collaboration on combating international terrorism, and India becoming a permanent member of the United Nations Security Council. "I think if the Security Council is ever going to expand," he said:
India would be a natural member for that expansion. The problem with the UN Security Council is it's locked into 1945. … The world has changed a lot in 70 years [and] my belief is a number of countries should be considered, but I think India should be a lock for that.
Rep. Engel concluded by stating that he hopes "when Obama and Modi meet they have a personal chemistry which will help accelerate things in a direction we'd all like to see."
Listen to audio of the event here. Video will be posted soon on the event's page.