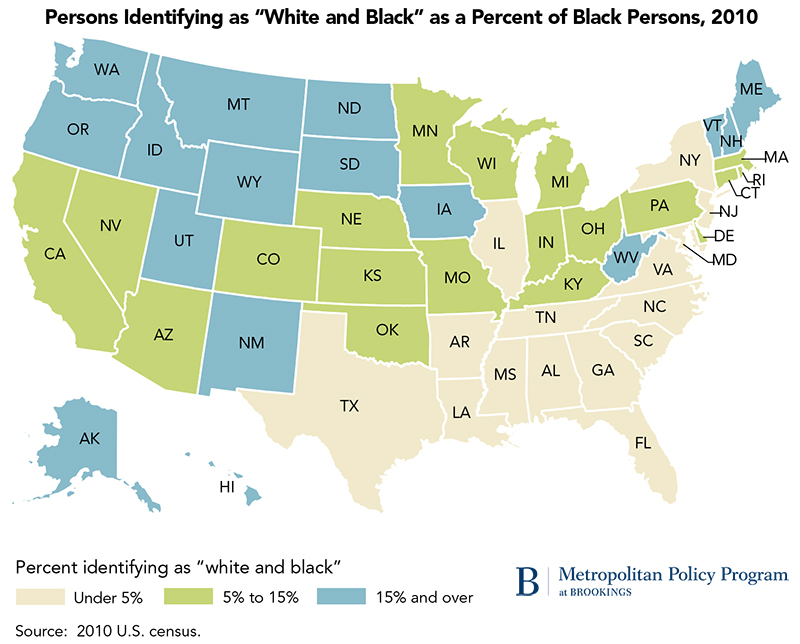 As shown in my book, "Diversity Explosion," the growth of black-white marriages in the United States is unmistakable, as are the gains in the population that identifies itself as "white and black," particularly among the very young. As further evidence that the white-black divide is eroding, it is useful to look at the region most historically resistant to change: the South. Because of past prejudices and customs, the white-black population, as a percentage of all blacks, is still considerably lower in Southern states than in other parts of the country (see map). In a slew of states leading from Maryland to Texas, "white and black" populations represent less than 5 percent of the black-only populations. In Mississippi and Louisiana, "white and black" populations constitute only 1 percent. These figures compare with more than 20 percent of "white and black" persons in a handful of states with sparse black populations in the West, Great Plains, and New England.
Yet, the South is attracting blacks in large numbers, including multiracial blacks, from all parts of the country. Thus, it is significant that when states are ranked by the growth rates in their "white and black" multiracial populations in the first decade of the 2000s, it is these Southern states that lead all others. In this time period, the South Carolina, North Carolina, Georgia, Mississippi, and Alabama, in that order, more than tripled their white-black multiracial populations, while Tennessee, Florida, Arkansas, Louisiana, and Kentucky are not far behind.
Southern states, as a whole, accounted for 41 percent of the nation's decade-long gain in the "white and black" multiracial population. Three factors account for the gain: children born to multiracial parents, migration from other regions, and an increase in the willingness to identify with a multiracial heritage in a region where it was long discouraged. The fact that the white-black divide is becoming blurred in the South provides even more evidence that the sharp color lines long evident in the region are beginning to break down.