"Afghanistan remains a crucial country," Brookings scholar Vanda Felbab-Brown said at a recent event, "one in which we have made a commitment and where we also raise tremendous hope among the Afghan people. It is very important not to forget that war." Felbab-Brown, a senior fellow with the Center for 21st Century Security and Intelligence at Brookings, was joined by panelists Ann Vaughan of Mercy Corps, Jason Cone of Doctors Without Borders, Ché Bolden—a Brookings Federal Executive Fellow and active duty U.S. Marine Corps officer, and Michael O'Hanlon, senior fellow and co-director of the center.
Review of the security situation in Afghanistan
Felbab-Brown discussed the security situation in the country, having visited there in the fall. She pointed to increased casualties among Afghan security forces, Taliban successes throughout the country, especially in Kunduz (though tempered by the rise of ISIS), and a "continuing dire economic situation" that is driving many Afghans to leave the country, what she termed "a tremendous brain drain." She also observed that "politics … are really at the core of Afghanistan's troubles," arguing that "the Taliban will continue pushing, but the country will not heal itself if it cannot get beyond fractious political in-fighting—all focused on personal power grabs—and focus on governance."
Her conclusion:
I think what we can easily see in 2016 is a continuing dire economic situation, outflows of people, major Taliban push, and the political system stuck in infighting, basic survival and power grabs, instead of focusing on the crucial, inescapable national interest in governance in the country. … The United States should continue assisting militarily and assisting politically. But we also need to demand far greater accountability and far greater focus from Afghan politicians on governing the country as opposed to tearing it to pieces.
A development crisis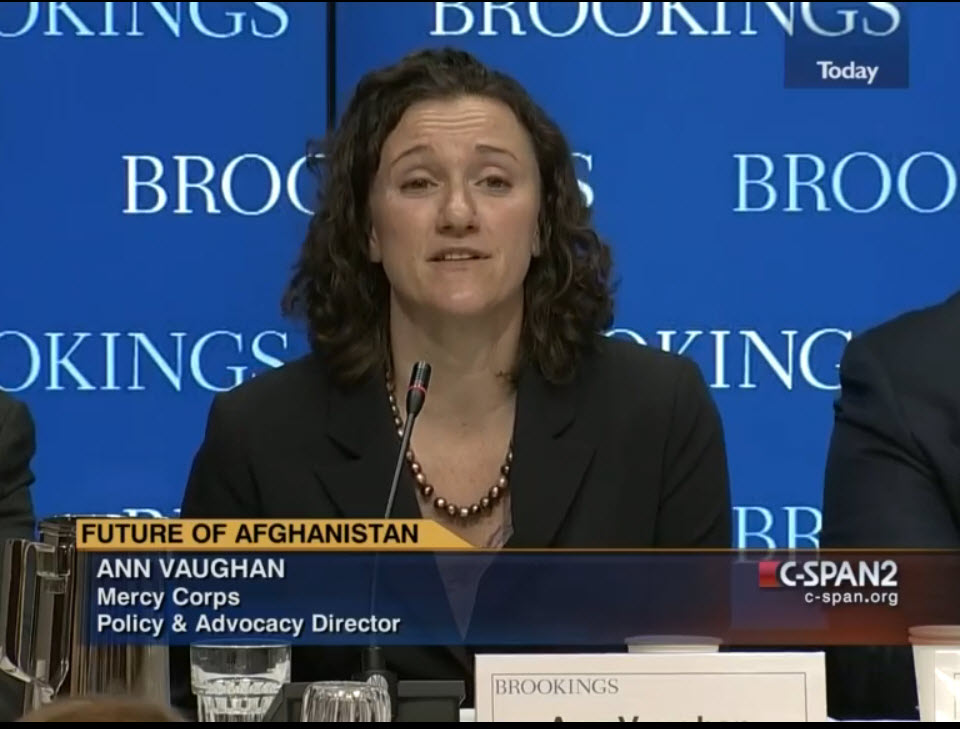 Ann Vaughan, director of policy and advocacy for Mercy Corps, expanded on the point Felbab-Brown made about Afghans leaving their country. A significant decrease in jobs and increase in unemployment is, she says, "increasing the drive for Afghans to make a very difficult decision, to decide if they want to stay in Afghanistan or travel to Europe or other locations." The outflow of population is not new, and is not small. In fact, Vaughan pointed out, until 2014 and the massive increases in Syrian refugees, Afghans were the largest global refugee population.
But what news reports portray as a humanitarian crisis, Vaughan emphasized, is seen by her organization and other NGOs as "a long time development crisis" that requires sustainable solutions. As she explained, even if the security issue was solved, "we would still face three major developmental challenges that need to be addressed for Afghans to be able to have development and further prosperity." These challenges are: 1) Depletion of natural resource base caused by increasing drought, land erosion, and bad management; 2) a "youth bulge" that is experiencing high unemployment and food insecurity; and 3) "chronic energy problems that hamstring both economic development but that just make life more difficult on a daily basis for Afghans."
Impartial access to care
Jason Cone, the executive director of Doctors Without Borders (or MSF, acronym from the French name of the organization, Médecins Sans Frontières), spoke to the many obstacles that people face to reach and access medical care in the country, from cost, to conflict, to checkpoints. He also recalled the accidental bombing of a hospital in Kunduz by U.S. forces in October that caused the deaths of 42 staff and patients. "We have serious concerns," Cone said, "about the use of force by coalition forces in Afghanistan, and for that matter, of coalitions that are operating in places like Yemen and Syria as well, in terms of what decisions and what processes are being followed to distinguish between civilian and military targets."
Although U.S. commander General John F. Campbell said the attack was "a mistake" and forces would "never intentionally target a protected medical facility," Cone observed that because of the expanded use of unconventional forces, there will continue to be "questions and challenges for humanitarian organizations operating in areas that are front lines in terms of the rules of engagement that are applied in those areas, particularly when they are calling in air strikes."
Cone strongly expressed the view that humanitarian care organizations such as his must "get back to basics in terms of reinforcing impartial and independent access to care" and yet remain protected by the laws of war. As he put it, "it's critical for all groups to understand that treating the wounded is not providing material support to the enemy. This is a responsibility of health care workers under the laws of war, and it must be respected by all parties of the conflict."
Operating in ungoverned spaces
Ché Bolden addressed Cone's concerns about application of the laws of war—the Geneva Conventions—by noting the "challenge of ungoverned spaces [that] makes it very difficult to apply the laws of armed conflicts." The circumstances in Afghanistan in particular, Bolden said, "don't necessarily fit the conventional … state-on-state actor type of scenario that we are familiar with throughout history." Bolden even offered his opinion that NGOs operating in ungoverned spaces might consider a tighter affiliation with allied security forces. If NGOs "don't want to have an affiliation," he said, "they have a hard choice to make, going unprotected or affiliated with those that can protect you."
Mercy Corp's Ann Vaughan responded by stressing "that one of the concerns that we have in operating in ungoverned spaces … is any perception that working at all with military or security forces that can put our staff and our beneficiaries at risk. We have to be very careful about any sort of open dialogue."
MSF's Cone also addressed Bolden's idea, noting that it "is a real question we have about what sort of rules are being applied" in conflict zones. "It's important for humanitarian organizations [and] it is important for medical facilities to know whether those rules still apply."
During a Q&A session with the audience, Felbab-Brown returned to the issue of "mis-governance by Afghan power brokers and politicians." This fact, she says, explains why the Taliban and groups supported by Pakistan have so much traction in Afghanistan.
Looking ahead in Afghanistan
So how and why continue our involvement in Afghanistan? Felbab-Brown said:
We need to remember that we still have a vital interest in the country, including the rise of terrorism once again—ISIS and al-Qaida presence is up in Afghanistan—but also the commitment that we have made to the Afghan people. But just sunk costs are not enough to continue going. At some point, a president will need to make a judgment call, and I very much hope that the Afghan politicians and the Afghan people will enable the U.S. president to make the call … to continue engagement. Because they will improve governance and they will refocus political in-fighting over spoils onto the key national interests and the interest of the Afghan people.
Vaughan also agreed that "continued support and partnership with the Afghan people" is "very needed." The "Afghan people are looking for a new year," she added, "where you don't have to pick up and leave your homeland behind to go and look for a better life … And we have to be doing development and looking at the root causes of some of the structural systemic reasons [for] poverty in Afghanistan."
Cone concluded by saying that:
I think that it is important that we don't … set expectations based on the behavior of certain groups that don't respect the laws of war. For us, I think part of our dialogue is reinforcing first and foremost the fact that we are going to treat anybody as a medical organization. That is something that has been recognized. It is very much recognized by the U.S. Government, and something that is reiterated very strongly. …
As the situation continues to deteriorate in many parts of the country, it's going to require NGOs and particularly medical workers and others to really step back from the sort of stabilization efforts that are there and keep things separate in order to maintain that respect and that neutrality and impartiality that's required of health workers operating in conflict zones.
Bolden stated that, "the combination of having non-governmental organizations and the international community showing an interest in Afghanistan is promising. The problem with that is there has to be some type of a buy-in from Afghanistan." He concluded with the notion that "there are many elements of national power, the military being just one." And, he said:
I think we rely too heavily on the ability of our military to be able to go and solve some of these relatively intractable problems, and I would encourage everyone to think about organizations like Doctors Without Borders and Mercy Corps and Red Cross and Red Crescent, [and] other NGOs that can do a lot of really good things in the vein of other elements of national power, where we as the military are not the first choice, and more important, we're probably the last choice.
O'Hanlon, who moderated the discussion, added a hopeful note at the end. "As bad as things have been in Afghanistan," he said, "the degree of managing and containing the humanitarian travesty has been remarkable," owing to the "sacrifices and contributions" of the panelists and their organizations. "There is reason for hope despite it all," he said.
Get the full transcript and audio of this event on the website. C-SPAN covered the event live, and that video is available here.