Adoption of green technologies and improvements in energy efficiency can help firms reduce operating expenses, improve profit margins and employees' productivity. In the recovery after the unprecedented COVID-19 shock and the context of high energy prices, European businesses have the opportunity to jump on a recovery path consistent with the net-zero targets through the adoption of green technologies and managerial practices. Policy discussions on green technologies adoption at the firm-level have been increasingly more pronounced since Russia's invasion of Ukraine in February 2021, given the EU's dependence on imported energy sources.
The upgrading of energy efficiency and the green transition can operate through different pathways: the adoption of green managerial practices and new investments in green technologies. In this blog, we analyze green energy managerial practices and investments in five EU countries (Bulgaria, Croatia, Greece, Poland, and Romania) using data from the World Bank's COVID-19 Business Pulse Survey and assess how during the recovery from the pandemic (March-September 2022) firms have behaved, what factors have limited their choices, and which ones have enabled them higher investments and organizational upgrading. Specifically, using detailed firm-level data, we try to answer the following questions. Are financial and demand constraints from the pandemic restricting firms' investments? Did businesses lack managerial capabilities to enable the adoption of greener managerial practices?
Measuring green energy managerial practices
The measurement of green energy managerial practices is based on the pioneering approach of Bloom and Van Reenen to measure managerial practices in general, adapted to the context of green managerial practices by Haas et al (2023). We use these measures and build a score that reflects the business's green managerial practices based on questions about the firm's energy practices and policies including certification in LEED (Leadership in Energy and Environmental Design), ISO 140001 or ISO 50001, policies on periodic audit of compliance with environmental regulatory requirements, participation in carbon trading, monitoring of CO2 emission, and having energy targets. The scores range from 0 to 6, where higher scores reflect higher levels of green managerial practices.
There are big opportunities for improvement especially among smaller firms
Green managerial practices are in general low across the board, but we also find a clear difference between businesses of different sizes (Figure 1). Specifically, the average green management score is 0.9, meaning that less than one in six possible practices is adopted. However, the score for microenterprises is 0.5 while that for large businesses is 2.3. In other words, among micro-businesses on average, one in two adopts one green practice while larger ones on average adopt at least two green managerial practices. Less than 5 percent of firms have scores of 4 and above. These patterns suggest there is a big opportunity for improvements in green managerial practices as part of the recovery from the COVID-19 pandemic, especially for smaller firms. Given the cost efficiency and profitability benefits from green energy managerial practices, there should be a stronger emphasis on this opportunity.
Figure 1. Pattern of green management practices among firms of different sizes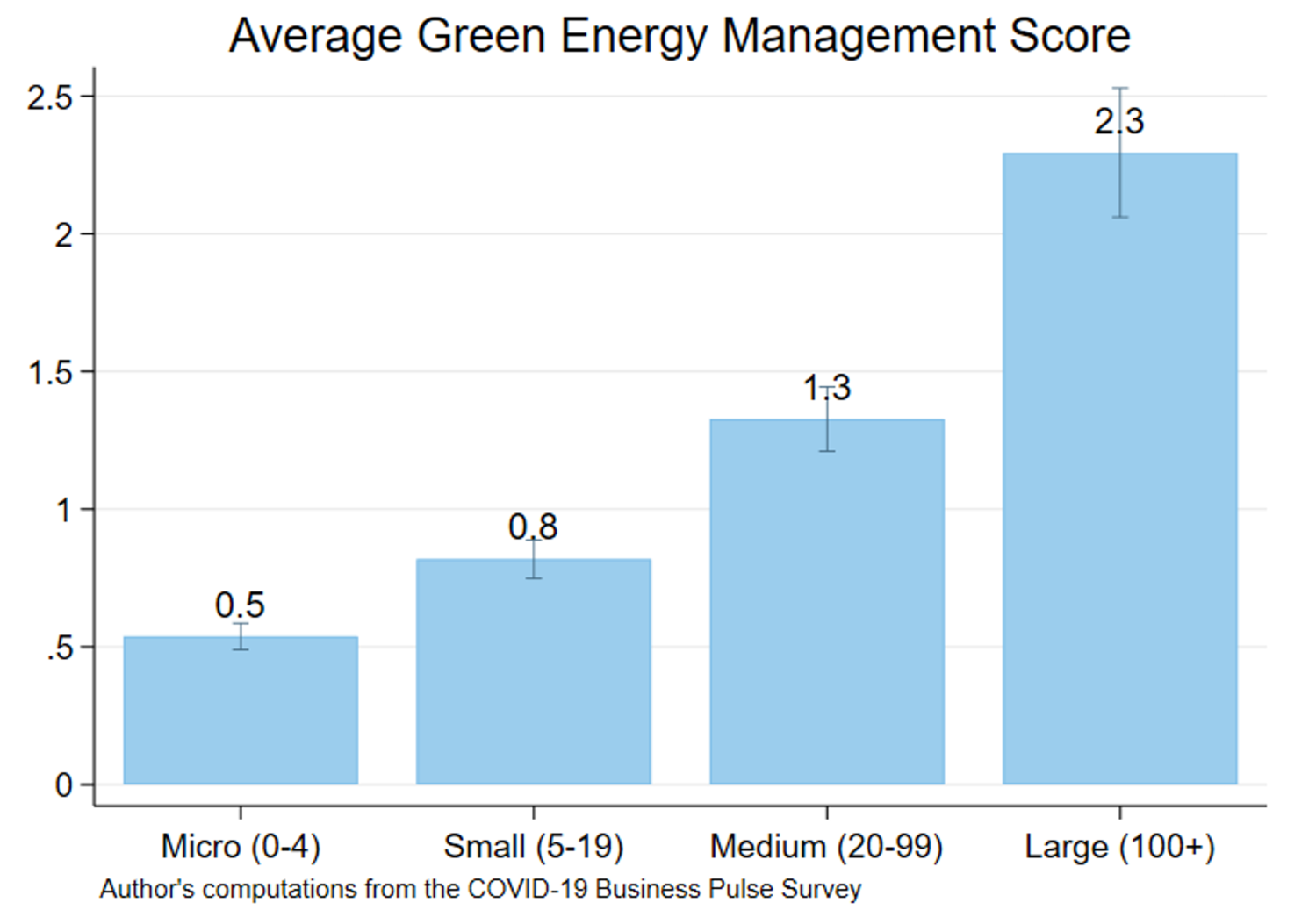 Green energy managerial practices in the recovery are highly correlated with overall managerial practices
Better-managed businesses strive to reduce costs and increase sales and productivity. Due to the negative impact of the pandemic, it is expected that such firms embark on adjustment mechanisms that facilitate recovery from the pandemic. One of such mechanisms is the implementation of green energy managerial practices. Figure 2 shows that firms with higher managerial capabilities before the pandemic exhibited higher levels of green energy managerial practices compared to other businesses. However, there is a large room for further improvements. Businesses with the highest overall management score have an average green managerial practices score of 1.7. While this score is relatively higher than that of poorly managed firms, in absolute terms, this level represents just 28 percent of the maximum achievable score.
Figure 2. Higher managerial practices associated with higher green energy practices
Financial fragility and uncertainty likely to hinder investments in upgrading and energy-efficient technologies
The COVID-19 pandemic led to unprecedented levels of uncertainty and related financial distress among businesses around the globe (Apedo-Amah et al, 2020). Financial distress is associated with a high level of uncertainty about the future and translates into a reduction in employment and investments. We also find that firms facing higher levels of uncertainty and in a more precarious financial situation (i.e., more likely to fall into arrears) tend to be less likely to invest in green and energy-efficient technologies. This finding suggests it is important for governments to support firms by de-risking private investments to stimulate more updates of green technologies and investments in energy efficiency.