Report
India And Africa: Forging A Strategic Partnership
Content from the Brookings Institution India Center is now archived. After seven years of an impactful partnership, as of September 11, 2020, Brookings India is now the Centre for Social and Economic Progress, an independent public policy institution based in India.
Editor's Note:
The briefing book has been edited by Dr. Subir Gokarn, Dr. WPS Sidhu and Shruti Godbole. Brookings does not take institutional positions on policy issues and each essay in this policy brief solely reflects the views of the author(s).
Despite the Narendra Modi government's foreign policy hyper activism, Africa has remained a neglected continent. This perception was heightened when the third India Africa Forum Summit (IAFS), scheduled for December 2014 in New Delhi, was postponed ostensibly on account of the deadly Ebola crisis sweeping West Africa. However, the rescheduled summit slated for October 2015 dissipated this assessment somewhat. Moreover, with over 30 African heads of governments and states expected to attend, the third IAFS is likely to be the biggest foreign policy event hosted by India in more than three decades.
Apart from the impressive size of the event the exhaustive agenda of the summit underlines that the security, development, energy, trade, investment and even social interests of India and Africa are increasingly intertwined; both need to work with each other to advance their interests.
Simultaneously, there are also significant areas where Indian and African interests diverge significantly, notably on climate change. These differences will have to be managed deftly to ensure that areas of convergence between the two are not adversely affected.
Another challenge that both India and African nations face is the lack of capacity, particularly at the government level, to sustain bold foreign policy initiatives. For instance over two dozen Indian embassies in Africa are missing Ambassadors/High Commissioners. While political initiatives by strong leaders make for good headlines, their implementation is dependent on the ability of official institutions to sustain them.
Against this backdrop and in anticipation of the third IAFS, Brookings India commissioned a series of essays from Indian and international scholars, experts, activists and business leaders to assess the state of play between India and Africa on subjects ranging from security to development, energy, trade, investment and health. This Brookings India briefing book contains 22 essays which critically analyze key challenges and opportunities for India and Africa on various issues and offer recommendations and insights on how to forge a strategic partnership between the two.
Download the PDF version of the book, 'India And Africa: Forging A Strategic Partnership'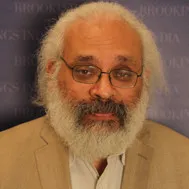 Former Brookings Expert -
Brookings India
Executive Director -
IMF
Former Brookings Expert
Nonresident Senior Fellow, Center on International Cooperation -
New York University
Programme Associate -
Brookings India