Americans across partisan, ideological, and racial lines are rethinking the country's criminal justice system. This is entirely appropriate—and necessary. By situating decades-long trends in crime and punishment in the appropriate historical and comparative contexts, William Galston and Elizabeth McElvein hope to provide citizens and policymakers with a framework for assessing the opportunities and challenges of criminal justice reform. To that end, the authors have produced a report highlighting a range of key issues, from the scope of buildup in the prison population, to the cost of incarceration, to the demographic characteristics of incarcerated individuals.
Highlights of the research are included below. The full report contains further data and analysis as well as additional charts and figures.
---
Despite recent speculation about a nationwide crime surge, write Galston and McElvein, crime rates are near the lowest level seen in decades. The net decrease in nationwide crime coincides with the rapid buildup of the United State prison population at the local, state, and federal level.  The relationship between decreased crime and increased incarceration, the authors emphasize, is the subject of intense academic dispute. Beyond increased incarceration, the decrease in crime has been linked to favorable economic conditions through the 1990s and into the 2000s, an increase in the average age of the U.S. population, and shifts in demand for certain drugs, like crack cocaine.
---
The United States incarcerates a disproportionate number of black and Latino individuals relative to their composition in the U.S. population, Galston and McElvein write. The causes and correlates of this racial discrepancy are manifold, ranging from neighborhood crime rates to state and federal-level sentencing policies, to law enforcement strategies.
---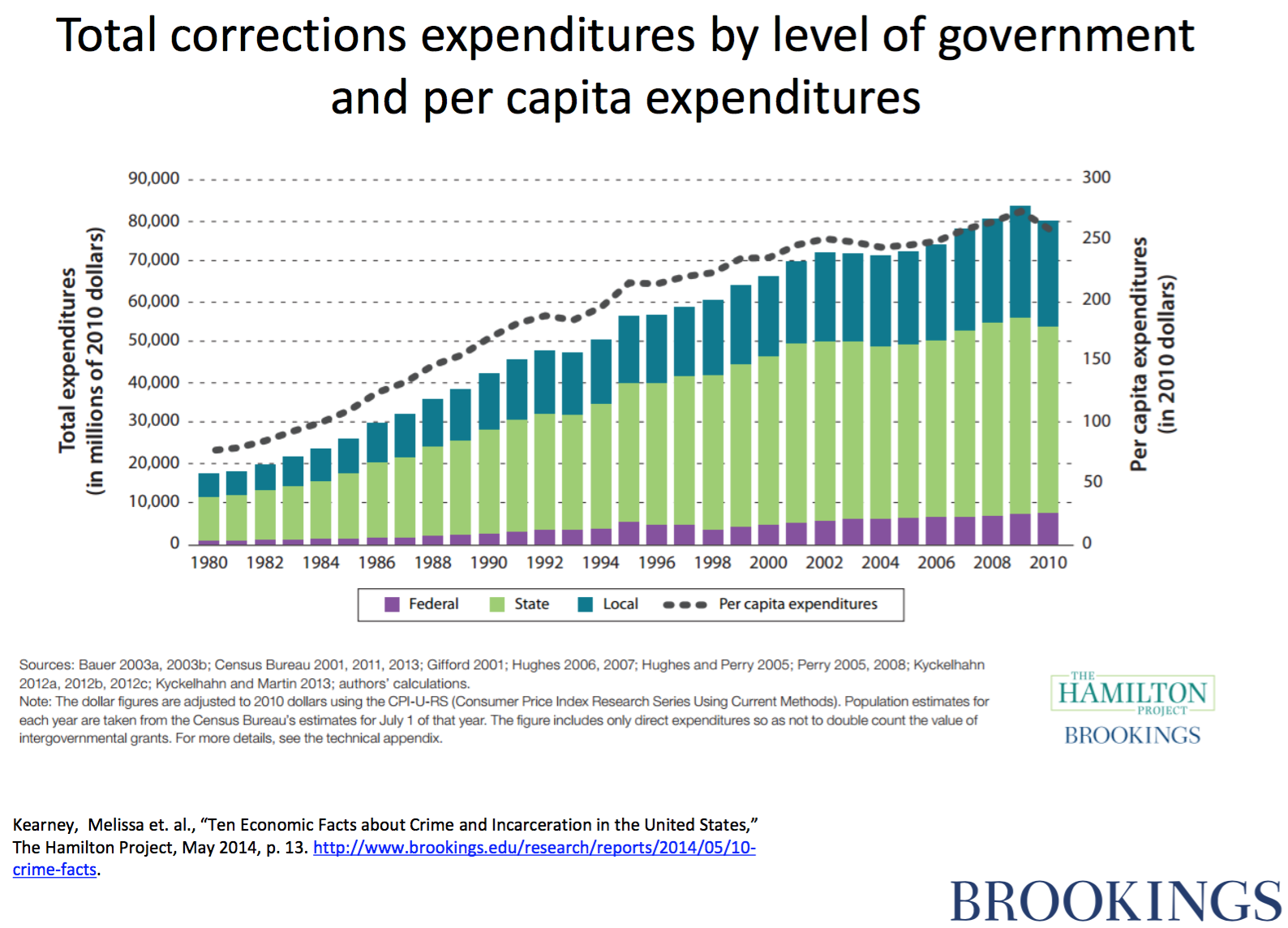 ---
Incarceration imposes a financial burden at the local, state, and federal levels. In 2010, total corrections expenditures totaled $80 billion—a 350% increase from 1980 (in real terms).
---
The authors also examine data on the number of individuals shot and killed by police in 2015 according to race, gender, and geographic location. Although police killed a disproportionate number of minority individuals relative to the racial composition of the U.S. population, the best available data are too limited to substantiate claims of racial bias.