Past Event
Can tax reform include a carbon tax?
Featuring a keynote address by Rep. John Larson
Past Event
Question and answer session with Rep. Larson
Join the conversation on Twitter using

#CarbonTax
To control the risk of climatic disruption, many economists advocate putting a price on carbon. Research shows that an especially efficient way to do that would be to use a tax on greenhouse gas emissions to fund pro-growth tax reforms. A well-designed, economy-wide carbon tax could also help the United States achieve its emissions targets under the Paris Climate Agreement, lower conventional air pollutants, replace less efficient and effective Clean Air Act regulations, and eliminate the need for disparate state-level measures. It could also help pay for infrastructure investments, an expansion of the Earned Income Tax Credit, and other priorities.
Could the current debate on tax reform create an opening for such a deal? What might a bipartisan approach to including a carbon tax look like? The Urban-Brookings Tax Policy Center, the Cross Brookings Initiative on Energy and Climate, congressional leaders, and top experts held a discussion on the prospects for tax reform and the potential to include a carbon tax in a broader bipartisan bill.
Agenda
Question and answer session with Rep. Larson
Former Senior Fellow -
Economic Studies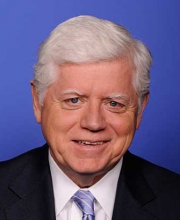 More Information
Contact
Brookings Office Of Communications
202.797.6105
Twitter
To subscribe or manage your subscriptions to our top event topic lists, please visit our event topics page.
More
[On the EU's proposed tax on high carbon imports] There's some concern that U.S. industry could also get caught up ... because we don't have a carbon price on industry in the United States, and we're not likely to have one in the future ... When you start getting into the details, it's an absolute bear to implement. But nonetheless Europe seems quite serious about it.