Pensions and retirement saving plans have helped millions of households build financial security. But tens of millions of people have been left behind, without access to these wealth accumulation vehicles. For many others, the plans they have do not ensure financial security in retirement.
The problems that underlie these failures can be addressed. This book proposes concrete, practical ways to make dependable retirement income accessible for all Americans—not just those with means.
Individual accounts have eclipsed traditional pensions as the primary vehicle for retirement saving in the United States—a shift that underlies many sources of retirement insecurity. The 401(k) plan and similar accounts have increased financial security for many people but have done nothing for millions more. Many of those who do have such plans are burdened with the need to make numerous saving, investment, and withdrawal decisions that stress their financial acumen. Financial advice that is unbiased, unconflicted, and affordable is often difficult to find. Managing wealth in retirement—especially the need to convert retirement savings into steady income—poses significant challenges that current financial instruments and practices do not adequately address. Economic downturns like the Great Recession and the COVID-19 pandemic increase financial insecurity and make addressing these issues more urgent.
Written by noted experts in the field, Wealth After Work offers practical solutions that address these concerns. The proposals show how policymakers can help all Americans gain access to retirement savings accounts, obtain better information about their savings choices, and better manage their wealth in retirement. By proposing solutions that build on, rather than replace the existing system, the book provides a nuanced, practical guide to reform that would benefit all Americans.
Praise for Wealth After Work
"When I have a question about how some aspect of the retirement savings world works, I reach out to one or more of the editors of this book. They might have written this book to get me to stop bugging them, but my 'secret source' is now public. Anyone can be an expert on retirement savings. Just read this book."
—Richard H. Thaler, Charles R. Walgreen Distinguished Service Professor of Behavioral Science and Economics, the University of Chicago Booth School of Business; Nobel Memorial Prize in Economic Sciences (2017)
"Policymakers rejoice! Three seasoned and savvy analysts have pulled together their best thinking on how to make our retirement system more inclusive, easier to use, and more effective in providing income. Because they build on the country's existing retirement infrastructure, their ideas have a real chance of being adopted. I recommend this terrific book to anyone concerned about how to solve America's retirement problems."
—Alicia H. Munnell, Peter F. Drucker Professor of Management Sciences, Boston College Carroll School of Management; director, Center for Retirement Research at Boston College
"This authoritative compendium comprehensively chronicles the gaps that have contributed to the retirement crisis in the United States. The solutions described here are worthy of policymakers' considerations, as they include reforms and innovations designed to address retirement plan access and help people turn their savings into retirement income—providing a much larger group of Americans with tools for building a dignified and financially secure retirement."
—Roger W. Ferguson Jr., retired president and CEO, TIAA
"Many Americans face retirement insecurity, and retirement risk looms large for Gen Alphas, millennials, boomers, and beyond. This volume offers a clear-eyed assessment of why and what to do about it. Data on wealth differentials of Blacks and Hispanics, gig workers, and women help set the stage, and innovative ways to help people accumulate and decumulate retirement assets without running short will inform U.S. and global policymakers."
—Olivia S. Mitchell, International Foundation of Employee Benefit Plans Professor and executive director, Pension Research Council, the Wharton School, University of Pennsylvania
"Hats off to the Retirement Security Project and the editors of and contributors to this important volume and significant contribution to the advancement of retirement security. Policymakers, fiduciaries, and practitioners will look forward to the next volume."
–Stacy L. Schaus, The Journal of Retirement
Authors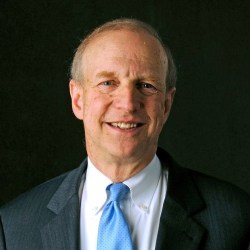 William Gale is the Arjay and Frances Miller Chair in Federal Economic Policy at the Brookings Institution, where he directs the Retirement Security Project and codirects the Urban-Brookings Tax Policy Center. He authored Fiscal Therapy: Curing America's Addiction to Debt and Investing in the Future (Oxford, 2019) and has co-edited several books.
J. Mark Iwry is a nonresident senior fellow at the Brookings Institution and Visiting Scholar at the Wharton School. He formerly served as Senior Advisor to the Secretary of the Treasury for national retirement and health policy and was previously a partner in the law firm of Covington & Burling.
David C. John is a nonresident senior fellow at the Brookings Institution and a Senior Policy Advisor at the AARP Public Policy Institute. Prior to joining AARP, he was a Senior Fellow at the Heritage Foundation and held senior roles in four congressional offices.