One civil rights-era law has reshaped American society—and contributed to the country's ongoing culture wars
Few laws have had such far-reaching impact as Title IX of the Education Amendments of 1972. Intended to give girls and women greater access to sports programs and other courses of study in schools and colleges, the law has since been used by judges and agencies to expand a wide range of antidiscrimination policies—most recently the Obama administration's 2016 mandates on sexual harassment and transgender rights.
In this comprehensive review of how Title IX has been implemented, Boston College political science professor R. Shep Melnick analyzes how interpretations of "equal educational opportunity" have changed over the years. In terms accessible to non-lawyers, Melnick examines how Title IX has become a central part of legal and political campaigns to correct gender stereotypes, not only in academic settings but in society at large. Title IX thus has become a major factor in America's culture wars—and almost certainly will remain so for years to come.
Related Books
A Notion at Risk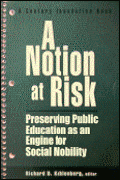 Education Policy Analysis: 1998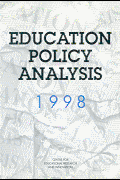 Education
Education Policy Analysis: 1998
March 1, 1999
Teachers versus the Public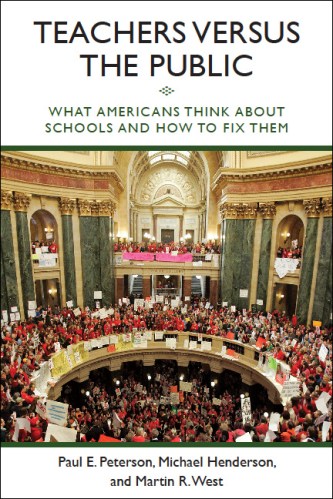 Education
Teachers versus the Public
Paul E. Peterson, Michael Henderson, Martin R. West
April 29, 2014
Praise for The Transformation of Title IX
"Shep Melnick—one of our leading scholars of how law, politics, and policy intersect—has done it again. The Transformation of Title IX, like his earlier books, manages to dissect a vital area of American culture—here, Title IX and "the civil rights state." By focusing his razor-sharp intelligence on the regulation of college athletics and sexual harassment on campus, Melnick reveals how an overly zealous, trigger-happy agency with an admirable mission—the Department of Education's Office for Civil Rights—has managed to bring it into widespread criticism, disrepute, and even lawlessness. This is institutional analysis at its very best."—Peter H. Schuck, Simeon E. Baldwin Professor Emeritus of Law, Yale Law School, and author of One Nation Undecided: Clear Thinking about Five Hard Issues That Divide Us
"For those of us who still pin our hopes on the American civil rights tradition, this book is a disturbing call to account. Melnick unravels the convoluted process by which Title IX became a barrage of mandates detached from any constitutional or statutory roots and oblivious to the law's goal of increasing educational opportunity for women and girls. His smart and compelling critique suggests a way forward: follow the Administrative Procedures Act and keep your eyes on the prize."—Deborah Stone, Distinguished Visiting Professor, Brandeis University, and author of Policy Paradox: The Art of Political Decision Making
"Combining meticulous scholarship with graceful writing and a spirit of moderation, Shep Melnick has produced the definitive account of the ongoing transformation of Title IX. The 1972 statute's straightforward, bipartisan ban on sex discrimination has, he explains, been subtly amended by federal judges and administrators—without seeking public input—to dictate dubious policies, especially on sexual harassment and athletics. Melnick sees reason to hope that returning to a more deliberative rulemaking process may improve the troubling state of regulation under Title IX."—Stuart Taylor, Contributing Editor, National Journal
R. Shep Melnick is the Thomas P. O'Neill, Jr. Professor of American Politics at Boston College and co-chair of the Harvard Program on Constitutional Government. He is the author of two previous Brookings books that combine legal, political, and bureaucratic analysis: Regulation and the Courts: The Case of the Clean Air Act and Between the Lines: Interpreting Welfare Rights.