No environmental issue triggers such feelings of hopelessness as global climate change. Many areas of the world, including regions of the United States, have experienced a wide range of unusually dramatic weather events recently. Much climate change analysis forecasts horrors of biblical proportions, such as massive floods, habitat loss, species loss, and epidemics related to warmer weather. Such accounts of impending disaster have helped trigger extreme reactions, wherein some observers simply dismiss global climate change as, at the very worst, a minor inconvenience requiring modest adaptation. It is perhaps no surprise, therefore, that an American federal government known for institutional gridlock has accomplished virtually nothing in this area in the last decade. Policy inertia is not the story of this book, however. Statehouse and Greenhouse examines the surprising evolution of state-level government policies on global climate change. Environmental policy analyst Barry Rabe details a diverse set of innovative cases, offering detailed analysis of state-level policies designed to combat global warming. The book explains why state innovation in global climate change has been relatively vigorous and why it has drawn so little attention thus far. Rabe draws larger potential lessons from this recent flurry of American experience. Statehouse and Greenhouse helps to move debate over global climate change from bombast to the realm of what is politically and technically feasible.
Related Books
Greenhouse Governance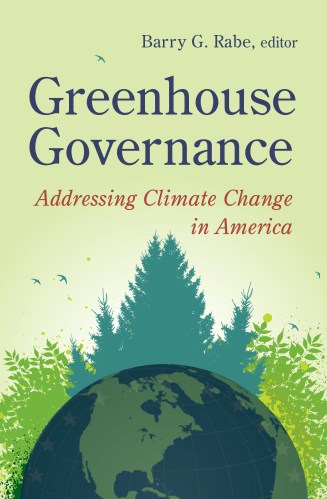 A possible North American path forward on short-lived climate pollutants
When climate policy works: HFCs and the case of short-lived climate pollutants
U.S. Government & Politics
When climate policy works: HFCs and the case of short-lived climate pollutants
Barry G. Rabe
June 24, 2021
Barry G. Rabe is a professor of environmental policy in the School of Natural Resources and Environment and professor of public policy in the Gerald R. Ford School of Public Policy at the University of Michigan. He also directs the university's new Program in Environment. Rabe is the author of two previous Brookings books, When Federalism Works and Beyond NIMBY.