America's interstate highway system is deteriorating, and traffic congestion in most urban centers is worsening. Because of the many strong and conflicting interests, policy discussions about the road system are also in gridlock. The only consensus that seems to have emerged is that public spending must be increased.
Improving our highway system and its financing will not be easy. Road Work proposes a comprehensive highway pricing and investment policy to meet the goals of efficiency, equity, and financial stability.
In this study, Kenneth A. Small, Clifford Winston, and Carol A. Evans base their policy on two economic principles: efficient pricing to regulate demand for highway services and efficient investment to minimize the total public and private costs of providing them. Policy recommendations include a set of pavement-wear taxes for heavy trucks, a set of congestion taxes for all vehicles, and a program of optimal investments in road durability. Their proposals should be especially attractive to policymakers because they can be implemented with current technology, offer little threat to the major interest group, and in the long run will reduce the strain on state and local governments' highway budgets.
Related Books
Stuck in Traffic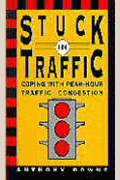 Government Failure versus Market Failure
Alternate Route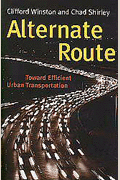 U.S. Economy
Alternate Route
Clifford Winston, Chad Shirley
September 1, 1998
Kenneth A. Small is professor of economics at the University of California, Irvine.
Clifford Winston is a senior fellow in Economic Studies at the Brookings Institution. Among his previous books are Deregulation of Network Indus