Today the United States has little leverage to promote change in Cuba. Indeed, Cuba enjoys normal relations with virtually every country in the world, and American attempts to isolate the Cuban government have served only to elevate its symbolic predicament as an "underdog" in the international arena. A new policy of engagement toward Cuba is long overdue. —From the Introduction
As longtime U.S. diplomats Vicki Huddleston and Carlos Pascual make painfully clear in their introduction, the United States is long overdue in rethinking its policy toward Cuba. This is a propitious time for such an undertaking—the combination of change within Cuba and in the Cuban American community creates the most significant opening for a reassessment of U.S. policy since Fidel Castro took control in 1959. To that end, Huddleston and Pascual convened opinion leaders in the Cuban American community, leading scholars, and international diplomats from diverse backgrounds and political orientations to seek common ground on U.S. policy toward Cuba. This pithy yet authoritative analysis is the result.
In the quest for ideas that would support the emergence of a peaceful, prosperous, and democratic Cuba—one in which the Cuban people shape their political and economic future—the authors conducted a series of simulations to identify the critical factors that the U.S. government should consider as it reformulates its Cuba policies. The advisers' wide-ranging expertise was applied to a series of hypothetical scenarios in which participants tested how different U.S. policy responses would affect a political transition in Cuba.
By modeling and analyzing the decisionmaking processes of the various strategic actors and stakeholders, the simulations identified factors that might influence the success or failure of specific policy options. They then projected how key actors such as the Cuban hierarchy, civil society, and the international and Cuban American communities might act and react to internal and external events that would logically be expected to occur in the near future.
The lessons drawn from these simulations led to the unanimous conclusion that the United States should adopt a proactive policy of critical and constructive engagement toward Cuba.
Related Books
Key takeaways from the discussion on "The Two-Parent Privilege"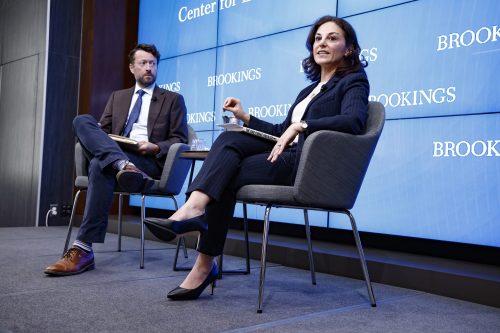 Combating the summer slide: The city as a (learning) playground
Education
Combating the summer slide: The city as a (learning) playground
Katelyn Fletcher, Molly Scott, Sarah Lytle, Kathy Hirsh-Pasek
September 27, 2023
CTI welcomes two new fellows
Vicki Huddleston is U.S. deputy assistant secretary of defense for Africa. Before taking this post, she was codirector of the Brookings Project on U.S. Policy toward Cuba in Transition, 2007–09. A veteran diplomat, she was head of the U.S. mission in Cuba from 1999 to 2002.
Carlos Pascual, now U.S. ambassador to Mexico, was vice president and director of foreign policy at Brookings Institution, 2006–09. He also has served as U.S. ambassador to Ukraine and is coauthor of Power and Responsibility: Building International Order in an Era of Transnational Threat (Brookings, 2009).