A few years ago, Americans held out their systems of corporate governance and financial disclosure as models to be emulated by the rest of the world. But in late 2001 U.S. policymakers and corporate leaders found themselves facing the largest corporate accounting scandals in American history. The spectacular collapses of Enron and Worldcom—as well as the discovery of accounting irregularities at other large U.S. companies—seemed to call into question the efficacy of the entire system of corporate governance in the United States. In response, Congress quickly enacted a comprehensive package of reform measures in what has come to be known as the Sarbanes-Oxley Act. The New York Stock Exchange and the NASDAQ followed by making fundamental changes to their listing requirements. The private sector acted as well. Accounting firms—watching in horror as one of their largest, Arthur Andersen, collapsed after a criminal conviction for document shredding—tightened their auditing procedures. Stock analysts and ratings agencies, hit hard by a series of disclosures about their failings, changed their practices as well. Will these reforms be enough? Are some counterproductive? Are other shortcomings in the disclosure system still in need of correction? These are among the questions that George Benston, Michael Bromwich, Robert E. Litan, and Alfred Wagenhofer address in Following the Money. While the authors agree that the U.S. system of corporate disclosure and governance is in need of change, they are concerned that policymakers may be overreacting in some areas and taking actions in others that may prove to be ineffective or even counterproductive. Using the Enron case as a point of departure, the authors argue that the major problem lies not in the accounting and auditing standards themselves, but in the system of enforcing those standards. Rather than attempting to craft a single set of accounting and reporting standards for all companies throughout the world, the authors advise policymakers to allow competition between the two major sets of standards: Generally Accepted Accounting Principles and International Financial Reporting Standards. The authors also believe that the corporate disclosure system needs to be updated to reflect changes in the underlying economy. In particular, they recommend new forms of disclosure for a variety of nonfinancial indicators to better enable investors and analysts to ascertain the source and nature of intangible assets. They also urge policymakers to exploit the advantages of the Internet by encouraging more frequent financial disclosures in a form that will make them more widely accessible and more easily used.
Related Books
The Future of State-Owned Financial Institutions
Deregulating Property-Liability Insurance
Brookings Papers on Economic Activity, Microeconomics 1989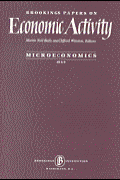 Business & Workforce
Brookings Papers on Economic Activity, Microeconomics 1989
Clifford Winston, Martin Neil Baily
May 23, 1989
George J. Benston is John H. Harland Professor of Finance at Goizueta Business School, Emory University. Michael Bromwich is CIMA Professor of Accounting and Financial Management at the London School of Economics. Robert E. Litan is a senior fellow in Economic Studies at the Brookings Institution and vice president for research and policy at the Kauffman Foundation. Among his many books is Good Capitalism, Bad Capitalism, and the Economics of Growth and Prosperity (Yale University Press, 2007), written with William J. Baumol and Carl J. Schramm. Alfred Wagenhofer is professor of management accounting and control at the University of Graz, Austria, and professor at the European Institute for Advanced Studies in Management, Brussels.