"Moral values" dominated the post-election headlines in 2004. Analysts pointed to exit polls, strong turnout among evangelicals, and controversy over gay marriage as evidence that the election had been decided along religious lines. Soon, however, this explanation was called into question. In A Matter of Faith, distinguished scholars go beyond the headlines to assess the role of religion in the 2004 election. Were issues such as stem cell research really more influential than the economy and Iraq? Did deeply religious Americans necessarily vote Republican? Was the morality factor really a dramatic new development?
David E. Campbell and his colleagues examine the religious affiliations of voters and party elite and evaluate the claim that moral values were decisive in 2004. The authors analyze strategies used to mobilize religious conservatives and examine the voting behavior of a broad range of groups, including evangelicals, African-Americans, and the understudied religious left. This rich perspective on faith and politics is essential reading on a critical aspect of American politics.
Contributors include John Green (University of Akron; Pew Forum on Religion and Public Life), James Guth (Furman University), Sunshine Hillygus (Harvard University), Laura Hussey (University of Baltimore), John Jackson (University of Southern Illinois), Scott Keeter (Pew Research Center for the People and the Press), Lyman Kellstedt (Wheaton College), Geoffrey Layman (University of Maryland), David Leal (University of Texas at Austin), David Leege (Notre Dame), Eric McDaniel (University of Texas at Austin),Quin Monson (Brigham Young University), Barbara Norrander (University of Arizona), Jan Norrander (University of Minnesota), Baxter Oliphant (Brigham Young University), Corwin Smidt (Calvin College), and Matthew Wilson (Southern Methodist University).
Related Books
One Electorate under God?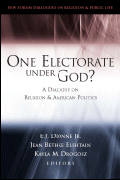 The Diminishing Divide
The New World of Welfare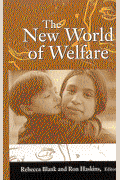 David E. Campbell is the John Cardinal O'Hara, C.S.C. Associate Professor of Political Science and a research fellow with the Institute for Educational Initiatives at the University of Notre Dame. He is the author of Why We Vote: How Schools and Communities Shape Our Civic Life (Princeton University Press, 2006) and a coauthor or coeditor of The Education Gap: Vouchers and Urban Schools (Brookings, revised 2006), Democracy at Risk (Brookings, 2005), and Charters, Vouchers, and Public Education (Brookings, 2001).