In a modern economy, connecting to reliable high-speed internet is no longer a luxury. Households increasingly need access to the latest broadband technologies to access economic opportunity and simply operate in today's economy. In response, public and private leaders from Washington to Silicon Valley are pushing to rapidly expand connectivity to digital information networks, forging stronger infrastructure links for millions of users while maximizing the long-term benefits of broadband.
However, new Census data from the 2014 American Community Survey reveal how uneven broadband adoption remains throughout the country. While several factors can weigh positively or negatively on adoption, including commute patterns and levels of educational attainment, income has perhaps the biggest effect.
Nationally, most households (75.1 percent) had a broadband internet subscription in 2014, but the gap between lower-income and higher-income households remains large. For example, 92.1 percent of households earning $75,000 or more annually had a broadband subscription, almost double that of households earning under $10,000 each year (46.3 percent). Adoption rates among households with incomes between $10,000 and $35,000 were also similarly low by comparison.  
These disparities aren't going away, either. From 2013 to 2014—the two years in which broadband data are available from the American Community Survey—households across every income level have increased their rates of adoption, yet a considerable gulf remains between lower- and higher-income households. Households earning under $35,000 annually, for instance, have seen the fastest yearly adoption gains—in some cases jumping up to 2 percentage points. But with gaps of at least 30 percentage points between some income groups, it could take over a decade at current rates to achieve more even adoption across all U.S. households.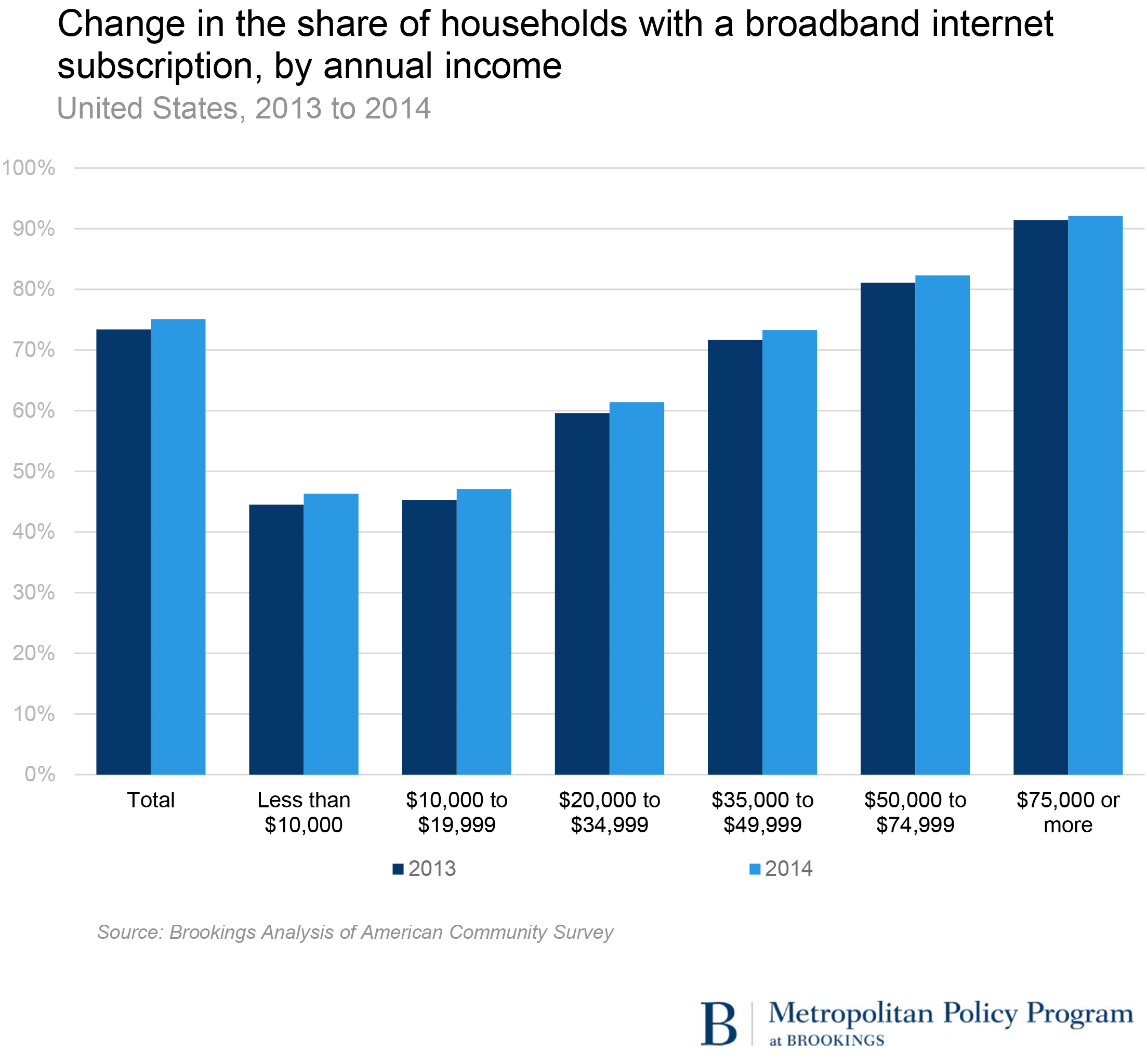 While many public and civic leaders focus on expanding access to fiber-speed internet—a necessary step in itself—they shouldn't overlook the need to address adoption gaps. Nationally, a reformed version of the Federal Communication Commission's Lifeline program could help, but incorporating broadband into its purview remains a work in progress. Since internet regulation is highly variable across the country, state and local leaders must tackle this challenge with programs targeted to their markets. Incentivizing physical roll-out in low-income neighborhoods and creating digital skills curricula are some of the promising options, and markets can follow the lead from innovators like Minnesota, Seattle, and elsewhere.
Ultimately, collaborative strategies at all levels of the public and private sector—and across all geographies—are crucial to expand the reach of the country's digital information networks. If the country wants to repeat the shared economic prosperity of the 20th century as we advance further in the 21st, we don't really have a choice.