"Missed connections" is the personals ads category for people whose encounters are too fleeting to form any union – a lost-and-found for relationships.  I gave that title to my paper on the conversation between the United States and for Europe on data, privacy, and surveillance because I thought it provides an apt metaphor for the hopes and frustrations on both sides of that conversation.
The United States and Europe are linked by common values and overlapping heritage, an enduring security alliance, and the world's largest trading relationship.  Europe has become the largest crossroad of the Internet and the transatlantic backbone is the global Internet's highest capacity route.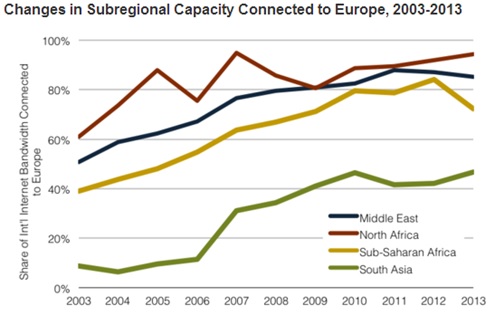 [I]
But differences in approaches to the regulation of the privacy of personal information threaten to disrupt the vast flow of information between Europe and the U.S.  These differences have been exacerbated by the Edward Snowden disclosures, especially stories about the PRISM program and eavesdropping on Chancellor Angela Merkel's cell phone.  The reaction has been profound enough to give momentum to calls for suspension of the "Safe Harbor" agreement that facilitates transfers of data between the U.S. Europe; and Chancellor Merkel, the European Parliament, and other EU leaders who have called for some form of European Internet that would keep data on European citizens inside EU borders.  So it can seem like the U.S. and EU are gazing at each other from trains headed in opposite directions.
My paper went to press before last week's European Court of Justice ruling that Google must block search results showing that a Spanish citizen had property attached for debt several years ago.  What is most startling about the decision is this information was accurate and had been published in a Spanish newspaper by government mandate but – for these reasons – the newspaper was not obligated to remove the information from its website; nevertheless, Google could be required to remove links to that website from search results in Spain. That is quite different from the way the right to privacy has been applied in America.  The decision's discussion of search as "profiling" bears out what the paper says about European attitudes toward Google and U.S. Internet companies.  So the decision heightens the differences between the U.S. and Europe.
Nonetheless, it does not have to be so desperate.  In my paper, I look at the issues that have divided the United States and Europe when it comes to data and the things they have in common, the issues currently in play, and some ways the United States can help to steer the conversation in the right direction.
[I] "Europe Emerges as Global Internet Hub," Telegeography, September 18, 2013.