On March 22, the White House will mark World Water Day by hosting a summit to "raise awareness of water issues" in the United States and to help "build a sustainable water future through innovative science and technology."
The United States will need innovative new technologies and management strategies to solve its growing water challenges, including continued population growth, climate change, and aging infrastructure, in the decades ahead. Yet our research reveals that the U.S. currently suffers from a serious innovation deficit in the water field. While innovation in the energy industry has jumped dramatically in the last decade, it has remained flat in the water sector. To help identify a path toward greater innovation in water, the Stanford Woods Institute for the Environment has released a series of water policy briefs that highlights the current barriers to water innovation and sets out effective approaches to overcome those barriers.
The United States will need innovative new technologies and management to solve its growing water challenges in the decades ahead.
Water shortages are not limited to the western U.S. According to the U.S. Government Accountability Office, 40 out of 50 states expect some level of water shortage in the coming decade (Figure 1). Droughts, floods, emerging climate change, water quality degradation, and aging infrastructure pose serious challenges to America's water and wastewater systems. The water sector must look beyond traditional approaches and invest in the identification, development, and dissemination of innovative technologies.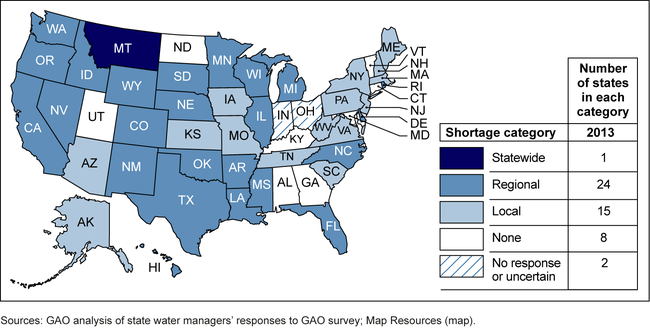 Figure 1: Extent of Likely State Water Shortages over the Next Decade under Average Water Conditions, 2013
A major barrier to innovation in the water sector is the highly fragmented nature of the industry. Thousands of water entities, many of them small, supply water in the U.S. Indeed, there are more water suppliers in the United States than all school districts combined. According to the U.S. Environmental Protection Agency, approximately 155,000 drinking-water systems and 15,000 wastewater systems exist in the United States (U.S.-EPA, 2009) serving diverse communities of various sizes. As a result, many water suppliers, especially smaller ones, do not have the expertise, resources, or economies of scale to pursue effective innovation. Other types of fragmentation compound the problem. Different types of water—for example, surface water, groundwater, and stormwater – are often governed by different government entities, making it difficult to innovate across these divides. Fragmented regulatory authority further adds to this complexity by adding layers of often uncoordinated regulation. At the federal level alone, eight different agencies are directly or indirectly involved in regulating water resources.
A promising approach to overcome this fragmentation at the state level is to establish "offices of water innovation," an idea we originally examined in The Path to Water Innovation, a 2014 paper published by the Hamilton Project and the Stanford Woods Institute for the Environment. An office of water innovation would serve as a coordinating entity for innovation both within a state and between the federal and state governments. The office would develop a vision for technological and managerial innovation in pursuit of sustainable water management and would promote policies to implement that vision. The office also could act as a clearinghouse for governmental and private funding, propose regulatory changes designed to promote innovation, facilitate the collection and publication of relevant water data and information, and disseminate information about new technologies and managerial innovations to water managers. Finally, the office might invest in and test new technologies on behalf of some or all of the state's water suppliers, providing economies of scale often not possible in today's fragmented water industry.
The water sector must look beyond traditional approaches and invest in the identification, development, and dissemination of innovative solutions.
Massachusetts' Clean Energy Center has already adopted this idea. Extending its reach to water, the center promotes water innovation through regulatory reforms, financial incentives, and R&D funding. The federal government also could play an important role by helping to promote and support best practices and providing race to-the-top incentive funding.
If the United States is to continue to enjoy reliable and high quality water supplies, the water sector must increase its rate of innovation. Multiple factors suppress innovation, including the industry's low prices, high capital ratio, and innate conservatism. Industry fragmentation, however, is one of the most serious obstacles. State-based offices of innovation provide one means of overcoming this fragmentation and promoting critical innovation.
Perry L. McCarty Director, Woods Institute for the Environment
The findings, interpretations and conclusions posted on Brookings.edu are solely those of the authors and not of The Brookings Institution, its officers, staff, board, funders, or organizations with which they may have a relationship.