Editor's Note: This blog post is part of The Primaries Project series, where veteran political journalists Jill Lawrence and Walter Shapiro, along with scholars in Governance Studies, examine the congressional primaries and ask what they reveal about the future of each political party and the future of American politics.
As the Congressional primary season whimpers to a close with contests in four states next Tuesday, we pause to consider some of the more unusual candidates who have run in this cycle. Taken together their candidacies remind us of Samuel Johnson's adage about second marriages—a triumph of hope over experience. With most of the news coverage focused on high-profile races and predictions about the Senate, it's easy to overlook less well-known candidates. Here's a sampling of some of more unusual 2014 candidates and their strategies.
1. The Resume Enhancers.
Candidates routinely pad their resumes and many are also fond of putting their photos over iconic American symbols such as the Declaration of Independence. But Joshua Tucker, who ran for Congress in Kansas' second district clearly wins the prize for both. Not only did his website feature a photo of him over the Declaration of Independence but his signature is inserted strategically in the middle of the signatures of the Founding Fathers—in place of John Hancock's signature. About all that's missing is for Tucker to photo shop himself into the boat with Washington crossing the Delaware. 



(Photo credit: Josh Tucker for Congress)

2. Carpet Baggers Run Amok.
Politics has always been about identity and identity has been first and foremost about geography—which is why deep local roots have always been an advantage to a candidate. But in 2014, two candidates chose to run in multiple states. Allen Levene ran for the House of Representatives in Georgia and Hawaii. He would have added Minnesota and Michigan but he missed the filing deadlines. William Bryk filed to run for Senate in Alaska, Idaho, Oregon and Wyoming. Bryk lives in Brooklyn, New York with his wife and cats. But his candidacy is not totally quixotic. What he really wants to do is to encourage political parties to put up credible challengers to incumbents. A worthy goal for sure but maybe he should have at least visited the states he was running in? Of course Article 1 of the Constitution says that on Election Day, Senators must "…be an inhabitant of that State for which he shall be chosen." For candidates running in multiple states that could mean a pretty arduous election day weekend in a U-Haul.
3. The Name-Changers.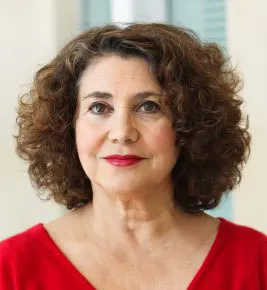 Scott Fistler tried to run for Congress in Arizona's 7th congressional district. This district, encompassing much of Phoenix and Glendale, is a majority Hispanic congressional district. So Scott changed his name to Cesar Chavez. Nice try. At least it sort of makes sense. The rationale for whoever changed their name to "Mike the Mover" in order to run for a seat in the first congressional district in Washington State, is not so clear.
On the Democratic side of Arizona's 7th CD however, the name changing cropped up again. In the Democratic primary Mary Rose Wilcox (original name) lost to Ruben Gallego. Wilcox challenged him because his name used to be Ruben Marinelarena Gallego. Hey, at least Ruben started out with an Hispanic name.
4. The Family Business.

We know that politics tends to be a family business. Woe to the candidate whose spouse or ex-spouse isn't all in. But in the third congressional district in Missouri, the Steinman family gave new meaning to the family business. He (Leonard) ran for Congress as a Republican and she (Velma) ran for Congress as a Democrat. Both lost but they seem to be a happy couple nevertheless—or at least he does. Perhaps they are hoping that CNN will offer them a gig now that Mary Matalin and James Carville have left.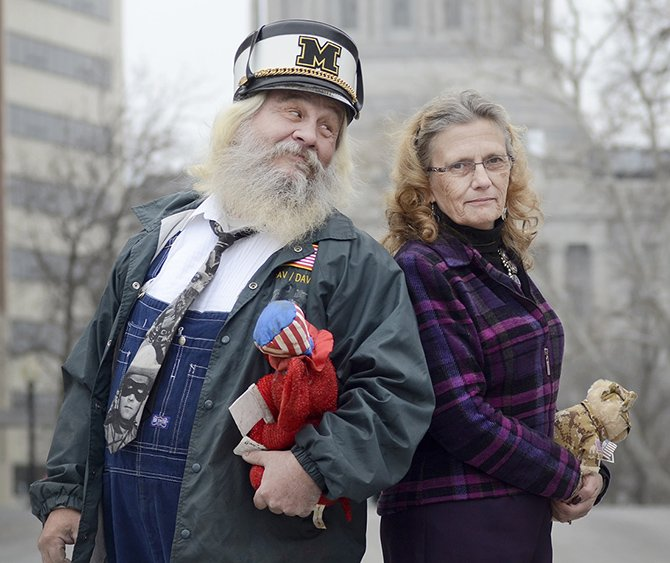 (Photo credit: Katie Alaimo/News Tribune)


5.The Indecisive or Maybe Dazed and Confused.
And then there are the candidates who can't seem to make up their minds on the issues of the day. For instance, Eddie Pirkowski ran for the Republican Senate nomination in Hawaii supporting both pro-life and pro-choice positions.
6. The Too Much Information Dump.
Erick Bennett challenged Senator Susan Collins in Maine's Republican primary. But he had a problem. In 2003 Bennett was arrested and convicted for domestic violence. Rather than try and hide this fact, as many candidates have failed to do—Bennett decided that he should turn his ordeal in the justice system into a story about his strength of character and his innocence. His campaign website features a long, rambling history of his relationship with Angie, her mother, (an apparent party animal), their kids, their many physical mishaps and the cops. All of this, of course, contributes to his experience with the justice system and his support for a "pro-family" agenda. He wanted voters to know that he'd bring the same guts and integrity he showed in maintaining his innocence on domestic violence charges to fighting for voters in Washington. They didn't buy it.