Editor's Note: This blog post is part of The Primaries Project series, where veteran political journalists Jill Lawrence and Walter Shapiro, along with scholars in Governance Studies, examine the congressional primaries and ask what they reveal about the future of each political party and the future of American politics.
The primary season begins in earnest today with primaries in three large, important states: Indiana, North Carolina and Ohio. Most of the attention will be focused on the Republican Senate Primary in North Carolina as factions of the Republican Party fight it out to see who will go up against Democratic Senator Kay Hagan in the fall. But here at the Primary Project we'll be taking a look at all of today's primaries.
As we continue to try and understand the dynamics of these primaries we have an important new partner—The Campaign Finance Institute.  They have recently launched a new project on Money and Polarization in the 2014 Congressional Primaries. In the wake of recent Supreme Court decisions nothing could be more important. The new, easily searchable CFI website allows anyone to monitor the outside groups that are spending money to impact House and Senate primaries. The interested citizen can search each congressional district and see who is spending money for or against candidates in an individual race. For instance, if anyone doubts the animosity the Tea Party feels for Speaker John Boehner, they can search Ohio's 8th Congressional district and find that the Tea Party Leadership Fund has spent $278,584 against Boehner and $72,591 in favor of Boehner's Tea Party challenger, J.D. Winteregg. In addition, the interested citizen can search any one of a number of groups that are putting money into this year's primaries and see who they are funding.
The Campaign Finance Institute's project, along with Brookings' own Primary Project, hopes to open up scholarship on the primary process, a long ignored stepchild of American politics. And so, as the primary season opens, we take a look at today's congressional races with an eye towards exploring the territory beyond the high profile horse races.
As we saw last month when we wrote about the first primaries of this season, (Illinois and Texas), the conventional wisdom that Democrats are less internally conflicted than Republicans seems to have been borne out in today's states as well. As the chart below indicates, Republican incumbents are more likely to draw a challenger than are Democratic incumbents.
In addition, the Tea Party remains a force to be reckoned with within the Republican Party. Even though they have not had any high profile wins so far, the very fact that Tea Party supporters actually run in Republican primaries guarantees that Republican incumbents next year will continue looking over their right shoulder as they make decisions on policy. In contrast, there are factions within the Democratic Party that are unhappy with their Party's establishment but so far they are not filing and running in Democratic primaries in any significant numbers. Therefore, as the chart below indicates, so far it looks like the Republicans will continue to be moved to the right by the Tea Party.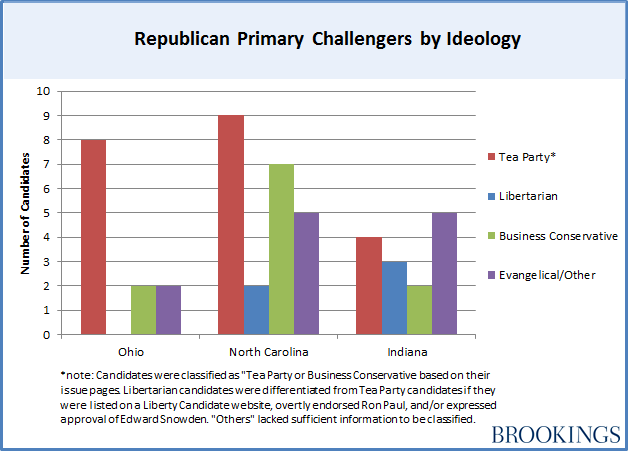 In addition to monitoring the universe of primary challengers, we also want to understand the conversation within each political party. And so the Primary Project has been monitoring and coding candidate's websites to get a sense of where the two parties are on a variety of issues. On the hot button issue of the Affordable Care Act, some Democrats seem to be developing a sort of "mend it, don't end it" narrative. For instance, Scott Wharton, the Democratic Candidate who is running unopposed to challenge Republican Congressman Steve Stivers in Ohio's 15th congressional district believes in "… a moral and economic imperative to reform the nation's healthcare system. He supports the implementation of the Affordable Care Act and believes that Republicans and Democrats should work together to fix the law rather than repeal or defund it." And candidate Michael Holleman, running for the Democratic nomination in North Carolina's 5th district advocates that Congress "Fix, not scrap," the health care law. He goes on to say, "The old system simply wasn't working. If you got sick you could get kicked off your insurance or simply denied due to preexisting conditions. The Affordable Care Act achieved some important and tangible goals. However, it is clear that the law needs improvements.  We need to ensure that it does not place unnecessary burdens on American families and businesses that are still struggling as our economy recovers." It remains to be seen whether or not this way of talking about the ACA picks up as the season goes on and whether it helps Democrats who are struggling under a law that is still very unpopular.
On the Republican side one of the more noteworthy developments from a scan of today's primaries is the almost complete absence of any discussion of Benghazi. Speaker Boehner has recently decided to call for a Select Committee into the investigation of what went wrong in Benghazi— the latest move in an intense campaign by the Republican leadership to turn Benghazi into a major general election issue. And yet, to judge by our review of the candidates running in the May 6 primaries, Benghazi just doesn't seem to come up on the radar screen of grass roots Republicans. Out of 55 Republican challengers running in today's primaries, only 9 called for an investigation into the Benghazi attacks—all the other Republican challengers just ignore the issue altogether. A similar pattern held in the Illinois and Texas primaries last month. There are probably a variety of explanations for this. One likely one is that this is not an issue that divides Republicans and thus it doesn't bear discussion in the primaries. Nonetheless, one would think that if this were, in fact, an issue that could ignite the country against Democrats today and against Hillary Clinton tomorrow, it would be used more by those who are in the fight right now. It remains to be seen whether this issue has the power that the Republican leadership today thinks it does.
We'll continue monitoring these primaries, along with help from the Campaign Finance Institute. While many besides us here at Brookings will be covering the high profile races, we'll continue to try and cover in some way or another, all the primary races for the lessons to be learned about the issues and fissures within each political party.