Editor's Note: This blog post is part of The Primaries Project series, where veteran political journalists Jill Lawrence and Walter Shapiro, along with scholars in Governance Studies, examine the congressional primaries and ask what they reveal about the future of each political party and the future of American politics.
Congressional primaries are the neglected stepchildren of American elections.  Journalists mostly ignore them, except when a scandal-ridden incumbent is defeated. News organizations never conduct exit polls of primary voters.  Congressional primaries also receive scant attention from scholars. In the absence of exit polls, polling after the fact is extraordinarily difficult given that turnout in Congressional primaries is pathetic, substantially lower than turnout in midterm elections. In the last three midterms (2002, 2006 and 2010) turnout in Congressional primaries averaged 5.4%, 4.6% and 7.5% of the voting age population. Turnout is even worse in "closed" primaries where only voters registered in a political party can vote. In addition, unlike general elections, congressional primaries do not take place on the same day and that means that the variables that impact elections are extremely difficult for scholars to analyze, changing as a result of both time and geography.
This year the primaries started in Texas on March 4th and were followed by Illinois on March 18th. And so begins a critical period in American politics…that almost no one notices.
 And yet, as people try and figure out just why contemporary American politics has become so dysfunctional more and more students of elections are turning their attention to congressional primaries.  Frankly the dynamics pointing to the importance of congressional primaries have been around for a long time.  Modern American politics consists of very few "swing" congressional districts and thus, going back to the original scholarship of Dick Fenno, we have known for years that all members of Congress pay attention to their primary constituency. But the surprise arrival of the Tea Party in the 2010 midterm elections and their persistent influence over decision making within the Republican Party has convinced us here at Brookings that it is time to spend more time on the systematic study of congressional primaries—and the consequences of these frequently overlooked partisan battles.
Therefore we've begun a project to monitor the 2014 congressional primaries.  As the primary season begins in March and sprawls over the summer months into September, we hope to gain insights into the future of the Democratic Party and into the future of the Republican Party.  We are interested in not just the horse race but in the conversation within each party.  Since incumbent members of Congress pay as much – and often more – attention to their primary constituency as they do to the general election, we want to know what shapes the worldviews of Congress.  To do this we've enlisted two seasoned, award winning national political reporters; Walter Shapiro and Jill Lawrence.  Shapiro, a veteran journalist who has covered the last nine presidential campaigns, is currently a lecturer at Yale University and a fellow at the Brennan Center for Justice at NYU.  Lawrence, a writer and analyst who has covered every presidential campaign since 1988, is launching a column with Creators Syndicate this spring.   As the primary season wears on throughout the summer, Shapiro, Lawrence and the scholars here in Governance Studies at Brookings will be examining the Congressional primaries and asking what they mean for the future of each political party and for American politics.
The Texas and Illinois Primaries
To kick this off I've had a look at the two states that have held primaries so far – Texas and Illinois.  As in past years, there is nothing surprising about the paucity of primary challengers.  As Robert G. Boatright shows in his book Getting Primaried: The Changing Politics of Congressional Primary Challenges, the number of competitive primaries has remained remarkably stable, between fifteen and thirty in the years 1982 to 2008, with the exception being 1992 when many incumbents were affected by the House banking scandal and the number of competitive primaries spiked.
So far, this year is no different. Conventional wisdom has it that the Democrats are less internally divided than the Republicans, and that observation seems to be born out by the scant number of primary challengers on the Democratic side.  Of the 12 Democratic incumbents in Texas only 2 faced primary challengers and both won their primaries easily.  Of the 13 Democratic incumbents in Illinois only Congressman Gutierrez faced a primary challenge, likely emerging from his facing ethics questions about keeping a lobbyist on his official payroll.   Nonetheless it looks like he too will easily beat back his challengers.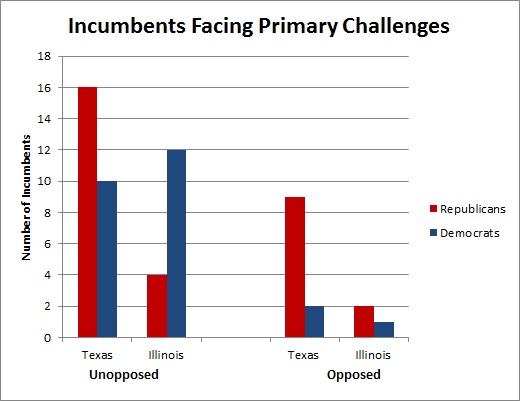 On the Republican side there have been proportionally more challenges to incumbents but not enough, at least so far, to warrant the conventional wisdom that there's an all out civil war afoot inside the party – maybe just some skirmishes.  Of the 24 Republican House incumbents in the Texas primary, 16 were unopposed and 8 were challenged. In the Texas Senate race, John Cornyn won an easy victory over Congressman Steve Stockman, whose absentee campaign led to his being abandoned even by his friends.  And Congressman Pete Sessions, faced down a Tea Party challenger backed by Sarah Palin. This has been interpreted as good news for other incumbent, business-backed Republican Senators facing down Tea Party challengers. 
In Illinois, of the six Republican incumbents, 4 ran unopposed and 2 drew opponents. Congressman Rodney Davis, (IL-13) found himself in the unlucky position of running against a Harvard Law School graduate and former Miss America.  Really.  Conservative Erika Harold.  But when the votes came in it looked like Davis beat her.  And in Illinois' 16th congressional district Congressman Adam Kinzinger had the misfortune of running against the head of the Rockford, Illinois, Tea Party, David Hale.   But he also defeated his primary challenger.
So the early lessons from these first two primaries are pretty much to be expected.  Few incumbents get challenged and even when they do they usually win.
But the real lessons to be learned from this year's primaries are not in the horse race, they are in the issues and fissures within each political party – and that's what we'll be looking at as the year goes on.  On the Republican side the big question is obvious – is the Tea Party growing, shrinking or holding steady?  The following chart offers an intriguing clue to that question.  We looked at all the Republican primary challengers in these first two states and categorized them according to ideology.  As is clear, the Tea Party is the dominant source of challenges in Republican primaries.  For those who are hoping they will just go away the presence of Tea Party inspired candidates (and their close cousins, Libertarians) means that the Ted Cruz and Rand Paul wings of the Republican Party are alive and well.  They may not win many elections, and they still have a hard time recruiting talented candidates; nonetheless next year's Republican members of Congress will be paying close attention to them.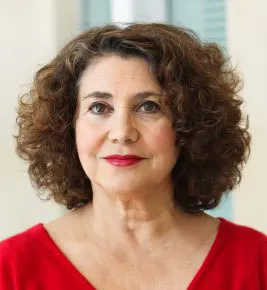 On the Democratic side the fissures are not as obvious but they are there.  Take, for instance, the contestants in the Democratic primary in Illinois' 13th Congressional district.  This is one of the few Republican districts that Democrats think they might be able to pick up and thus it engendered a three way primary between Ann Callis, George Collin and David Green. Like most Democrats in the primaries so far, Collin was a straightforward supporter of President Obama's health care act.  Green took the very liberal position of advocating a single payer system or "medicare for all" – the classic position of liberals on the left wing of the Democratic Party. But Callis, the likely winner of the primary and someone who may very well take the seat, has a nuanced and interesting position on Obamacare.  She supports "reforms that fix and improve the Affordable Care Act."  Her website goes on to say "She'll work to preserve sections of the law that ensure no one can ever be denied coverage for a pre-existing condition, keep the cost of prescription drugs low and that children can remain on their parents' coverage until the age of 26."  Note that she's chosen the popular pieces of the law and that there's no mention of the controversial individual mandate. Will there be more of this as the Democratic primaries unfold? And will it be a harbinger of things to come in the Democratic presidential primaries of 2016?
As this year unfolds the scholars at Brookings, along with our top national journalists will be looking at all these races.  We'll be trying to understand these neglected stepchildren of American democracy for what they tell us about the shape of things to come.