Brookings Now
BPEA Paper Looks at Early Impact of the Affordable Care Act
The Brookings Panel on Economic Activity began on Thursday with discussion among leading economists and policymakers about a paper by Amanda Kowalski on the early impact of the Affordable Care Act, particularly whether the impact of ACA differed across states due to their key decisions on ACA implementation.
In the paper, Kowalski, a Yale University economist and Brookings nonresident fellow, focuses on the individual health insurance market, noting that of the 13.2 million people covered in the second quarter of 2014, "4.2 million people would not be enrolled" had pre-ACA implementation trends continued at the state level.
Describing her key findings, Kowalski writes that:
I find that market participants in "direct enforcement" states that ceded all enforcement of the ACA to the federal government [Alabama, Missouri, Oklahoma,Texas, Wyoming] are worse off by approximately $245 per participant on an annualized basis, relative to participants in all other states.

I also find that the impact of setting up a state exchange depends meaningfully on how well it functions. Market participants in the six states that had severe exchange glitches [Hawaii, Massachusetts, Maryland, Minnesota, Nevada, Oregon] are worse off by approximately $750 per participant on an annualized basis, relative to participants in other states with their own exchanges.

I find suggestive evidence that participants in states that allowed renewal of non-grandfathered plans are worse off than participants in other states. I also find inconclusive evidence that participants in states with pre-ACA community rating and guaranteed issue regulations are better off than participants in other states.

I find further inconclusive evidence regarding the impact of having more insurers in the pre-ACA state market.

Although impacts within each state are likely to change over the course of 2014 as coverage, costs, and premiums evolve nationally, I expect that the differential impacts that we observe across states will persist through the rest of 2014.
Visit this interactive map to explore ACA adverse selection state-by-state.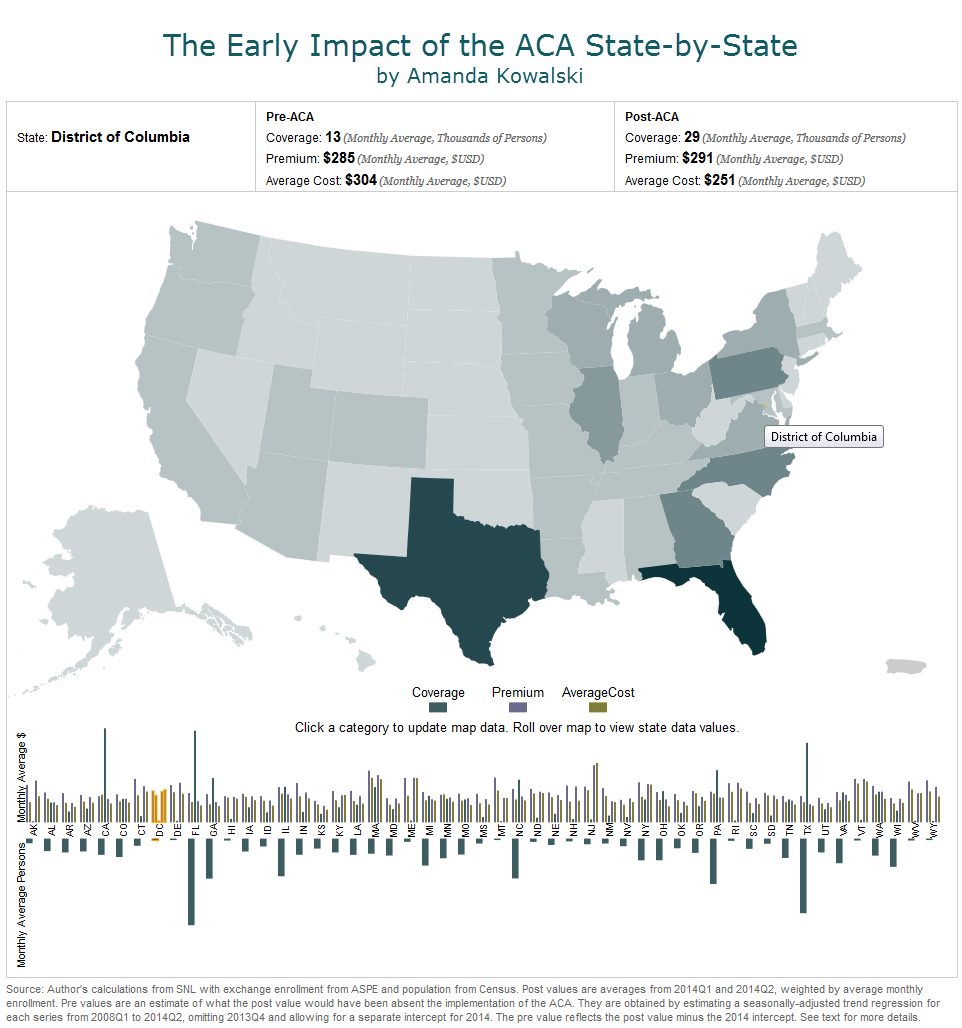 Here is Justin Wolfers, co-editor of the Brookings Papers on Economic Policy, talking about the paper:
Learn more about this paper and the other papers being discussed at the conference today, including research on credit policies in a housing debt crisis, and geographic variation in health care spending as it relates (or doesn't) to the quality of the health care system. On the second day of the conference, conference attendees will discuss papers on Social Security benefits indexing, eurozone integration, and labor force participation.