Amid signs the Trump administration is intending to slash funding to the United Nations and affiliated organizations, it is worth stepping back to unpack what is potentially at risk, and what the United States might stand to gain from holding firm as a committed partner on the world stage while conducting a clear-eyed and honest review of U.N. funding.
The Trump administration is threatening to cut both assessed funding (including for peacekeeping) and voluntary funding, perhaps by as much as 40 to 50 percent each. This signals that the administration is willing to starve even those parts of the system that work to keep Americans safe and secure, as well as to make major cuts to the humanitarian system in a time of immense need.
The money trail
The United States pays international organizations in two ways: assessed funding, which is the amount we and all other member states are obliged to pay annually, and voluntary contributions. Our assessed contributions cover funding for the U.N.'s regular budget, and the core budget of dozens of other international and regional organizations of which the United States is a member (everything from NATO to the International Coffee Organization).
At the United Nations and most other international organizations, the U.S. share of the budget every year is 22 percent, an amount set by negotiations among U.N. member states, which take place every three years. (And it should be noted, due to U.S. insistence during those negotiations in 2000, the U.S. rate is actually capped at 22 percent, rather than fluctuating depending on our share of the global economy, as it otherwise would do.) The United States also contributes assessed funding for U.N. peacekeeping every year, at the rate of around 28.5 percent. The higher assessment rate for peacekeeping reflects the U.S. role as a permanent member of the U.N. Security Council. Essentially, we and the other four permanent members of the Security Council pay a premium for our veto power, which in turn gives us outsized influence in determining and overseeing Security Council mandates. The United States also contributes voluntarily to a host of U.N. agencies every year, the vast majority of which is development and humanitarian funding.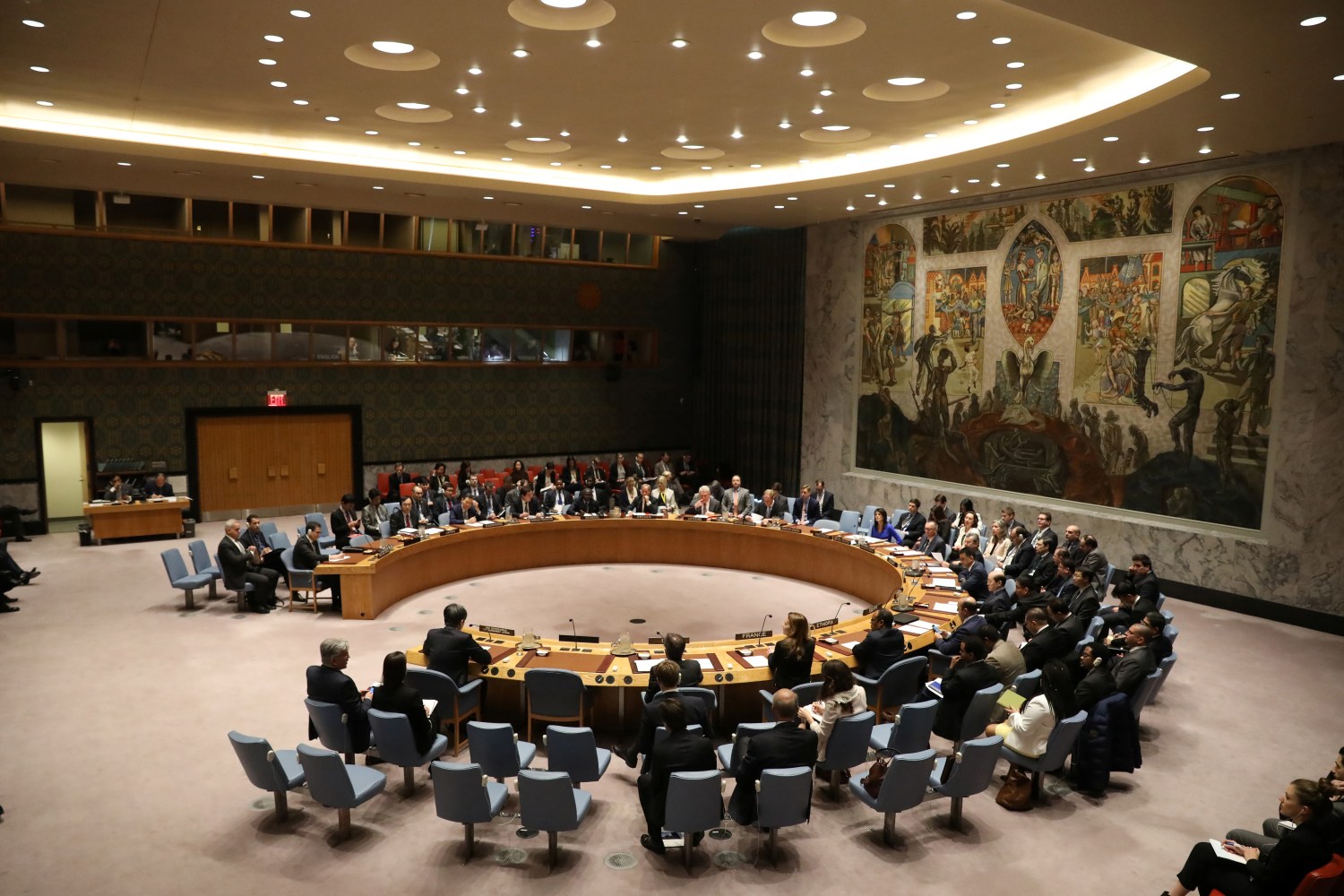 Members of the United Nations Security Council sit during a meeting on Syria at the United Nations Headquarters in New York City, NY, U.S. April 5, 2017. REUTERS/Shannon Stapleton - RTX347P1
The Trump administration is threatening to cut both assessed funding (including for peacekeeping) and voluntary funding, perhaps by as much as 40 to 50 percent each. The administration has already notified Congress that it will stop all funding to the U.N. Population Fund (UNFPA), which was anticipated, given that Republican administrations normally do so under the guise of concern (proven to be unfounded) about support for coerced abortions in China. The "global gag rule," which the administration put in place in January, will further decrease funding for women's and maternal health around the world. The "skinny budget" released by the Trump administration and recent press reports suggest that funding to the United Nations for climate related activities would also be zeroed out under the administration's plan, and that development and humanitarian voluntary funding is also at risk.
Point-by-point
It is worth breaking out possible consequences of a decrease in U.N. funding to four areas: assessed funding, peacekeeping, humanitarian programs, and economic and development funding.
1First, the administration's skinny budget says the United States will reduce its assessed funding to the United Nations and other international organizations, and look to change the balance of such funding so that the U.S. share goes down. Such cuts could impact everything from U.N. political missions in Afghanistan, Iraq, and Libya to panels of experts that investigate countries under sanctions to development and human rights activities funded out of the U.N. regular budget. Less noticed, though, is that—depending on how they are parceled out—these cuts would also impact U.S. treaty-based contributions to organizations that play a critical role for U.S. national security. For example, the United States pays assessed contributions to the International Atomic Energy Agency, which monitors North Korea's nuclear activities and Iran's compliance with the nuclear deal; the World Health Organization, which responds to global pandemics and other health emergencies; and the International Civil Aviation Organization, which helps ensure the safety of international air travel. The United States also pays assessed contributions to a host of other international organizations, many of which most people haven't heard of, but each one reflects a considered decision the United States made at some point over the past decades to sign a treaty or convention joining those organizations. We, like every other member state, are then obligated to pay a certain proportion of the organizations' core budgets every year.
This obligation gets to the very heart of the burden sharing that sustains the international system. It is not up to the United States, on the basis of political whim, to pick and choose when and whether we pay up in full on our commitments. Doing so undercuts any argument we might muster in support of other countries sharing more of the burden, and raises the prospect that other countries, too, could decide to renege on legal commitments made to sustain organizations that benefit Americans as much as they do citizens of every other country around the world.
It is not up to the United States, on the basis of political whim, to pick and choose when and whether we pay up in full on our commitments.
It is a different question whether, in light of the current U.S. share of the global economy, the rate of assessed contributions the United States pays is too high. Historical anomalies built into the budget and decisions taken on the basis of often outdated concepts have normally hindered our ability to radically alter the scales; the last time major changes occurred were in 2000, when the United States was $1 billion in arrears to the United Nations. That success, never guaranteed, depended on a complicated mix of a seasoned and dogged U.S. diplomat and negotiator, then U.S. ambassador to the United Nations Richard Holbrooke, a bipartisan agreement in Congress, complex multilateral talks, and ultimately the generosity of a private donor. It's not at all clear this mix of factors could be brought to bear again—and worth remembering that had the efforts failed the last time around, the United States was in danger of losing its vote in the U.N. General Assembly. Nonetheless, while the Trump administration signaled it wants to reduce the U.S. rate below 22 percent, that can only happen through a negotiation among all U.N. member states; the next such negotiation would normally be scheduled to take place in the fall of 2018. It is then that the United States could take a real run at fundamentally shifting how the so-called scales of assessment are determined.
Rather than making arbitrary funding cuts, it would make far more sense for the administration to put real muscle behind the scales renegotiation next time around, or to try to force a renegotiation earlier than 2018.
A World Health Organization (WHO) health worker gives a demonstration on the method of putting on a protective suit to health worker trainees in Freetown September 30, 2014. The death toll from the world's worst Ebola outbreak on record reached 3,338 people out of 7,178 cases in West Africa as of Sept. 28, the World Health Organization said on Wednesday. Picture taken September 30. REUTERS/Umaru Fofana (SIERRA LEONE - Tags: DISASTER HEALTH) - RTR48KVM
2Second, there has been a lot of focus on the administration's announced plans to cut U.S. contributions to U.N. peacekeeping, both in terms of overall dollar amount (reportedly by up to $1 billion) and in terms of the percentage of those contributions. As described above, the United States cannot unilaterally pay less than we owe without falling into arrears, though given how much of the peacekeeping budget the United States pays, it is certainly worth taking a hard run at renegotiating the U.S. rate of assessment in 2018, if not earlier.
Ambassador Haley has said that her team will do a mission-by-mission review of U.N. peacekeeping operations to determine where and whether cuts can be made to any particular mission. But the timing of any such review is unclear—she presided over a U.N. Security Council meeting on peacekeeping reform, mandate review, and performance issues earlier this month—and the administration's planned cuts would seem to not have taken account of any actual review. Some current missions were already slated to be drawn down, long before Trump took office, including the missions in Haiti, Liberia, and Cote d'Ivoire, and some savings will be found there. But to accommodate massive U.S. cuts in funding, the U.N. would need to fundamentally revise the mandates and make-up of its larger missions, such as in Congo, South Sudan, Darfur, and Mali. Haley's early attempt to make deep cuts to the mission in Congo ran into stiff resistance from other Security Council members, and ultimately the mission was cut much less dramatically than the United States wanted. Cuts on the order being discussed would have profound impact on peacekeepers' ability to keep the peace and protect civilians in some of the most dangerous and intractable conflicts in the world.
[T]he administration seems bent on cutting for cutting sake.
Any decisions to cut U.S. funding should be made only after a review, and on the basis of expert advice. Instead, the administration seems bent on cutting for cutting sake (hence the move to cut the percentage of assessed peacekeeping funding the United States would pay in exactly half). This potentially puts peace agreements and lives at stake for some modicum of domestic political gain.
Indeed, research by political scientists has shown that U.N. peacekeeping missions—even when they aren't performing especially well—dramatically reduce the risk of reversion to conflict in the countries in which they serve. Yes, the United States pays an outsized share of the budgets of such missions, but they also serve in places the United States cares about, in service of U.S. national security, and mean that the United States itself doesn't have to send troops into harm's way in places like Mali, where U.N. troops are engaged in counterterrorism efforts. Moreover, the budget for U.N. peacekeeping—around $8 billion this year—is a bargain, even allowing that the United States pays around 28 percent of that budget.
So while a considered review is perfectly appropriate, any funding cuts should await the results of a review, should take into consideration the potential for reversion to violence or for atrocities that could mean U.S. engagement would be needed down the line, and should reflect broader agreement on a reduction in the U.S. peacekeeping assessment rate.
UN peacekeepers stand guard in the northern town of Kouroume, Mali, May 13, 2015. Kourome is 18 km (11 miles) south of Timbuktu. REUTERS/Adama Diarra - RTX1CTOB
3Third, the Trump administration is reportedly considering slashing humanitarian funding. The United States has historically been the most generous humanitarian donor in the world; as a result, U.S. funding helps keep the international humanitarian system afloat. Whether it's responding to the massive humanitarian emergency in Syria, helping deliver food to desperately hungry people across South Sudan, or supporting refugees displaced by conflicts in the Middle East and Africa, the United Nations humanitarian agencies and international NGOs are leading the response, and already doing so with badly underfunded accounts.
Today, the global community is facing severe humanitarian crises in countries around the world, the risk of famine in four countries, and the largest movement of forcibly displaced persons since World War II. It is, quite simply, cruel and unjustified for the United States to turn its back on so many desperate people around the globe at this time in particular. To be sure, the U.N. humanitarian system needs reform, but given the magnitude of humanitarian crises around the world, the United States should retain its leadership role—in terms of both helping to fill the funding gaps to enable the United Nations to respond to needs, and corralling the international community to step up and help share the burden. The United States has historically played the role of enforcer-in-chief, pressing others to share the burden—but we can do so only if we keep up our end of the bargain. The Trump administration to date seems to have taken the view that given our historic generosity, we can now pull back without consequences, and others will step forward as a result. But we can't, and they won't.
The Trump administration to date seems to have taken the view that given our historic generosity, we can now pull back without consequences, and others will step forward as a result. But we can't, and they won't.
Last September at the United Nations, President Obama co-hosted a summit on refugees, one aim of which was to encourage other donor countries to increase their humanitarian giving and persuade non-traditional donors to do so as well. The effort succeeded, but only because the United States had unique standing to ask other countries to do more when we ourselves had such a generous record and were doing more too. Rather than slash humanitarian financing now, the United States would be better placed to work hand-in-hand with U.N. Secretary-General Antonio Guterres to put some real meaning behind the grand bargain agreed upon between donors and U.N. agencies last year. That bargain was meant to set the stage for real humanitarian reform, but the United States (as the largest donor) has a unique role to play in prodding the system forward, and in keeping other donors—and ourselves—honest in the process. Guterres knows the humanitarian system like few others, having served as head of the U.N. refugee agency for 10 years. He could be an effective partner in a long overdue effort, but there won't be much to pursue if the United States has blown up the humanitarian system during this time of such immense need by precipitously yanking much-needed funding.
People unpack humanitarian aid inside a warehouse in Ghouta, eastern Damascus May 24, 2014. A delegation from the United Nations, the World Food Program, UNICEF and the World Health Organization, accompanied by the Syrian Red Crescent, visited the eastern Damascus suburb of Ghouta carrying humanitarian aid to be distributed to the residents, and moved in the area accompanied by the Free Syrian Army, activists said. REUTERS/Mohammed Badra (SYRIA - Tags: POLITICS CIVIL UNREST CONFLICT) - RTR3QOD0
4Finally, the administration is promising major cuts to U.S. economic and development funding, which will presumably include significant cuts to U.S. voluntary contributions to the U.N.'s development agencies. Aside from the funding cut off to UNFPA and the projected end of U.S. funding for climate change activities, such cuts would hit agencies from UNICEF and the U.N. Development Program to U.N. Women and the Office of the High Commissioner for Human Rights, and more. They could also impact U.S. voluntary contributions to agencies such as the World Health Organization, to which we pay both voluntary and assessed funding, and which is primarily funded with voluntary contributions from the United States and other donors.
President Trump's skinny budget hinted at cuts, and also seemed to put U.N. agencies "on notice" that they had to become more efficient and effective. This, of course, has been a long-term project of the United States, but that doesn't make it any less relevant or appropriate. As with all of the administration's threatened cuts, it would make most sense first to conduct a serious and meaningful review of U.S. multilateral funding, asking two fundamental questions: whether the funding advances U.S. strategic interests, and whether the recipients operate with the efficiency, effectiveness, transparency, and accountability that befits receipt of significant U.S. taxpayer dollars. The United Kingdom periodically conducts a multilateral aid review, and makes funding choices and demands certain reforms of multilateral agencies in light of the review's findings. The United States would be smart to follow this model—and if such a review suggests funding to some entities should be reduced, make appropriate cuts.
Signaling now that it intends to carry out such a review would also put the United States in a prime position to push for serious reform; the U.N. development system in particular is ripe for it, and Secretary-General Guterres has identified this as one of his priorities. Moreover, all U.N. member states agreed to the Sustainable Development Goals in 2015, which should provide further impetus for a careful look at where the system is bloated, and overlapping and competing mandates of agencies. (There are, for example, 29 U.N. entities that have programs on water.) This is always a politically fraught area in U.N. discussions; developing countries fight hard to protect development dollars and particular U.N. entities in budget discussions, seeing it as a quid pro quo for big money going to U.S. priorities like the political missions in Iraq and Afghanistan. But a serious review of mandates and the plethora of actors in the U.N. development space is long overdue.
The perils of unilateralism
Ultimately, any significant reforms to the system will require the buy-in of other member states—so cutting first and asking questions later—is unlikely to end well. Yes, the United States will save a bit of money, but it's a pittance in the context of the U.S. federal budget and will do nothing to make up the big increases in military spending Trump wants. What it will do is make the United States particularly badly placed to find countries to work with to try to make progress in updating those parts of the U.N. system that need it, and helping to find serious efficiencies.
Many, including in Congress, have dismissed the administration's budget proposal out of hand; others have said it should be viewed as little more than a political statement. But when we see the fleshed-out version later this month, it will be clear that it's a political statement with potentially devastating consequences, including for U.S. interests in the multilateral space.
Trump and his team are signaling that they are willing to starve even those parts of the system that work to keep Americans safe and secure; to take risks with U.N. peacekeeping that could lead to further or renewed outbreak of conflict and civilian deaths; and to cut off the humanitarian system at its knees in a time of immense need. Even more, the cuts would make the prospect of any real (and needed) reform of the U.N. system far less likely, as they will reduce the willingness of others to come to table to work with us, and we can't unilaterally force change.
President Trump often talks of other countries needing to shoulder more burden, but burden sharing only works if we all buy in; it's hard to persuade others to fill gaps when we are pulling away ourselves—and in many places, other countries wouldn't be able to fill the gaps. Some donors announced after Trumps' global gag rule went into effect that they would make up for some of the missing U.S. money for women's health, but in the peacekeeping and humanitarian spaces, in particular, gaps caused by major cuts to U.S. funding won't be fully made up, and vulnerable civilians will suffer most.
Even if one takes at face value the notion that such projected cuts are driven by a desire to make sure the United States is getting the best value for its money, cuts to multilateral programs are short-sighted. U.S. aid goes a lot further when marshalled together with other donations through the multilateral system than it does when spent bilaterally; similarly, contributions to U.N. peacekeeping are miniscule in comparison to what it costs to send U.S. soldiers overseas. Thus even in a strictly transactional view of the world, it makes sense to keep funding through the multilateral system—while simultaneously working to make that system more effective, and more efficient.
A smarter plan, and one more likely to advance U.S. interests, would be to find partners for a reform effort, and in the meantime act in good faith, by paying our dues, and by making any decisions on cuts or changes to voluntary contributions on the basis of evidence gleaned from a thorough review, rather than flashy political point scoring. Among other things, this would ensure that the United States remains the strongest voice in the room—a position we usually hold proudly and deservedly by virtue of being the biggest donor into the U.N. system—to push for reforms, oversee and manage peacekeeping mandates, and prod other countries around the world to step up more firmly to the plate.