During her recent trip to Senegal, South Africa and Tanzania with the president, Michelle Obama emphasized the importance of one issue over others – a good education. Speaking to children and youth in schools, vocational training centers and clinics in all three African countries, the first lady consistently stressed the role education can play in transforming lives and the well-being of the continent as a whole. Her message was clear: "don't ever forget that by investing in your education, you are doing the very best thing you can do – not just for yourselves, but for your children and your grandchildren. And you're also doing the very best thing you can do for your country.
Though the first lady was often speaking directly to children, hopefully her message was heard by the international community and African government ministers as well. Despite steady progress over the last decade in getting more children into school, sub-Saharan Africa is still home to over 50 percent of the world's 57 million out-of-school primary aged children. Half of them will never make it into a classroom at all. More concerning is that the number of children not in school in sub-Saharan Africa – 30 million – has not budged over the last five years. 
In addition to improving access to education, there is an urgent need to improve the relevance and quality of the education that children receive. The Center for Universal Education's Africa Learning Barometer found that as many as half of the continent's primary school age children will fail to acquire the most basic reading and math skills even after four years of school. The real learning deficit is illustrated by the inequities that persist between social class, gender, rural/urban divides and minority ethnic groups. Zeroing in on South Africa as an example, the barometer estimates that on average almost 34 percent of children are not mastering basic competencies, but this can rise to as much as 48 percent of children living in rural areas and 53 percent for children from the poorest quintile of the population. 
In a blog post recapping her Africa trip, Mrs. Obama addresses some of the many barriers girls face by not only enrolling in school, but the challenges that they face even when they choose to stay in school. Building on her 2011 speech to the Young African Women Leaders Forum in South Africa, Michelle Obama reiterated that girls' education is a transformative investment and the best one a government can make to foster economic growth and stability. 
The first lady was not alone in her commitment to improving educational attainment in Africa. While in Johannesburg, President Obama also addressed the importance of investing in Africa's youth by announcing the Washington Fellowship for Young African Leaders, a new flagship program which brings youth to the U.S. for training and mentoring on fostering economic growth in Africa. 
Yet despite the president and first lady's commitment to education in Africa, U.S. foreign aid to global education is actually declining. Recently released figures by UNESCO's Institute for Statistics show that between 2010 and 2011, 6 of the 10 major donors (Canada, France, Japan, the Netherlands, Norway and the United States) to basic education reduced their levels of aid. In sub-Saharan Africa alone this is a decrease in financial support of 7 percent.

Figure 1

: Many of the Largest Donors Cut Aid to Basic Education Over 2010-11 (In 2011 Constant Prices)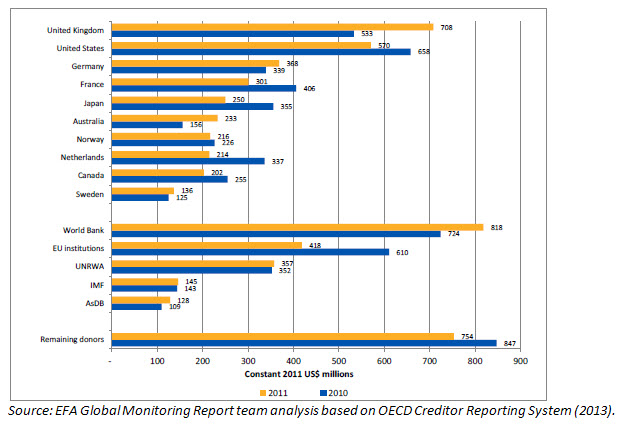 Now post the president and first lady's Africa trip, the U.S. government has an opportunity to recommit funding to basic education in Africa in order to lead by example and encourage other donor governments do to the same. As Michelle Obama said, "Mandela's most important quote, of the millions of things he has said, is that education is probably the most powerful weapon for change."