In the real world, students encounter problems that are complex, not well defined, and lack a clear solution and approach. They need to be able to identify and apply different strategies to solve these problems. However, problem solving skills do not necessarily develop naturally; they need to be explicitly taught in a way that can be transferred across multiple settings and contexts.
Here's what Kate Mills, who taught 4th grade for 10 years at Knollwood School in New Jersey and is now a Literacy Interventionist at Red Bank Primary School, has to say about creating a classroom culture of problem solvers:
Helping my students grow to be people who will be successful outside of the classroom is equally as important as teaching the curriculum. From the first day of school, I intentionally choose language and activities that help to create a classroom culture of problem solvers. I want to produce students who are able to think about achieving a particular goal and manage their mental processes. This is known as metacognition, and research shows that metacognitive skills help students become better problem solvers.
I begin by "normalizing trouble" in the classroom. Peter H. Johnston teaches the importance of normalizing struggle, of naming it, acknowledging it, and calling it what it is: a sign that we're growing. The goal is for the students to accept challenge and failure as a chance to grow and do better.
I look for every chance to share problems and highlight how the students—not the teachers—worked through those problems. There is, of course, coaching along the way. For example, a science class that is arguing over whose turn it is to build a vehicle will most likely need a teacher to help them find a way to the balance the work in an equitable way. Afterwards, I make it a point to turn it back to the class and say, "Do you see how you …" By naming what it is they did to solve the problem, students can be more independent and productive as they apply and adapt their thinking when engaging in future complex tasks.
After a few weeks, most of the class understands that the teachers aren't there to solve problems for the students, but to support them in solving the problems themselves. With that important part of our classroom culture established, we can move to focusing on the strategies that students might need.
Here's one way I do this in the classroom:
I show the broken escalator video to the class. Since my students are fourth graders, they think it's hilarious and immediately start exclaiming, "Just get off! Walk!"
When the video is over, I say, "Many of us, probably all of us, are like the man in the video yelling for help when we get stuck. When we get stuck, we stop and immediately say 'Help!' instead of embracing the challenge and trying new ways to work through it." I often introduce this lesson during math class, but it can apply to any area of our lives, and I can refer to the experience and conversation we had during any part of our day.
Research shows that just because students know the strategies does not mean they will engage in the appropriate strategies. Therefore, I try to provide opportunities where students can explicitly practice learning how, when, and why to use which strategies effectively so that they can become self-directed learners.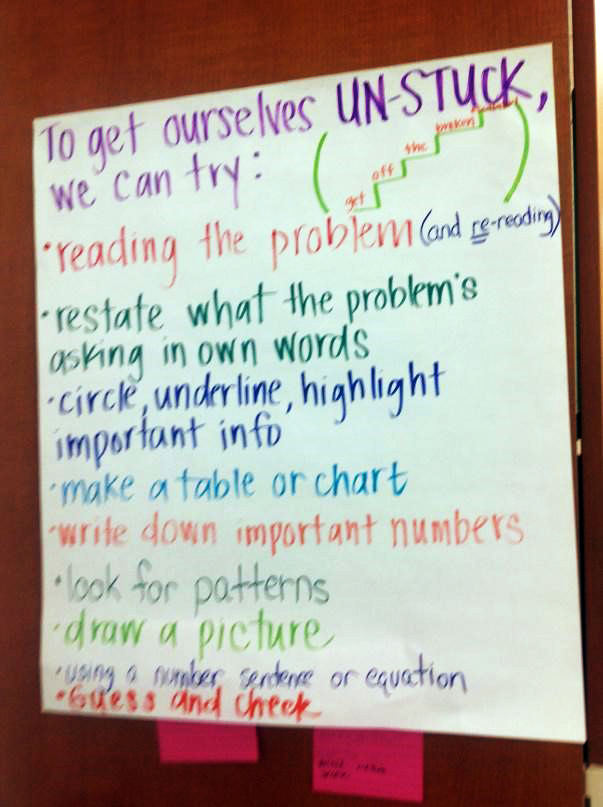 A list of strategies co-authored with students across a year.
For example, I give students a math problem that will make many of them feel "stuck". I will say, "Your job is to get yourselves stuck—or to allow yourselves to get stuck on this problem—and then work through it, being mindful of how you're getting yourselves unstuck." As students work, I check-in to help them name their process: "How did you get yourself unstuck?" or "What was your first step? What are you doing now? What might you try next?" As students talk about their process, I'll add to a list of strategies that students are using and, if they are struggling, help students name a specific process. For instance, if a student says he wrote the information from the math problem down and points to a chart, I will say: "Oh that's interesting. You pulled the important information from the problem out and organized it into a chart." In this way, I am giving him the language to match what he did, so that he now has a strategy he could use in other times of struggle.
A list of language prompts students might use (for self-talk or talking with a partner) along with the strategy.
The charts grow with us over time and are something that we refer to when students are stuck or struggling. They become a resource for students and a way for them to talk about their process when they are reflecting on and monitoring what did or did not work.
For me, as a teacher, it is important that I create a classroom environment in which students are problem solvers. This helps tie struggles to strategies so that the students will not only see value in working harder but in working smarter by trying new and different strategies and revising their process. In doing so, they will more successful the next time around.