After years of struggling to get inflation up to their publicly-announced targets, several episodes of short-term interest rates hitting the effective lower bound, and substantial evidence that the long-term equilibrium rate of interest (the one that is expected to prevail when an economy is at full employment and price stability) has been falling, the Federal Reserve in 2020 and the European Central Bank in 2021 revised their monetary policy strategy statements.
This report summarizes the discussion of these new frameworks at two panels hosted by the Hutchins Center on Fiscal and Monetary Policy in November 2021. The first panel, moderated by Rachana Shanbhogue of The Economist, included Richard Clarida, then vice chair of the Federal Reserve Board and a key architect of the new framework; Philip Lane, a member of the ECB's Executive Board and its chief economist; and Ben Bernanke, distinguished senior fellow at Brookings and former chair of the Federal Reserve. Following that, David Wessel of the Hutchins Center moderated a panel of Fed watchers: Julia Coronado of MacroPolicy Perspectives; William Dudley, former president of the Federal Reserve Bank of New York; Ayşegül Şahin of the University of Texas at Austin; and Tiffany Wilding of PIMCO. Video and transcript of the event are available on the Brookings website.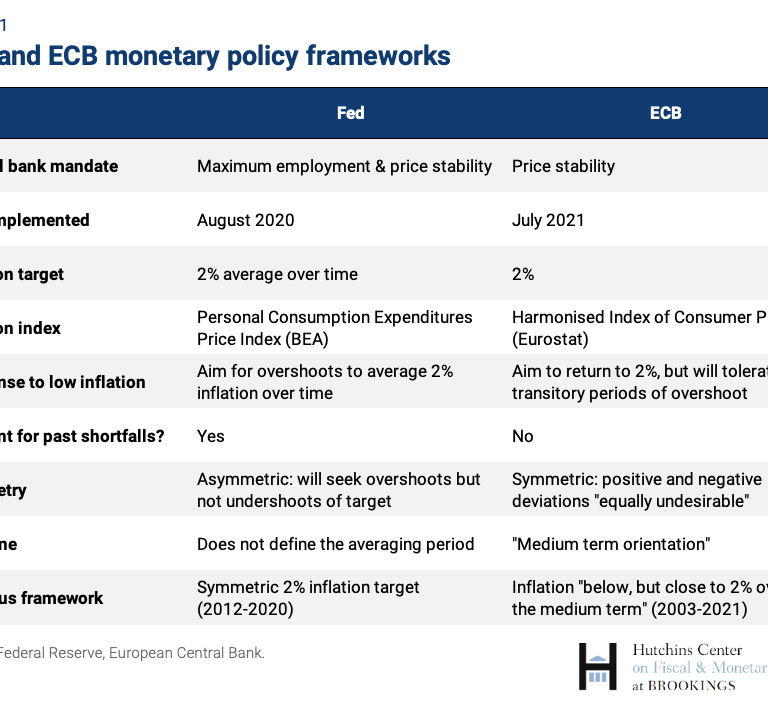 Download the full report here»
Read a series of explainers on economic concepts by the Hutchins Center here»
---
The Brookings Institution is financed through the support of a diverse array of foundations, corporations, governments, individuals, as well as an endowment. A list of donors can be found in our annual reports published online here. The findings, interpretations, and conclusions in this report are solely those of its author(s) and are not influenced by any donation.