The rapid succession of events of the past four years have challenged conventional wisdom on political Islam. After the democratic openings in 2011, mainstream Islamist groups—affiliates and descendants of the Muslim Brotherhood—rose to newfound prominence after decades in opposition, but grappled with the challenges of governance and political polarization. The subsequent "twin shocks" of the coup in Egypt and the emergence of ISIS are forcing a rethinking of some of the basic assumptions of, and about, Islamist movements, including on: gradual versus revolutionary approaches to change; the use of tactical or situational violence; attitudes toward the state; and how ideology and political variables interact.
Rethinking Political Islam is the first project of its kind to systematically assess the evolution of mainstream Islamist groups across 12 country cases—Egypt, Tunisia, Morocco, Syria, Yemen, Libya, Saudi Arabia, Kuwait, Jordan, Pakistan, as well as Malaysia and Indonesia. Each author has produced a working paper that draws on on-the-ground fieldwork and engagement with Islamist actors in their country of expertise.
Authors then write reaction essays focusing on 1) how reading the other country cases has made them think differently about their own country of focus, and 2) broader observations on regional commonalities and divergences. These are presented on the Brookings website in a real-time format, so readers can track responses and reactions between the authors as they grapple with each other's cases.
Related Books
Islamic Exceptionalism
Islamic Exceptionalism
Shadi Hamid
June 7, 2016
The Arab Spring Five Years Later: Vol 2
Temptations of Power: Islamists & Illiberal Democracy in a New Middle East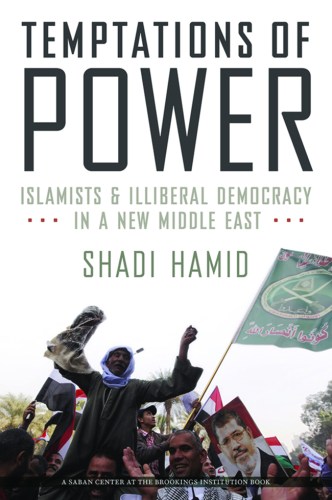 International Affairs
Temptations of Power: Islamists & Illiberal Democracy in a New Middle East
Shadi Hamid
October 1, 2014
We then ask Islamist leaders and activists to respond and offer their own perspectives on the future of their movements. They will have the opportunity to disagree (or agree) with some of the leading scholars of political Islam, in the spirit of constructive dialogue. Authors will then produce final drafts incorporating additional insights gleaned from months of discussion and debate.
We are also asking a select group of outside scholars to respond to the overall project. We've had contributions from Jacob Olidort (with a response from Raphaël Lefèvre), Jonathan Brown, Andrew Lebovich, Ovamir Anjum, Mustafa Gürbüz. We are also experimenting with a number of innovative formats, such as this email dialogue between Shadi Hamid and Andrew Lebovich.
---
Read the latest interviews and responses from Islamist activists and leaders: