I recently returned from a fascinating week-long visit to Melbourne, Australia, where I spent time with key representatives from the state of Victoria, the University of Melbourne, the city of Melbourne, and other key stakeholders to learn how Melbourne is advancing innovation districts. Frankly, I was surprised by the level of work underway: there are multiple innovation districts (or innovation precincts, as they are often called there) in various phases of development, which cumulatively has the potential to create a broader innovation ecosystem—or innovation spine—across the city.
In short, Melbourne is a city to watch.
The current population of the city of Melbourne is just over four million people and is projected to double—making it the fastest growing city in Australia. Located within the state of Victoria, Melbourne is this region's economic powerhouse, providing around 80 percent of the state's total GDP in 2015-2016, according to SGS Economics and Planning. Economically, Melbourne is particularly strong in financial and insurance services, health care, and scientific/technical services. It has an impressive array of research institutions and universities. The University of Melbourne, for instance, is ranked number one in Australia and number 32 globally, according to Times Higher Education World University Rankings, 2017-2018.
The first day in Melbourne included a visit to the Fishermans Bend Employment Precinct, an area adjacent to the central business district and emerging financial quarter. This 230-hectre (568 acres) manufacturing area is laden with advanced industry anchors such as Boeing and the Defence Science and Technology Group (part of the Australian Department of Defence). Given its physical proximity to downtown, it's supply of land, and the presence of key anchors, Fishermans Bend is uniquely positioned to become the city's next-generation advanced industry cluster.
During the work session, I described the emerging geography of innovation, including how some cities have the unique opportunity to create one innovation district model, "re-imagined urban areas," which is the clear narrative for Fishermans Bend. This typology is described in our Brookings research brief, "The Rise of Innovation Districts: the New Geography of Innovation in the United States." The brief also describes how districts are a composition of economic, physical and social networking assets and how these assets can come together to create an innovation ecosystem.
"Brilliant session on INNOVATION ECOSYSTEMS with Julie Wagner from the The Brookings Institution today in Melbourne thanks to the #fishermansbend team for inviting Tim O'Loan and I along." Photo: Trudy-Ann King on LinkedIn.
We also focused on the Fishermans Bend project in detail, talking through various ways to plan this precinct. Given its large size, we discussed planning at two scales iteratively, allowing one to inform the other:
The precinct-wide scale to ensure the area is designed to be highly accessible via public transit, walkable streets, and high-speed internet. At this scale, leaders may want to consider using strategic land swaps, land purchases, or even implementing an overlay zone, to accelerate the area's economic transformation. These strategies are discussed in some detail in our recent study on the role of local leaders in fostering innovation districts, "Advancing a new wave of urban competitiveness: The role of mayors in the rise of innovation districts."
The nodal scale to concentrate efforts in a small geographic radius as new investments and purchases come online. The area around the GM automotive facility in Fishermans Bend is an interesting case in point: One idea discussed during our site tour was to concentrate efforts in a small geographic node in order to create a critical mass of activity. This would include the siting of a new anchor and transforming part of this outmoded facility into industrial work spaces for start-ups rather than razing the site completely. An intensity of economic actors, combined with quality public spaces, and spaces for restaurants and residential, would allow workers, including start-ups, to easily collaborate and connect with anchor tenants within easy walking distance.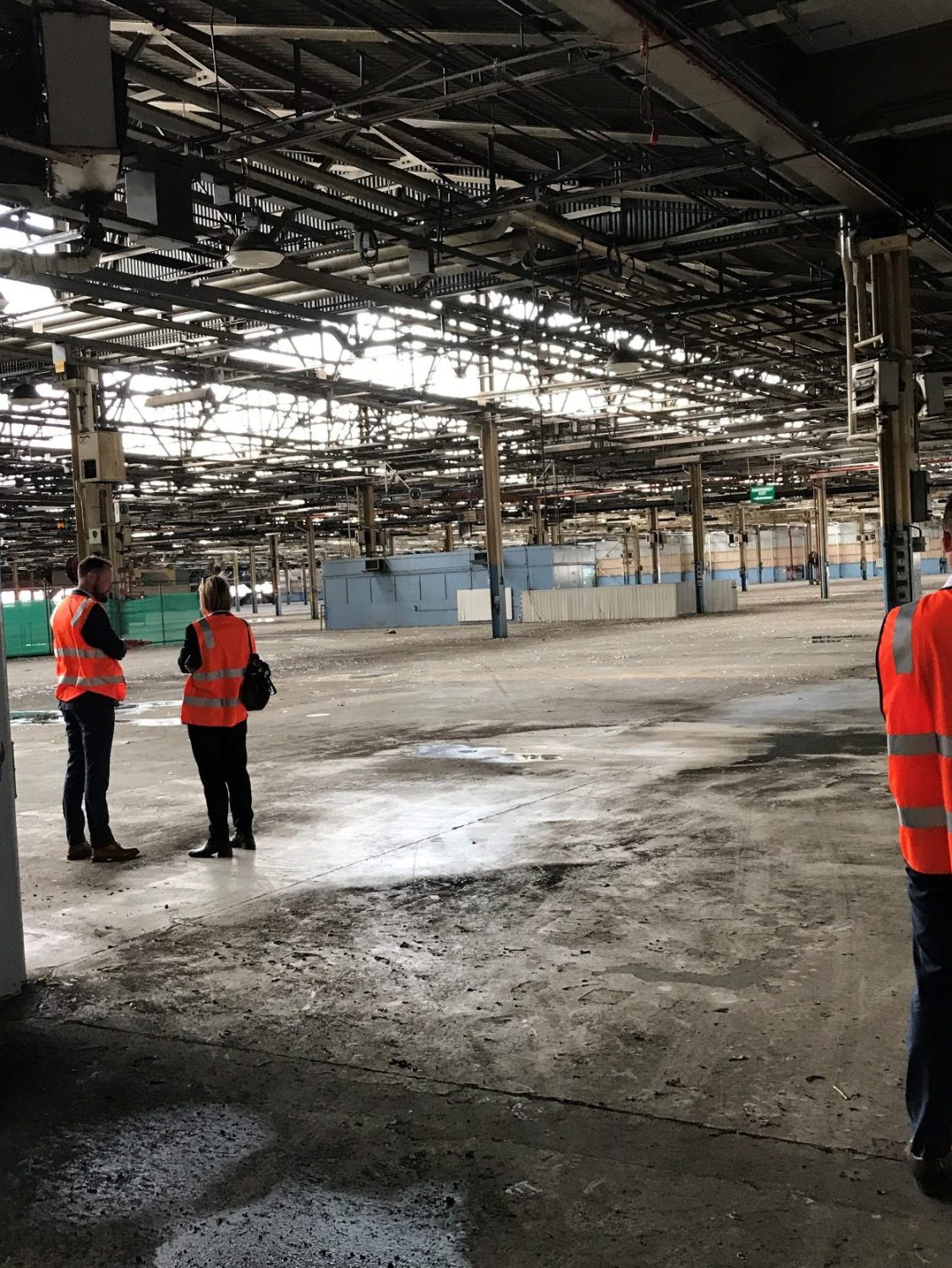 Touring Fishermans Bend. Creating an authentic industrial flex space for start-ups and scale-ups could help generate a "critical mass" of workers in a walkable radius. Photo: Julie Wagner
During my second day in Melbourne, I participated in a number of working sessions with the University of Melbourne on Carlton Connect, a series of tightly woven facilities where university staff, students, government researchers, businesses, and start-ups will co-locate as a means to strengthen collaboration and joint research agendas. Located on over 8,000 square meters of prime real estate, the project will include significant tenant space for the university's engineering department as well as a range of companies and start-ups. Tenants will have access to—and be connected by—a "superfloor," a common area that will offer flex space (moveable/reconfigurable areas in which to work), a café, and meeting rooms. As we are starting to find in other innovation districts, the local leaders behind Carlton Connect are taking a thoughtful approach in creating and programming spaces to organically connect different actors and commonly siloed sectors. Dan Watch and I wrote about this in the Brookings paper, "Innovation spaces: The new design of work."
Carlton Connect is also an important part of Melbourne's broader innovation district strategy. Led by RMIT University, the University of Melbourne, and the city of Melbourne, the Melbourne Innovation District was announced in August of this year. I was fortunate to participate in meetings with these three representatives to share the overarching district framework and talk through their agenda. In short, they are focused on the right issues for this city: how to increase industry-university collaboration; how to strengthen and support a start-up community; where to create "hot spots" or nodes of activity within the district; how and where to program the district to transform the area into an innovation ecosystem; and how to advance district ambitions with a hyper-local governance model that fits its unique needs.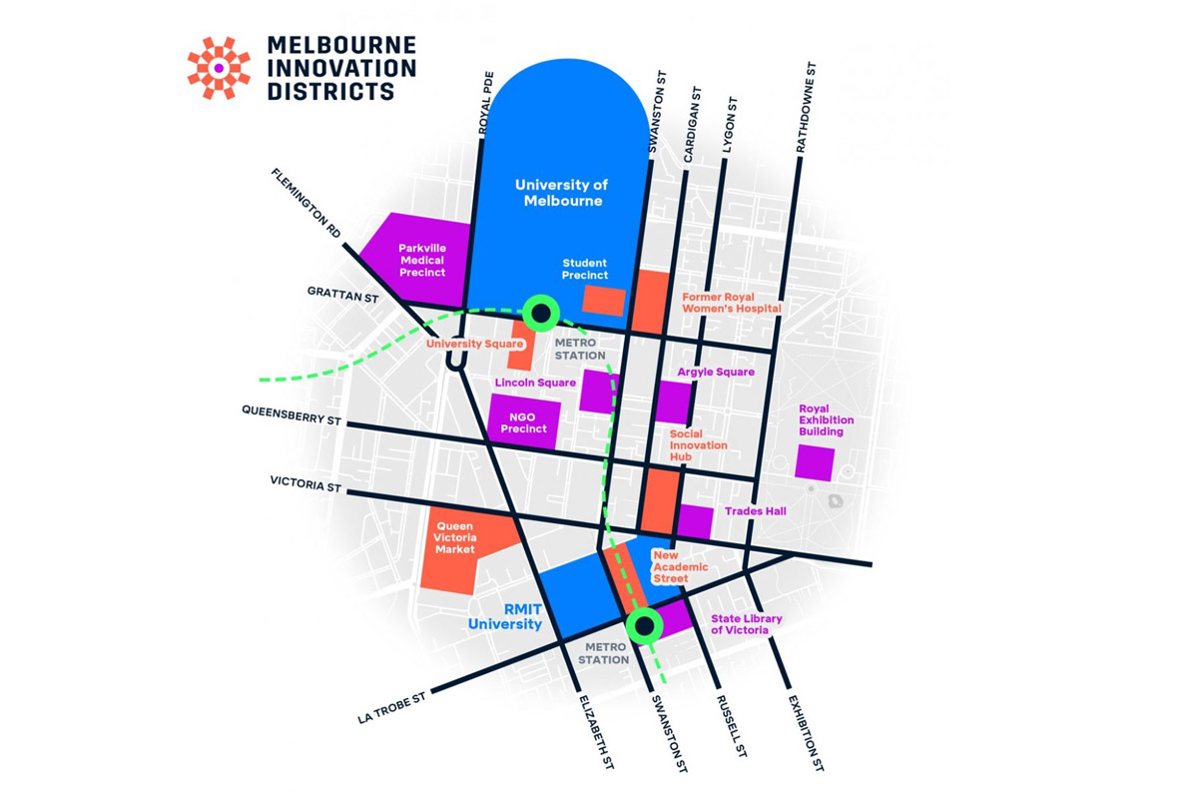 Map of Melbourne Innovation District. Photo: City of Melbourne
That evening, I attended an event hosted by the Committee for Melbourne, where I was interviewed by Jacyl Shaw, corporate liaison at the University of Melbourne. It was a relaxed, informal affair where I was asked questions about my changing perspective on cities and how we began to observe a place-centered clustering of innovative sectors in cities.
Fascinating discussion @jacyl @wagnerjk @Committee4Melb…#cities can facilitate #innovation & #collaboration using #clusters & good #design pic.twitter.com/VjovHeH4zD

— Jo Mikleus (@JoMikleus) September 19, 2017
On the following evening, Melbourne Conversations held an event on innovation districts, where I, alongside other panelists from Melbourne, described the evolving practice of innovation districts and how cities are leveraging prior investments (in land, open spaces, transit) and creatively devising economy-driven and people-led strategies to forge a new level of economic competitiveness. Importantly, audience members raised the issues of affordability and inclusion — something we believe to be central to every district strategy. Jennifer Vey, co-director of the Bass Initiative on Innovation and Placemaking wrote a powerful blog on the issue of innovation districts and inclusion.
"Inclusion, affordability also crucial" #innovation #districts @wagnerjk @BrookingsInst @MelbConvo @cityofmelbourne @jacyl @unimelb @RMIT pic.twitter.com/FOFugAgxYB

— Michelle Fitzgerald (@michelledigimel) September 20, 2017
Yet the biggest takeaway from Melbourne was their ambition to develop innovation precincts in multiple areas across the city. While I was fortunate to participate in work sessions on individual innovation districts, Melbourne appears to be creating an "innovation spine" that runs down the middle of the city. Composed of at least six—but likely more—innovation precincts, they have the potential to become a hyper-linked innovation ecosystem. If local actors manage to design a strong economic and physical connection between Fishermans Bend Employment Precinct (advanced manufacturing) to the Melbourne Innovation District (engineering, design, and a mix of industry), Parkville (biomedical), and other districts, this could be a game changer for Melbourne.
To conclude, while Melbourne is at the initial stages of developing a cluster innovation districts, their work-in-progress offers a glimpse of what could be new models of innovation-led development for other to learn from—from the "superfloor" level to the "innovation spine." We look forward to learning more from Melbourne in the months and years to come.