A Q&A with Dennis Lower, president and CEO, Cortex Innovation Community

As leaders scan the landscape for strong examples of innovation districts, their tour is hardly complete without learning of the Cortex Innovation Community—an innovation district in the heart of St. Louis. We sat down with Dennis Lower, president and CEO of the Cortex Innovation Community to learn what kinds of interventions and instruments are driving their success.
What is the Cortex Innovation Community?
Cortex is the region's largest innovation hub, generating 3,800 tech-related jobs and over $500 million in investment in the last 14 years. It's located close to downtown and built on the intellectual assets and resources of St. Louis' leading universities, a premier health care provider, and the Missouri Botanical Garden. The focal point is the 200 acres of old industrial land that one time separated these institutions but that now stitches them together. At full build-out, Cortex will likely generate $2 billion of development and create 13,000 jobs.
What sets Cortex apart from other innovation districts?
Of course, every district is distinctive and unique, building off its local character, culture, and assets. What sets Cortex apart, I would argue, is that we literally have billions of dollars of academic, cultural, and recreational assets in the neighborhoods that surround the district, which other places simply do not have.
We are bookended by two universities—Washington University and St. Louis University—each a magnet for international students and each with a reputation for research and academic excellence. Washington University, for example, was one of five consortium members funded by the National Institutes of Health to map the human genome. These universities, together with the University of Missouri-St. Louis, are the academic bedrock of our local innovation ecosystem.
Recent demographic analysis tells us we are now the most diverse employment environment in the region no matter how you slice it, including by age, ethnicity, and educational attainment.
Another Cortex advantage is the neighborhood that surrounds us. In addition to historic housing, the Grand Center arts district is to the east, to the west is Forest Park, which contains the St. Louis Zoo, fine arts and history museums, two golf courses, the St. Louis Science Center, abundant walking and biking trails, and the internationally renowned Botanical Garden. Restaurant corridors are to the north and south. I tell you all this to say that Cortex is where innovation, tech, culture, and community collide—and people are hungry for this mix.
Cortex Innovation Community is also a tax-exempt 501(c)3 that oversees the design and development of the innovation district. What makes your nonprofit unique in managing this district?
Cortex has been designated the master developer to transform an old industrial district into a center for innovation and commercialization. We are in a particularly advantageous position because the state and the city have granted the 501(c)3 powers of eminent domain, the power to abate taxes, and the power to approve or reject building plans. From a traditional economic development perspective, these powers have been critical in overcoming obstacles that land speculators sometimes put in our way. We have not had to use this power very often, fortunately. Only a handful of properties were acquired under the threat of eminent domain, and we reached an impasse only twice, sending us to court to purchase those properties. We take this responsibility seriously and only use eminent domain powers sparingly. We have a good reputation with the public as a result.
Can you describe one accomplishment you are particularly proud of?
We knew that to jump-start an innovation district it was essential to build entrepreneurial density. We developed an unorthodox strategy of sorts in that we built a concentration of innovation assets all within a block of each other. Today, we have six innovation centers, each with its own community and programming: the Center for Emerging Technologies, a traditional technical assistance incubator for information technology, bioscience, and consumer/manufacturing products; the BioGenerator, an accelerator with shared wet lab space and $3 million of shared core lab equipment; TechShop, a premier maker work space for prototyping and creating; the Cambridge Innovation Center–St. Louis, a co-working office and lab startup space); Venture Café–St. Louis, a shared public space for the startup community to meet weekly with 8 to 12 unconventional breakout educational sessions; and IdeaLabs/MedLaunch, a unique university graduate/undergraduate incubator that develops new technology to solve clinical problems. This strategy is working beyond our wildest expectations. It's the "secret sauce" for supercharging our district's innovation ecosystem.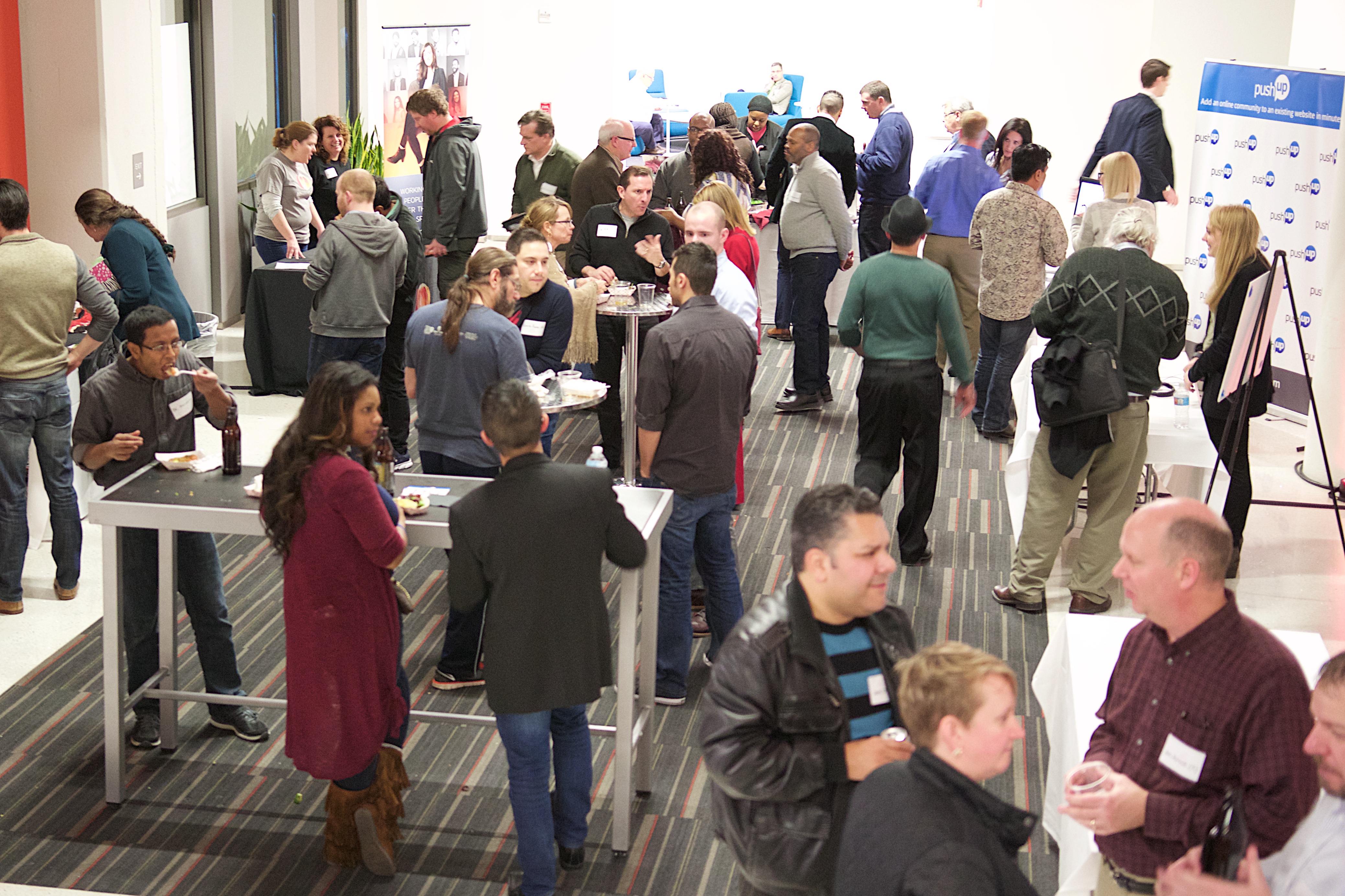 Venture Café: one of the six innovation centers that weekly draws together over 500 entrepreneurs from all technology sectors.
Can you highlight one particularly interesting innovation or invention coming out of Cortex? 
Let me highlight two. We have over 200 companies in Cortex—there's too much innovation happening here to highlight only one!
First, we have a medical device company that is changing the way infectious diseases are diagnosed. Its products can rapidly detect bacterial infections, determine if the infection is resistant to a range of antibiotics, and provide clinicians with patient-specific guidance to treat infections quickly and accurately. Their first product can diagnose urinary tract infections in just three hours.
And then we have a company tackling the biggest challenge in agriculture today—preventing insects, diseases, and weeds from destroying food crops. This company is developing a cost-effective technology to produce and topically deliver RNAi for agricultural crops. Put simply, this technology helps plants develop desired genetic traits without the use of genetically modified organisms, or GMOs. This could be transformative.
Many people have asked us how innovation districts are supporting inclusive growth. There is a concern that innovation districts are focusing on innovation to the exclusion of employment of city residents, who may not possess the skills or education the district's businesses are seeking.
We look at inclusion as an integral part of our work and mission at Cortex. We currently have six inclusion initiatives and will soon introduce two more. One of those is the development of a magnet high school in the St. Louis Public School District, the Collegiate School for Medicine and Biosciences. Working closely with the school district's superintendent and an important group of institutional and civic leaders, we have been developing an urban high school centered on one of the major strengths of our Cortex sponsors—bioscience. We recruited our first class in 2013, providing instruction in a small, temporary school, and in 2015 moved to a permanent location that can support 400 students.
The students come from all across the region, representing the largest spread of zip codes of any regional public school. Currently, 53 percent of the students are African American, 23 percent are Asian, and 22 percent are white, representing a great mix. Last year's proficiency testing in math and English revealed that we ranked first across the entire public school system. I find this particularly gratifying because a number of incoming freshmen were not performing at grade level. What this tells us is given the opportunity, creative teaching approaches, and a supportive structure, these kids will excel quickly. With our incoming 9th grade class this August, we will have a full complement of freshmen to seniors, graduating our first class in 2017.
Perhaps one of these students will find the next cure for cancer. To me, this illustrates an important part of our district's DNA—to grow and cultivate innovation talent for the future.
BACKGROUND ON THE CORTEX INNOVATION COMMUNITY 
Year formed: 2002.
Formal structure: A tax-exempt 501(c)3.
Staff: 11 people, including Dennis Lower, president and CEO.
Organizational powers: Cortex is the the master developer of the innovation district. It is responsible for master planning, oversees development, has access to developer incentives and infrastructure subsidies, and may use eminent domain.
Board of directors: 22 directors, voting and nonvoting, who meet quarterly to oversee the staff implementation of the innovation district, including policy and masterplan development.
Areas of focus: Land use/land development and redevelopment; placemaking; district branding and marketing; entrepreneurial development, programming, and support; and financing and fundraising.