Evidence shows that instructional materials have large effects on student learning. However, little research exists on the effectiveness of most instructional materials, and very little systematic information has been collected on which materials are being used in which schools.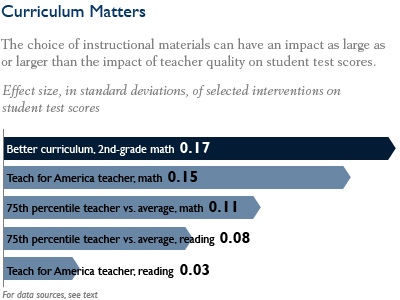 In this new report, Russ Whitehurst and Fellow Matthew Chingos argue that this problem can be efficiently and easily fixed by states, with support from the federal government, non-profit organizations, and private philanthropy. Here are highlights from their recommendations:
State education agencies should collect data from districts on the instructional materials in use in their schools.  The collection of comprehensive and accurate data will require states to survey districts, and in some cases districts may need to survey their schools.  In the near term, many states can quickly glean useful information by requesting purchasing reports from their districts' finance offices.  Building on these initial efforts, states should look to initiate future efforts to survey teachers, albeit on a more limited basis.
 
The federal government's National Center for Education Statistics should aid states in this effort by developing data collection templates for them to use through its Common Education Data Standards (CEDS), and providing guidance on how states can use and share data on instructional materials.
 
Organizations with an interest in education reform should support this effort.  For example, the National Governors Association (NGA) and Council of Chief State School Officers (CCSSO) have put their reputations on the line by sponsoring the Common Core State Standards Initiative.  Research based on current and past state standards indicates that this initiative is unlikely to have much of an effect on student achievement in and of itself.
 
The Data Quality Campaign (DQC) should use its influence in this area to encourage states to collect information on the use of instructional materials and support them in their efforts to gather these data. The DQC should also help states use the data once they have been collected.
 
Philanthropic organizations such as the Bill and Melinda Gates Foundation and the Lumina Foundation for Education could have a major impact by providing the start-up funding needed to collect data on instructional materials and support the research that would put those data to use.