On February 20, the Metropolitan Policy Program at Brookings hosted a forum highlighting the importance of the nation's advanced industries and state-level actions being taken to expand them. Brookings Vice President Bruce Katz and McKinsey Americas Advanced Industries Director Daniel Pacthod framed the discussion by describing the nature and importance of advanced industries. Their remarks were followed by a bipartisan dialogue between Govs. Bill Haslam (R-Tenn.) and John Hickenlooper (D-Colo.), discussing their efforts to expand key advanced industry clusters and the need for a supportive federal platform for those efforts.
Below are some highlights from the event, including Bruce Katz's presentation. Event audio and full video are also available. Also, here is a guide to advanced industries.
Powering Advanced Industries from Brookings Metropolitan Policy Program
---
An Advanced Industries Moment
Katz described the disruptive economic forces—including declining energy costs, shifting wage dynamics, and the changing nature and location of manufacturing—that are creating "an advanced industries moment." He described advanced industries as:
The high-value R&D intensive industries that concentrate our STEM workers, but more importantly … are really at the vanguard of commercialization of innovation. So this is a kind of a super sector that includes 23 industries from the manufacturing side—pharmaceuticals, medical equipment, aerospace and motor vehicles, just a few—as well as high value services—software, computer systems, design, telecom. They are often tightly linked with production.
These industries pay well, are accessible, and contribute significantly to the GDP, as Katz noted:
Average wage is well above the national average. And these are industries that are accessible to people with a wide range of skills. About half of the advanced industry jobs require less than a four year degree.

… These are industries that punch way above their weight—while only about five percent of the jobs, 11 to 12 percent of the GDP, you see they have high shares of engineers of architects and exports, patents, private sector R&D. … Even though they are only 5 percent of jobs, they are 10 percent of job growth. While they're only 11 percent of private sector GDP, they are 21 percent of GDP growth since 2010.
Katz further observed that advanced industries matter "because they are on the leading edge of innovation. They literally are developing technology that is transforming lives, particularly the life science sector, but they are driving productivity in other sectors, supporting long supply chains, and they are simulating local economies. They are driving jobs up. The multiplier effect is really quite remarkable."
"This is a platform for national competitiveness and national growth that is significant," Katz said.
---
NPR's Yuki Noguchi moderated a dialogue between the two governors and took audience questions. Highlights of what the governors said are below.
Gov. Bill Haslam of Tennessee
The governor explained the origin of Tennessee's auto industry:
Our state's history with the auto business goes back to the late 70s, early 80s, when then-Governor Lamar Alexander, now Sen. Alexander, went to Japan to try to talk Nissan into building a plant in Tennessee. The response was predictable: "Where's Tennessee?" And, so Governor Alexander was prepared for that and he came up with one of the great props of all time. He took a nighttime photo of the U.S. showing population density by the lights that showed up on the map and said, "see the center of all the population there? That's Tennessee." And that got their attention and Nissan ended up building a plant in Tennessee which became the first of three manufacturers. Later GM built what was originally their Saturn plant in Middle Tennessee, and then several years ago Volkswagen built down in Chattanooga. …

… I came in and saw that we had developed a solid auto business with a great supply chain. About 70 percent plus of our jobs in the auto industry are not from the three manufacturers but from all the related suppliers. And so we decided to renew our focus there. Again, I think you compete where you have an asset and an advantage that you can use and where there's a lot of continuing benefits. Mayors and governors love to trumpet job creation announcements, but the truth is all 500 job announcements or 1,000 job announcements are not the same. Some of those come with a long supply chain that is of great benefit, and we've seen that played out in Tennessee.
"Having a trained workforce really matters," Gov. Haslam said.
There's no doubt the recession of six years ago was a wakeup call to everybody in terms of realizing that the game was going to look different going forward. And even though we're arguably coming out of that recession, I think most people would agree it's still a very different world than it was five to 10 years ago. It's a much, much more competitive world. The factors that influence things are many. … In terms of labor rates, energy costs, I would argue currency fluctuations play a role in that as well. And so what we've found out, in the old days, when you're competing to grow industries, it was about who was going to put together the biggest incentive package, or if you happened to have the right physical piece of property for someone. Those haven't gone away, companies still want incentive packages. But they're adding to that the impact on their total logistics costs, which is a big issue, so the ability to attract suppliers close to the plants is I think more important than ever.

But then bottom line it's having the trained workforce that really matters. We've tried to really go back and say that's not something that starts when someone is 25 or 19. It needs to start back at K. We don't talk about K-12 any more, we talk about K to J, having a job. And trying to realign education to recognize the realities of how competitive the world is today.
---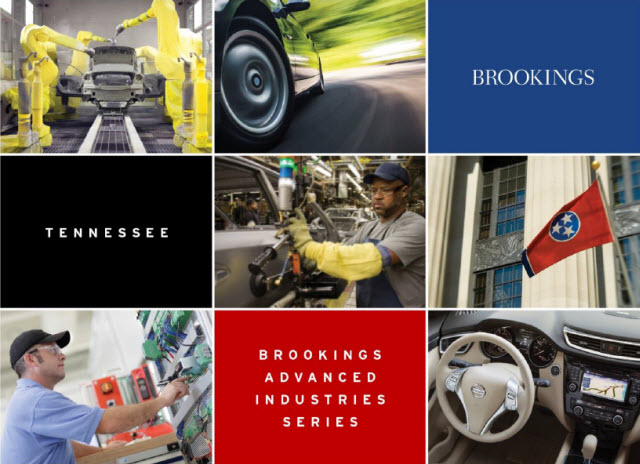 Drive! Moving Tennessee's Automotive Sector Up the Value Chain


This report finds that the auto industry plays a critical role in the Tennessee economy and explores the new competitive environment that will challenge the state going forward.
---
Gov. John Hickenlooper of Colorado
The governor related what his administration found out when it talked to leaders statewide:
We did a thing we called the Bottom Up Economic Development Plan, we went out to all 64 counties in Colorado and asked the local county economic development folks, "What do you see in the future? What do you want to have happen?" And there were six basic things we saw all over the state. They wanted the state to be more pro-business, get rid of red tape. They wanted the state to have better access to capital, better training of the workforce. They wanted us to market the state, brand it not just as a tourist destination, but as a place for entrepreneurs and businesses to grow. And they also wanted us to focus on technology and innovation. And almost all that kept coming back to, when we looked at advanced industries, that was a place where all those came right to the forefront, and especially aerospace.
He explained the "accessory benefits" of the aerospace industry:
… if you look at a per capita basis we're either first or second in the country in aerospace. But it has all the accessory benefits. The people, the engineers and the scientists that are involved in aerospace, in GPS, and all … these long tails these good industries have … they're also involved in our schools, they're involved in our non-profits. … So there's just a tremendous benefit from that. … It's not just manufacturing and launching satellites and various spacecraft … We feel that by really emphasizing and focusing on our aerospace industry that the accessory benefits are orders of magnitude greater than if we focused somewhere else.
Gov. Hickenlooper addressed the issue of the state-federal relationship, especially in terms of government funding, emphasizing the states as "laboratories of democracy":
I think the federal government rightfully should be just as rigorous in how they invest their dollars as any private sector business. We compete. We all compete. And that's a good thing. The states are the laboratories of democracy. And within that context we argue strenuously with the federal government when we think that we've got a research chain or a direction we're taking that has real potential. And we try to integrate our efforts. We've worked real hard to make sure our congressional representatives, our two state senators, all of our state legislators are all on the same page and recognize that an industry like aerospace has potentially great benefits. …

[Because of ITAR] we were allowing our international competitors to take away jobs and manufacturing from this country. So again we used that organized approach and really focused on not just on Colorado but for the whole country, how can we be more pragmatic about exports and push the kinds of research dollars that come out of Washington into those places that are going to more rapidly generate real products, real services.
---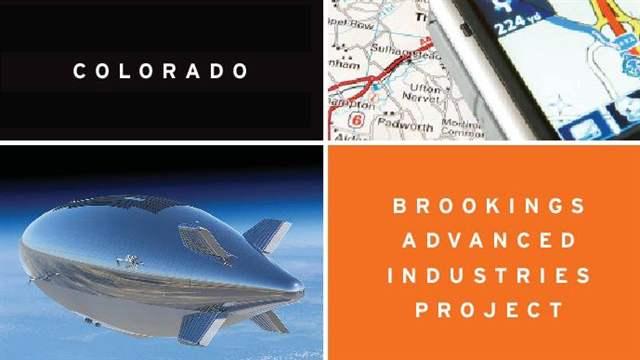 Launch! Taking Colorado's Space Economy to the Next Level

This report was released at an event held at the History Colorado Center.
---