French voters will select a new president this spring, heading to the polls first on April 23 and then for the final vote on May 7. The election will be one of the most significant for France in decades, sandwiched between last summer's shocking Brexit referendum and this September's general election in Germany. More broadly, the vote comes amid a highly uncertain moment for Europe as it deals with an ongoing immigrant influx (and associated nationalist sentiments), economic challenges, terrorism threats, and more. With some prominent voices across the continent calling into question the value and utility of the European Union itself, the outcome of the French vote will be of great consequence in determining the union's future.
Of  the 11 candidates on the starting line, four have a reasonable chance to make it to the runoff that will determine the next French president. There are two nominees from the "traditional" political parties: François Fillon of Les Républicains (LR, center-right) and Benoît Hamon of the Socialist Party (PS, center-left). There are also two "non-traditional" candidates: Marine Le Pen of the Front National (FN, far-right) and Emmanuel Macron of En Marche! (centrist). One key difference between the two groups is that both Le Pen and Macron, if elected, would have to reshape the political map in order to form a parliamentary majority, which any head of state needs to implement his or her program. National Assembly elections will take place in June 2017, and the presidential election will have a strong impact on the list of candidates for that body. As such, there is no evidence at this stage on whether FN or En Marche! will be able to get a majority, or even form a coalition (though it would presumably be easier for Macron, who has also been quietly promoting the idea of a grand coalition between a new center-left and a new center-right). On Monday night, the first televised debate took place, attracting an audience of 10 million people (out of France's population of 65 million). Candidates argued over their many differences, especially on the European Union, the economy, security, globalization, and immigration.
Below are brief profiles of each candidate, along with their key proposals.
FRANCOIS FILLON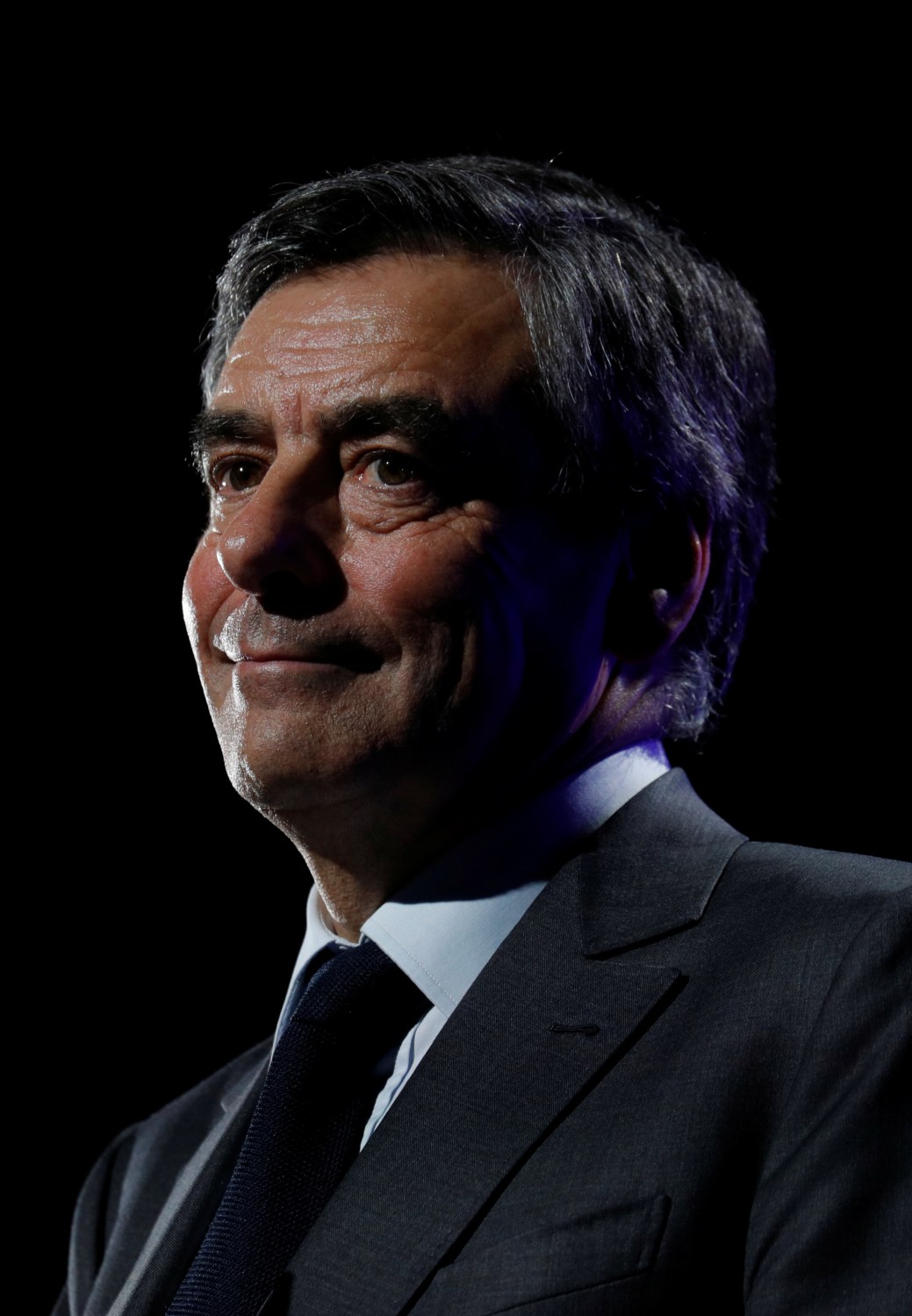 Francois Fillon, former French Prime Minister, member of the Republicans political party and 2017 presidential election candidate of the French centre-right delivers a speech at a campaign rally in Caen, France March 16, 2017. REUTERS/Philippe Wojazer - RTX31DF4
Having secured a large majority in the LR primary contest, this conservative former prime minister was almost—until a fatal week in late January —France's president-in-waiting. Of the 4.1 million primary voters, he received 66.5 percent of the votes. He also eliminated former president Nicolas Sarkozy and another former prime minister, Alain Juppé.
After five years in opposition to outgoing President François Hollande, the LR party seemed almost certain to win by a large margin, both in the presidential and parliamentary races. But when a satirical newspaper broke the news that Fillon had employed his wife and children as parliamentary assistants (for around $1 million) without evidence of them performing any work, a political earthquake shook the race. Fillon, 63, has since been placed under formal court investigation (though is not necessarily guilty of a crime). This has been a devastating blow to Fillon's candidacy, and he has fallen to a distant third place in the polls (18 percent). Nevertheless, he has declared that he will not bow out, saying: "nobody can stop me being a candidate".
His only hope is to make it to the runoff and face Le Pen. Until a few weeks ago, his socially conservative and pro-free-market platform had made him the ultra-favorite of a traditional France, ingrained in its provincial and Catholic roots. "The first condition of national recovery is the respect of our past, in accepting our history and recognizing our heroes," he said in a major speech last August. Fillon has complained that the contents of French history books "do not reflect what it is to be French." He has also called for "restructuring" French politics and vowed to impose limitations on immigration. On the latter, he holds strong views, saying "Islam threatens traditional values," for instance.
On the economy, he would end the 35-hour work week, cut 500,000 civil service jobs, and slash public spending by 100 billion euros. He would invest 12 billion euros in security, defense, and justice, and would attempt a rapprochement towards Russia by lifting EU sanctions. He also wants to strip jihadis returning from wars in Iraq or Syria of their French nationality. On foreign policy, he would maintain France's Gaullist approach, and would try to compromise with Russia.
Bottom line: Much-reduced chances.
BENOÎT HAMON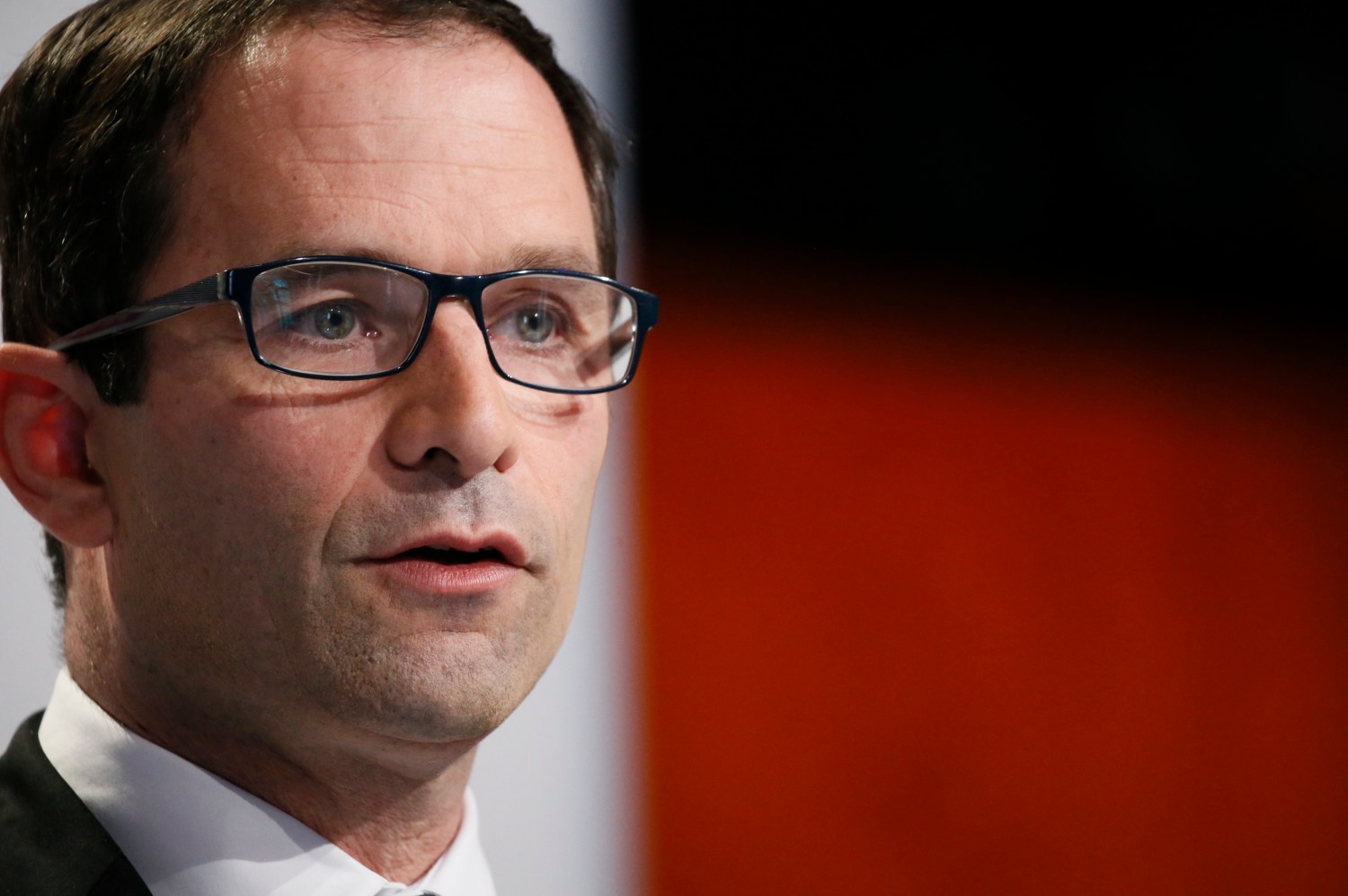 French Socialist party 2017 presidential candidate Benoit Hamon speaks during a news conference to present his election manifesto in Paris, France, March 16, 2017. REUTERS/Gonzalo Fuentes - RTX319T1
The winner of the January primary election for the ruling socialist party, Benoît Hamon is everything but an heir to François Hollande (who has decided not to stand for re-election). Despite a stint as education minister, 49-year old Hamon is little known to the general public and spent most of his career as a unionist then-party apparatchik.
His victory in the socialist primary was totally unexpected, as he represents very left-wing views quite different from Hollande, who has been a pro-reform president since 2012. In 2014, Hamon resigned from his government job and started campaigning on a socialist, environmentally friendly platform. On the economic and social fronts, he advocates a 10 percent increase of the minimum welfare payment for the poorest, to be extended to 15 to 22 year-olds and then to the entire population (the estimated cost of this proposal is $420 billion).
Sometimes called the "French Bernie Sanders," he also wants to reduce the working week from 35 to 32 hours, incentivize firms to introduce four-day weeks, and legalize and tax marijuana. On the international front, he is suggesting a complete overhaul of EU monetary policy, offering to cancel the entire public debt owed by Italy and Greece. At the same time, he is calling for a rise in the defense budget.
Bottom line: A long shot (12.5 percent in the latest poll), especially as he is facing another left-wing candidate, Jean-Luc Mélenchon, who has refused to step aside.
EMMANUEL MACRON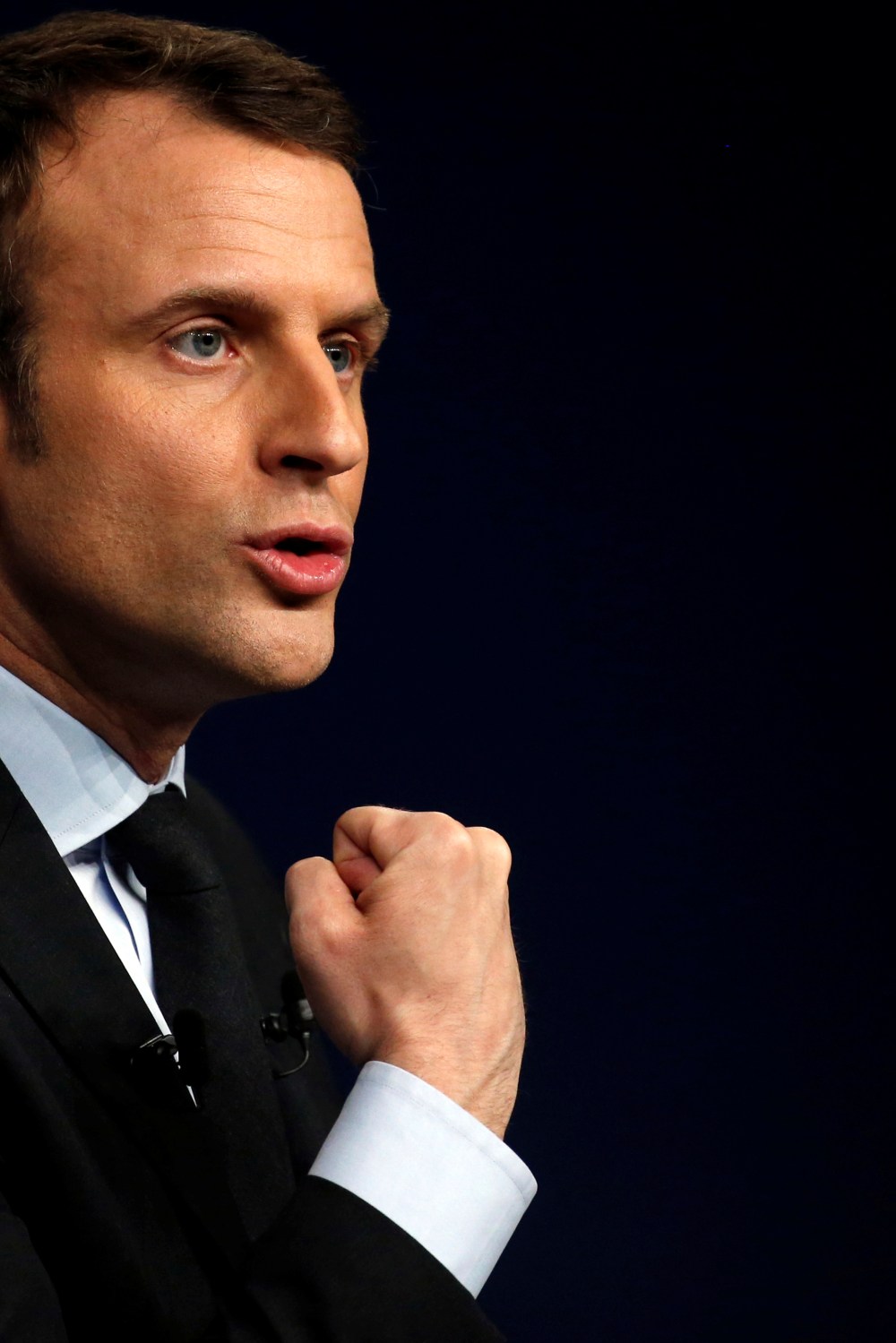 Emmanuel Macron, head of the political movement En Marche !, or Onwards !, and candidate for the 2017 presidential election, attends a meeting in Reims, France March 17, 2017. REUTERS/Pascal Rossignol - RTX31JI4
He has never been elected to any office, and is no longer a member of the socialist party. A fluent English speaker, he appeals to young professionals, including those living abroad—some of whom might be tempted to come back if he is elected. Having recently met with Chancellor Angela Merkel in Berlin, he knows he needs to act swiftly on the economic reform front. As a minister, Macron prepared and passed a fairly significant pro-business law in 2015, but left the Hollande team in September 2016 to prepare his run for president. Socially progressive and a free-market advocate, he wants to cut public spending by up to 50 percent of GDP (involving 120,000 government job cuts) and modify the 35-hour work week (but not scrap it, his proposal is not yet clear), especially for younger workers. On education, he wants to hire 5,000 teachers and cut class size to 12 students in primary schools (in low-income zones). On tax policy, he proposes cutting corporate taxes from 33 percent to 25 percent; he also proposes shifting taxes on personal assets over 1.3 million euros to focusing on real estate instead of productive investment.
Because of his limited government experience, he needs to demonstrate leadership in the fields of foreign policy, security, and defense. On these matters, he may count on the help of his former government colleague, defense minister Jean-Yves Le Drian, a safe pair of hands.
Bottom line: Likely to make it to the runoff (currently standing at 25 percent in the first round)
MARINE LE PEN
Marine Le Pen, French National Front (FN) political party leader and candidate for French 2017 presidential election delivers a speech on citizenship in Paris, France, March 13, 2017. REUTERS/Charles Platiau - RTX30UKB
The leader of the Front National since 2010, Marine Le Pen has tried hard to draw a curtain on her elderly father Jean-Marie's political legacy and to broaden the party's political outreach. From a neo-fascist, anti-immigrant group, the FN has become almost a mainstream party in France, holding 24 seats in the European Parliament and a handful of representatives in the National Assembly and the Senate.
But in order to make it to the runoff, the 48-year old Marine Le Pen needs to combine her untested ideas (especially in the economic field) and her populist slogan "in the name of the people" (which mirrors Donald Trump's "America First"). Her technocrat advisers Florian Philippot and Nicolas Bay have produced a series of demagogic and unaffordable measures such as lowering the retirement age to 60, cutting gas and electricity tariffs by 5 percent, and slapping taxes on imports or on foreigners' job contracts.
However, what will characterize Le Pen's presidential program will be her rhetoric against the "two totalitarianisms" of the new millennium: globalization and Islamic fundamentalism. On immigration, her proposals include a reduction from 200,000 people to 10,000, and deporting illegal immigrants. Le Pen's most controversial ideas are towards Europe: Despite being a member of the European Parliament for 13 years (until she was stripped from her immunity for posting graphic images of victims of ISIS on March 2) she calls the block "a failure" and wants France to pull out of the eurozone and the Schengen agreement. As for the EU, she wants to reshape it into a loose alliance of nations without a common currency or a border-free area. If this fails, she would not hesitate to hold a referendum on EU membership. Finally, she wants to withdraw France from NATO's integrated command.
Bottom line: Currently topping the polls for first round (26 percent). Will almost certainly make it to the final round.