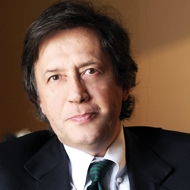 Fritz Stern Chair on Germany and trans-Atlantic Relations
People want to see someone who can govern Turkey during tumultuous times. Erdoğan is saying, "I'm the only guy who can steer this ship to a safe harbour in stormy weather."
This is the most tense moment I have seen in Turkish society... [The elections] are going to be about the future direction of the country and two radically different visions of where Turkey will go. And the opposition is galvanized... More than anything else, the earthquake consolidates the two sides.
Kılıçdaroğlu is the antithesis of Erdoğan [...]. To Erdoğan's virile political aggression, he is a soft-spoken gentleman. In terms of his platform, he is not just a democrat but is promising to be a uniter.