Water is vital in South Asia, where most countries are still largely agrarian. As such, water is inherently political – its socio-ecological flows are implicated in competition by economies, individuals and nations, while its distributional regimes have the capacity to alter lives and livelihoods. Competing water-use for agriculture, industry, and domestic purposes have led water to become an increasingly scarce resource with limited and threatened supply. In 2012, a total of 1023.8 billion cubic meters of water was withdrawn in the eight SAARC nations (including agricultural, industrial, domestic use, as well as desalination plants), out of a total 1982.0 billion cubic metres of renewable internal freshwater sources available (including river flows, rainfall and groundwater). Climate change, volatile rainfall patterns, groundwater depletion and the inefficient usage have precipitated a resource shortage, verging on a crisis in the region. Water disputes amongst the SAARC member nations, then, primarily centre on India's access to rivers and its competition with Nepal, Pakistan and Bangladesh for water 'rights'. Despite the various disputes for river water, there have been efforts at regional cooperation.
The Indus Water Treaty (1960) granted India rights over the eastern rivers (Sutlej, Beas and Ravi) and Pakistan the rights over the western rivers (the Indus, Jhelum and Chenab). Despite the treaty, there have been several disputes: Pakistan objected to the construction of the Kishenganga Dam, terming it a clear violation by India of the Indus Water Treaty, while contesting four more dams proposed by India on the Chenab. A second round of talks in August 2014 yielded no compromise.
Since the Kosi River Agreement between Nepal and India to manage flooding in 1954, talks between the two have stalled. As a result of mismanaged flood control, poor communication, and lack of cooperative maintenance, a dam neglected for decades by both led to the catastrophic flood in 2008, destroying 300,000 homes, 800,000 acres of cropland and displacing over 3 million individuals. More recently Nepal and India have agreed to expedite the 17-year-stalled Pancheshwar project, to generate 6,720 MW of hydropower along with increased irrigation facilities. Nepal has also cleared a GMR Company proposal to build a 900 MW Upper Karnali hydroelectric power plant as part of a scheme aimed at exporting electricity to India.
Despite the 1972 Joint River Commission for Water Management, tensions between India and Bangladesh on sharing resources came to a head in a dispute over the Teesta River. The 1996 comprehensive river pact established a 30-year water-sharing arrangement between the two countries. This was set to change in September 2011 when India's Prime Minister, Manmohan Singh, was to sign a pact with his Bangladesh counterpart for access and use of the Teesta waters. However, the Chief Minister of West Bengal, Mamata Banerjee, refused to approve the treaty, fearing that loss of higher volume of water to the lower riparian would cause problems in her state, especially during drier months. The Tipaimukh hydroelectric project in India is another similar source of contention. While it is expected to control floods in Assam's Barak valley and generate electricity for states in northeast India, farmers in Bangladesh fear it would reduce the water flow to their land, thus damaging rice crops that depend on seasonal flooding of these trans-boundary rivers during every monsoon. However, there has been a decision between the two countries to conduct a joint Environmental Impact Assessment of the project.
While SAARC initiatives have not addressed water management, storage and sharing, they have focused efforts on disaster management – both short-term (in terms of response) and long-term (primarily combating the effects of climate change). The SAARC Disaster Management Centre (SDMC) mandate serves all eight members of SAARC by providing policy advice and facilitating capacity building services. This includes strategic learning, research, training, system development and exchange of information for effective disaster risk reduction and management in South Asia.
The SDMC initiative stressed priorities for action on integrating disaster risk reduction, climate change adaption and a sustainable development agenda; increasing knowledge management (South Asia Disaster Knowledge Network (SADKN)) as an effective tool for networking, information sharing and knowledge transfer; and facilitating regional cooperation for trans-boundary disasters.
A multilateral forum like SAARC gives members the invaluable opportunity to develop bilateral cooperation on protection of water sources from pollution, degradation or denudation; dealing with drainage in the Indus Basin; addressing the issue of arsenic-poisoned aquifers in India and Bangladesh; and flood management, to name a few. Apart from sharing of river water, a major cause for dispute has been the construction of large hydro-electric projects which divert shared river water. The upcoming SAARC summit can encourage joint water management solutions and joint hydroelectric projects. Greater focus on watershed management and storage in Nepal would generate hydro and irrigation benefits there and flood control benefits in Bihar. Water storage in northeast India could provide hydropower, flood control and dry season water augmentation in Bangladesh; similar prospects exist between Afghanistan and Pakistan.
Cross-border management of water resources could help control flooding across countries sharing a basin while simultaneously enhancing the availability of water. Improved inland water transport linkages and trade facilitation could have multiple benefits, particularly to enhance regional trade. All SAARC member need to operationalize the declaration of the 17th Summit in 2013, which emphasized water sanitation, availability and access to drinking water.
_______________________________________________________________________________
This chapter is a part of Brookings India's briefing book, "Reinvigorating SAARC: India's Opportunities and Challenges." To view the preface and table of contents, click here.
***
Subir Gokarn is the director of research at Brookings India in New Delhi and a senior fellow at the Brookings Institution. Previously, he was the deputy governor of the Reserve Bank of India, where he oversaw monetary policy, research, financial markets, communications, and deposit insurance.
Anuradha Sajjanhar is research assistant at Brookings India, where she conducts research in various focus areas including health, food, water, urbanization, and foreign policy.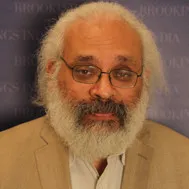 Former Brookings Expert -
Brookings India
Executive Director -
IMF
_______________________________________________________________________________