Authors
Research Assistant, Engelberg Center for Health Care Reform
Merkin Fellow for Finance Reform and Clinical Leadership & Managing Director - Economic Studies
Research Assistant, Engelberg Center for Health Care Reform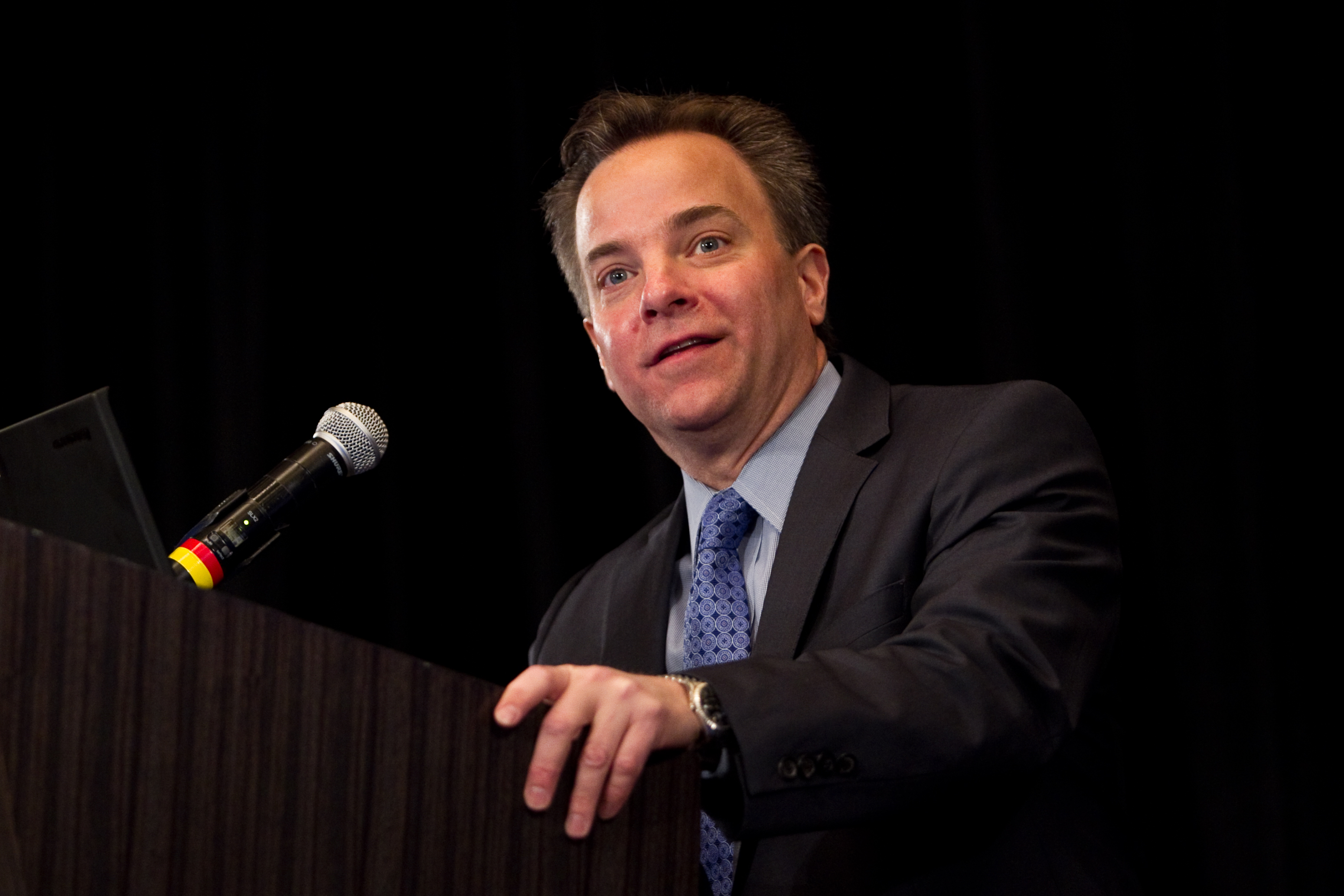 Director, Health Care Innovation and Value Initiative
Living in the small southern town of Bristol, Tennessee at the age of 86, Robert Neelley Church takes deep pride in living an active life, especially as a cancer survivor. He surrounds himself with friends and family, exercises regularly, and even teaches Sunday School at his local  church.
But recently, Robert's health began to trouble him. He developed chest pains and had difficulty breathing; putting a damper on his active lifestyle. After consulting with his primary care physician, Robert was referred to a cardiologist.
After a few tests, Robert's cardiologist diagnosed him with mild congestive heart failure (CHF). His aortic valve, was not working efficiently and was causing his heart muscle to thicken. After discussions with his physician and nurse, Robert chose to have open heart surgery. To ensure a safe and speedy recovery, Robert stayed with his daughter in North Carolina and received care support from a home health nurse.
After surgery, Robert continued to experience persistent shortness of breath, even during mild physical exertion. He also realized that his medications were not helping reduce symptoms, such as fluid buildup and swelling, causing extreme discomfort when tying his shoelaces or getting up to answer the phone. A sudden worsening of symptoms almost sent Robert to the emergency room, but instead his family encouraged him to go to the Duke University Health System's Same Day Access Heart Failure Clinic.
The CHF Patient Experience
Lee Satterfield, D.C. Supreme Court Judge
While at the clinic, Robert met with his cardiologist, Dr. Zubin Eapen, and two nurses. Dr. Eapen spent time with Robert to help him understand his condition, and explained how additional treatments and behavior changes could help ease his symptoms. Dr. Eapen also made sure to schedule a follow up appointment.
A few days after their visits, Robert and his family were happy to see that his condition improved. But to this day, Robert and his friends and family, play a significant role in managing and treating his condition. He relies on a loyal network of friends and family to bring him to his many doctor appointments and fill prescriptions. However, like the strong survivor he has always been, Robert continues to stay active in the Bristol community, and keep up with his friends and family.
Robert's story is just one, from the more than six millions Americans living with this debilitating and complex disease.
---

According to the American Heart Association, nearly 6 million Americans suffer from congestive heart failure (CHF), and an additional 555,000 are diagnosed each year.1 This chronic condition accounts for one million hospitalizations in the annually, is the leading cause of hospitalization among adults over the age of 65, and is well known for disproportionately affecting African Americans and Hispanics.2,3 CHF accounts for a staggering $273 billion in direct health care costs.4
The high costs associated with CHF, like many chronic diseases, are driven by our deeply fragmented and uncoordinated health care system. The lack of communication and coordination among patients, providers and health care institutions cause major gaps in  care management and medication management, or trigger risky behaviors. These gaps often result in patients being readmitted to the hospital, seeking care from the emergency room, or suffering from avoidable complications. In fact, 24% of CHF patients are readmitted to a hospital within 30 days.5
However, the good news is that we know how to improve care and reduce costs for this condition and others like it: make the shift from providing high-intensity, expensive inpatient care to preventing, coordinating, and managing the illness in outpatient or primary care setting. While this sounds simple, implementation of these efforts requires significant financial resources, intense care coordination, the need for new technologies like electronic health records and clinical decision support tools, as well as team-based staffing models. Most importantly, it requires alternative payment models that incentivize proper disease management, care coordination, and other activities that are not currently reimbursed in a fee-for-service, volume-based payment system. This paper provides a comprehensive overview of the complex care associated with CHF, and alternate payment models to help support optimal care.
To support implementation of these strategies in practices and institutions throughout the country, we present two cases from Duke University Health System ("Duke") and University of Colorado Hospital ("Colorado"). The studies provide practical solutions for not only implementing clinical redesign, but also an understanding of how those clinical innovations can be aligned with alternative payment models. Each case will answer the following questions:
What challenges or problems encouraged the organization to redesign CHF care?

How did the organization align care innovations with payment reforms?

What did the organization identify as key success factors and/or challenges?

How did these changes impact the organization's clinical outcomes or financial position?

What lessons would the organization share with others attempting to implement similar strategies?
Congestive Heart Failure: What Happens to the Body?
The average human heart beats four million times per year and pumps enough blood to  fill a modern oil supertanker during a lifetime. The heart is composed of striated cardiac muscle, and is supplied oxygen and nutrients by the coronary arteries. However, over time some individuals may experience damage to cardiac muscles for a variety of reasons, such as plaque buildup in the arteries, heart attacks, or infections. This damage can lead to an overall weakening of the heart's ability to pump blood. If unable to adequately pump blood, fluid may build-up in the lungs, liver, and other vital organs. This condition is known as congestive heart failure (CHF).
The onset of symptoms can be gradual yet destructive, causing consistent shortness of breath, weight gain, confusion, and exhaustion over just a few days or weeks. Some patients may also have sudden distress and need care immediately. They may receive treatment such as diuresis to reduce fluid overload or medications to strengthen their heart function. If a patient progresses to a more severe state, they may require the use of a ventricular assist device (VAD), a mechanical pump that's used to support heart function and blood flow, or a heart transplant.
What Happens to the Body?
Kapil Parakh, Johns Hopkins Bayview
Patients with CHF experience decreased physical and social functioning, increased bodily pain, and mental health issues (i.e., depression or anxiety).6 These factors inevitably affect the patient's ability to spend quality time with family and friends, or maintain their normal lifestyle and work responsibilities.7 Treatment often includes a number of medications and lifestyle modifications, such as reduced sodium intake and increases in daily physical activity. This occurs because heart function is highly sensitive to dietary changes such as fluid and sodium intake, blood pressure control, proper use of medications, and other lifestyle choices. Sadly, 50% of patients with CHF will die within five years of their diagnosis.8
These classifications are subjective and dependent on the physician's diagnosis and the necessary medical care can rapidly change. Despite proper management of their condition, once a patient is classified they almost never revert to a less severe form. All of these factors directly impact vitality and quality of life for these patients. Patients with lower incomes, a longer history of CHF, multiple medications, and a higher New York Heart Association classification are at higher risk of experiencing depression and cognitive impairment.10 This unpredictable nature and variation in severity of symptoms significantly impacts the patient's use of health care services, the intensity of their care, and can often contribute to higher readmission and mortality rates.
Epidemiology
CHF prevalence is highest in older patients, who make up a growing portion of the population (one in 5 Americans will be older than 65 years of age by 2050).11 Of all patients hospitalized with CHF, 75% are over the age of 65, and half are over 75. CHF disproportionately affects African Americans. For example, black males and females have a prevalence of 4.5% and 3.8%, compared to 2.7% and 1.8% of white males and females.12 Studies also indicate that older, male minority patients with comorbidities were more likely to die during hospitalization.13
Many CHF patients suffer from comorbidities, often adding to the intensity of their care and treatment. Studies have shown that nearly 40% of CHF patients have five or more non-cardiac health conditions, which account for 81% of the total CHF inpatient days.14 Patients may also be diagnosed with chronic obstructive pulmonary disease (COPD), renal dysfunction, cognitive dysfunction, obesity, diabetes, or depression. This added complexity has major implications for providers, patients, and their caregivers and families. Intuitively, the sheer complexity of CHF demands diligent follow up care and monitoring, as well as care coordination across multiple providers and sites of care.
Optimizing CHF Care: Prevent, Manage, and Stabilize

Despite significant advances in treatment and prevention, the total number of CHF patients has remained stable over time, with more than 550,000 new cases diagnosed annually. However, the CHF-vulnerable population will grow as the senior population continues to rapidly increase. Therefore, even if care becomes better and more efficient, CHF prevalence will likely continue to increase. As we later discuss in Part II, the clinical teams at Duke and Colorado recognized the opportunity to continuously improve CHF care. Although challenging to implement, their strategies are highly effective, and are the direct result of a culture of innovation and continuous quality improvement.
A Conversation About Optimal Care
Zubin Eapen, Duke University Health System
As described in Figure 2, many clinical approaches to chronic disease management benefit from a three-pronged approach that addresses (1) patient behavior; (2) physician or practice-level clinical interventions; and (3) public policy or population health strategies.
Patient Behavior
It is estimated that lifestyle choices and behavior account for 80 to 90% of cardiovascular disease diagnoses, including diet, exercise, substance abuse, and obesity.15 Behavioral health strategies can help address these risky lifestyles, treat and manage current conditions, and avoid occurrence or exacerbation of symptoms. For example, about 75%  of patients with CHF have been previously diagnosed with hypertension, which can further strain the heart as it pumps blood harder.16,17 At Duke, physicians noticed considerable success with patient self-management when patients were introduced to a community of other CHF patients, where they could exchange common experiences.
Another common strategy is focusing on the "ABCS," an approach that if implemented effectively throughout the country, could potentially prevent 50,000 to 100,000 deaths annually. The ABCS encourage providers to focus on four key strategies: Aspirin doses  for high-risk patients, Blood-pressure control, Cholesterol management, and Smoking cessation.18 The Million Hearts Campaign, an initiative by the Centers for Medicare and Medicaid Services (CMS) and the Centers for Disease Control and Prevention (CDC), is an effort to prevent 1 million heart attacks by 2017. The campaign encourages the use of data tracking and sharing of best practices for the ABCS program. It also encourages  widespread use through standardized ABCS-based quality measures; and incorporating the ABCS into electronic health records (EHRs) as a means to prompt reminders at the point of care.19,20 Members of the care team also play a key role in promoting good patient behavior by offering advice on medications, especially since medication is critical in the early stages, while correct dosages are still being evaluated.21
Practice or Physician-Led Clinical Interventions
Working in partnership with patients and the care team, health care providers can have a significant impact on reducing CHF burden by introducing interventions that are most appropriate for the severity of the patient's diseases. Most patients will experience care in a number of settings, including primary care, inpatient, and post-acute care.
Outpatient and Primary Care: Many CHF patients will find their disease can be effectively managed in an outpatient or primary care setting. For example, a text message that instructs a patient to increase a medication dose could prevent an emergency room visit or hospitalization. In fact, a number of studies have shown that receiving care in a specialized heart failure clinic results in better management of patient behavior and medication adherence, and results in fewer  hospitalizations.22,23,24,25
The key to successful disease management is providing the patient with a multi-disciplinary care team that accommodates the patient's entire spectrum of care needs. The team may include a primary care physician, nurses, specialists, care coordinators, and even social workers or mental health professionals. By maximizing the skills of other team members, physicians can focus on developing an effective care plan and intervene as questions and complications arise. Oftentimes nurses, community health workers, patient navigators, or care coordinators can serve as a patient's dedicated contact as they transition across care settings.26  These individuals also end up developing strong relationships with patients and may identify social factors (i.e., financial stability, access to transportation or employment) and other risk factors that hinder full recovery. For example, some providers encourage home visits to ensure that a patient's home is safe or has ready access to transportation.
Inpatient or Acute Care: Even if managed effectively, many CHF patients will likely require more serious care in an inpatient setting throughout their lifetime. In the event that patients do visit the hospital, there are a number of tools available to improve the care that they receive. For example, patients with Acute Decompensated Heart Failure (ADCHF) can be tracked in a national registry, ADHERE, which can help identify patients that require more intense care, and then suggest the best possible treatments.27 Other models have expanded on the data available in ADHERE, and made it even more effective at predicting readmission risk by including social factors.28 Many of these tools have been included in electronic health records (EHRs), such as standardized order sets and electronic alerts.
Post-Acute Care: Approximately 24% of CHF patients are readmitted to the hospital within 30 days, with a high number of readmissions occurring soon after hospitalization (Fig 3).30 Improving care transitions would involve strategies such as a 72-hour follow up visit with a primary care provider, or connecting the patient with a case worker or care coordinator who is tasked with monitoring a patient's post-discharge care.
To reduce risk for readmission, patients should be closely monitored in case of complications, symptom development, and to ensure medication and care plan adherence. A patient's care regimen will vary depending on severity. For example, an NYHA class IV patient (Fig 1) is encouraged to have weekly appointments and telephone calls during the first three months post-discharge; class II and III patients interact less frequently with their team, perhaps every six to eight weeks.32
In addition, a significant effort has been dedicated to developing remote patient monitoring (RPM) technology, including telephone survey assessments, and  telemonitoring devices that can transmit patient information to providers in real-time. Both products gather basic vital signs, including weight, blood pressure, and heart rate. If benchmarks are met or exceeded providers can receive alerts that trigger follow up or other clinical decisions. However, the effectiveness of these tools are largely dependent on data quality, predictive models, and dependable real-time transmission.33
Public Policy and Population Health Strategies
Public policy initiatives and population-based strategies can help create a healthier environment that can prevent disease or create an environment for healthy living. For example, national public policy efforts like the Food and Drug Administration's (FDA) required calorie labeling helps consumers make more informed food choices; and First Lady Michelle Obama's Let's Move campaign helps promote healthy eating and exercise. Many cities and counties across the country are implementing public policies that reduce risk, including smoking bans in public places, construction of bike paths and greenways, and allowing families to use food stamps at local farmers markets.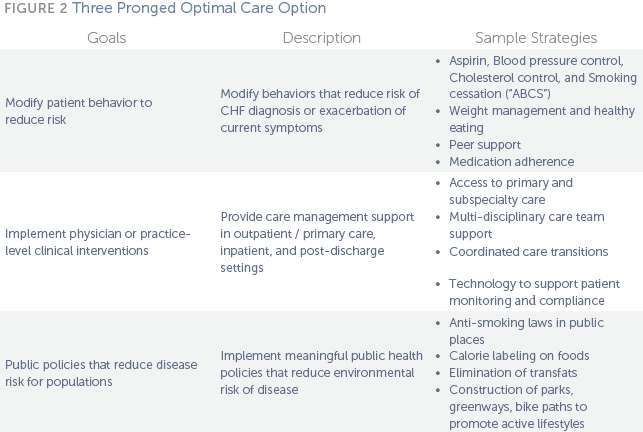 ---

Catalyst for Change: The Medicare Readmission Reduction Program
In 2009, more than seven million Medicare beneficiaries experienced more than 12.4 million inpatient hospitalizations,34 and nearly one in three Medicare beneficiaries discharged from the hospital will be readmitted within a month (12% are avoidable).35 To address this problem, Medicare began the Hospital Readmission Reduction Program in 2012 (mandated by the Affordable Care Act), which charges penalties to hospitals with high 30-day readmissions.36
A readmission is defined as an admission to a hospital within 30 days of discharge from the same or another subsection hospital.37  Excess readmissions are calculated by dividing a hospital's number of "predicted" 30-day readmissions for heart attack, heart failure, and pneumonia, by an "expected" count (based on an average hospital with similar patients). The number is then risk-adjusted for demographic characteristics and comorbidities. A ratio greater than one indicates excess readmissions, which could indicate poor quality of care or a lack of care coordination.38 If they exceeded the highest threshold, based on Medicare collections, Duke could face a $29 million penalty, and Colorado, $7 million. Figure 4 compares Duke and Colorado CHF readmission rates from July 2009 to June 2012. Neither was assessed a penalty.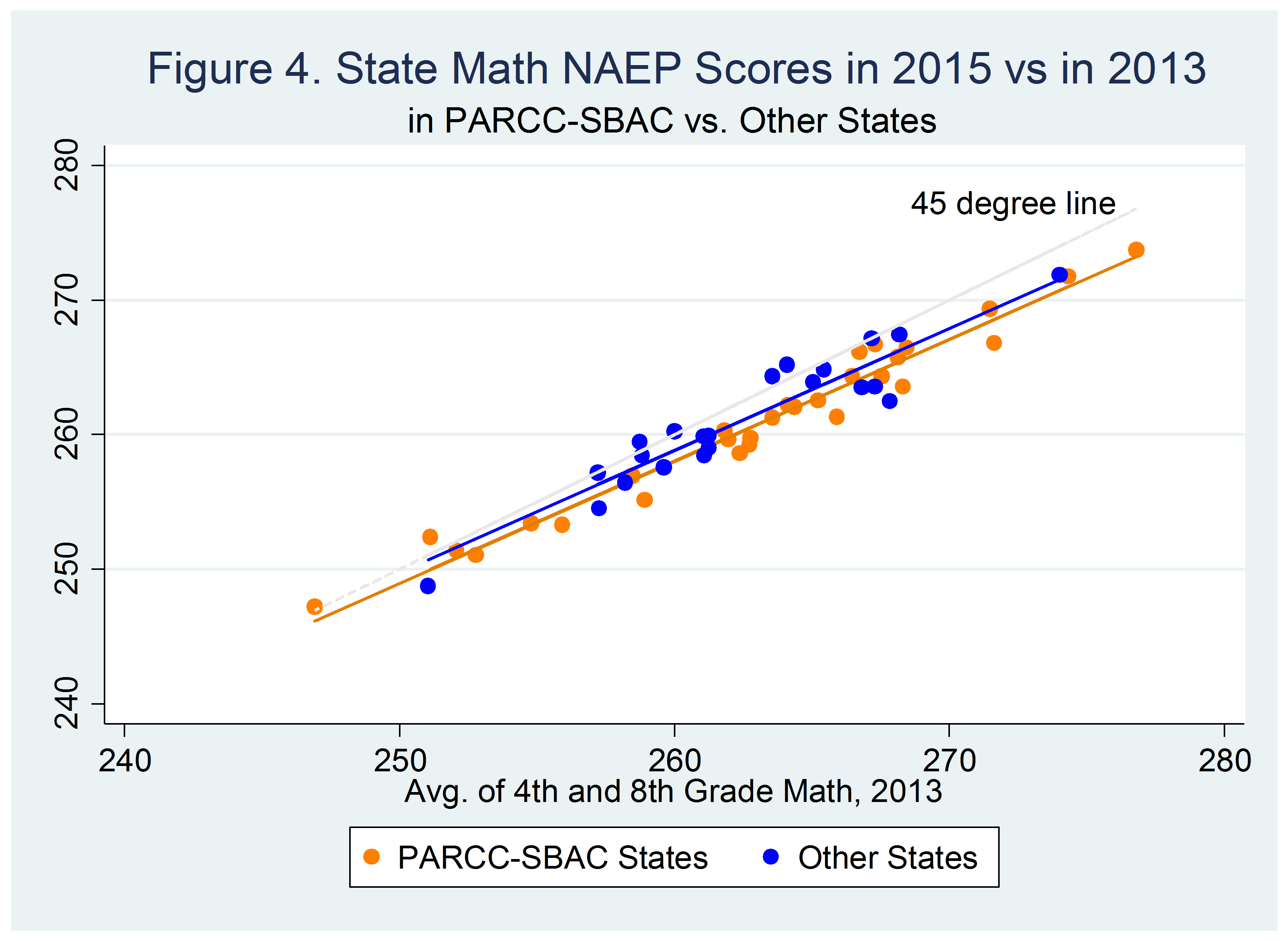 The Role of Alternative Payment Models
Lasting changes in CHF care require the proper economic incentives to support changes in delivery and services. Traditionally, providers are paid for each medical good and service they deliver, without regard for quality or outcomes. To support innovations in care and reduce Medicare costs, several alternative payment models such as bundled payments  and shared savings should help drive and sustain Duke and Colorado's programs.
Several mandatory payment changes forced a shift in cardiac care delivery. In 2010, Medicare reduced the physician fee schedule for cardiology services by a projected 8% in 2010, and nearly 13% in 2013. From 2011-2013, Medicare reimbursements stayed relatively flat, and reductions in cardiology relative value units in testing, traditional fee-for-service cardiac care became less lucrative. Further, in October 2012, as a result of the Affordable Care Act, Medicare began "paying for performance" through the new Value-Based Purchasing (VBP) program. Although the impact on CHF care was relatively minor, it shifted attention toward the condition since it was one of four clinical conditions rewarded through the program. Ultimately, the strongest motivator for hospitals was likely the readmission penalty, which will increase to 3% of total Medicare billing by 2015, which could lead to millions of dollars in fines.
In 2013 the Center for Medicare and Medicaid Innovation (CMMI), allowed enrollment into at least two optional programs: the Bundled Payment for Care Improvement Initiative (BPCI) and the Medicare ACO Shared Savings Program (MSSP). Both Duke and Colorado were interested in linking clinical innovations to value-based payment reforms that reward quality, outcomes, and reducing inefficiencies. This  alignment of care delivery and payment models helped move both organizations toward a culture of high-performance and innovation.
Bundled Payments
A bundled payment consolidates all services provided in a patient's episode of care, rather than paying each provider separately for each individual service or procedure. For example, physicians, hospitals, and post-acute care providers provide a set of services over a specified period of time within a single target price. This creates incentives for physicians and hospitals to coordinate patient care and reduce duplicative or unnecessary services. Bundled payments provide financial incentives for hospitals to work with community resources to keep patients safe, healthy, and out of the hospital.40 Further, bundled payments offer a method for payers to shift financial risk to providers, which creates shared accountability by replacing individual fee-for-service payments with a lump sum payment.41
Avoid a Financial Flatline through Payment Reform
Mai Pham, CMS Innovation Center
History: In 2009, CMS began the Acute Care Episode (ACE) demonstration with the goal of using a bundled payment to better align hospital and physician incentives.42 The demonstration included 28 cardiac and 9 orthopedic inpatient surgical services and procedures, which were chosen because volume in these areas had typically been high. The demonstration included a global payment that would cover all Part A and B services for a Medicare fee-for- service patient's hospital stay. There were also existing quality measures to track changes in quality for hospitals and physicians. If providers succeeded in meeting quality measures and improved efficiency they were eligible for financial rewards. Under the demonstration, Medicare would share savings with beneficiaries who chose to receive care from one of the participating providers. The ACE demonstration resulted in some cost savings but it was primarily due to decreases in materials costs.43 At least two of the participating hospitals saved approximately 10-12% on materials costs in the first year. One hospital, however, saved nearly $1.6 million on cardiac and orthopedic services.44
Bundled Payments for Care Improvement Initiative (BPCI): CMMI launched the BPCI in January 2014. Medicare computes an average cost per patient episode, cuts it by 2 to 3%, and then hands the entire cost bundle over to a provider. If the participants are able to offer more efficient care for less than 97 to 98% of the prior costs, the provider keeps the difference. BPCI participants can allocate this payment to create more efficient care, regardless of whether those services are currently paid by Medicare. By allowing hospitals, physicians, and post-acute care facilities to share in the gains from care redesign, they are incentivized to produce cost savings. In addition, the improvements in care could spillover to private payers.45
Participants chose from four models based on payment structure, provider types, and services (Fig 6). Large hospital systems such as Duke and Colorado could only choose between model 2 and 4 because model 1 excluded inpatient physician services, and model 3 is restricted to post-discharge services. Under model 2 all providers continue to receive fee- for-service payments at standard reimbursement rates directly from Medicare. After the episode concludes, Medicare goes back and calculates the total costs and compares that  to the pre-established bundle price. If lower, the provider gets the difference; if higher, the provider must pay back the difference. In model 4, the hospital would receive a single,&