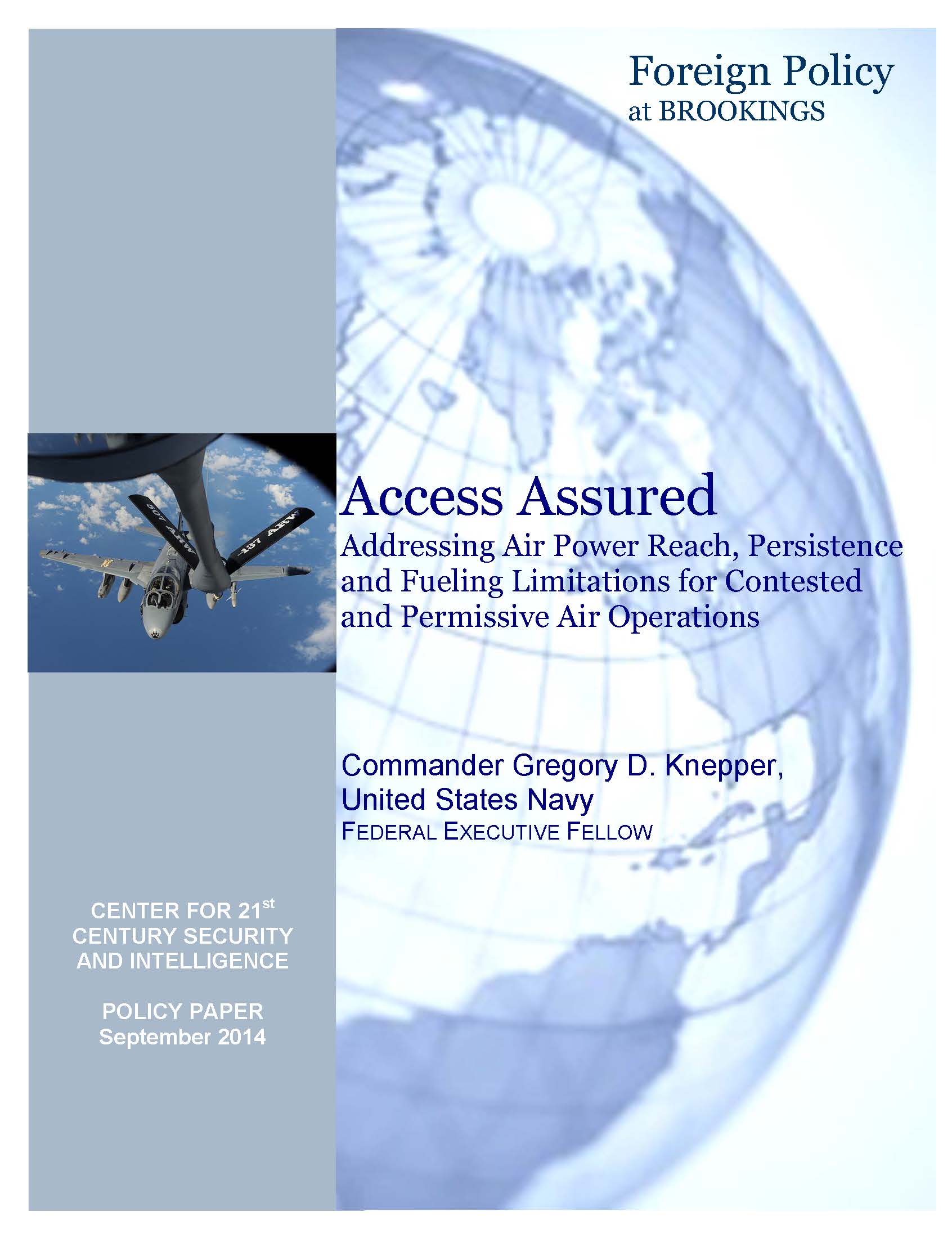 In any future strategic environment, air power will be a critical component of U.S. military strategy. However, U.S. air power faces deep constraints in two divergent areas: range limits in contested airspace and persistence limits in permissive airspace. While the issues of fuel and refueling have not received as much attention as the growth of advanced threats to air assets, their combination threatens to undercut the effectiveness of future air operations and access into potentially denied airspace. At the other end of the combat spectrum, air supremacy in uncontested airspace allows for greater persistence in providing crucial intelligence, surveillance and reconnaissance, which similarly relies on the sustainment of fuel resources. 
Bisecting the future operating environment into distinct domains, contested and permissive airspace, this paper seeks to address the impact of current range and persistence limitations in conjunction with fuel and refueling resources. To meet the range requirements in contested airspace, the Department of Defense (DOD) should mitigate existing vulnerabilities relative to potential threats to ensure not only a credible conventional deterrent, but when necessary, the ability to project power against a progressive adversary. In achieving persistence requirements in permissive airspace, the DOD should evaluate greater efficiencies in providing longer endurance options.
Range limitations in contested airspace:
Increase survivability of airborne refueling tanker aircraft;
Plan for defense of tanker aircraft in the same manner as other high value airborne assets;
Incorporate tactical airborne refueling connectors using current inventory of manned aircraft;
Develop tactical airborne refueling connectors leveraging unmanned aerial systems (drones);
Ensure that the requests for proposals for next air systems address both combat capability and radius to achieve the necessary reach dictated by the assessed threats in the future operating environment.
Persistence inefficiencies and endurance limits in permissive airspace:
Acquire a long-endurance, self-sustaining air system that does not require refueling.
Author
At the end of the day, as we all know thorny national security issues don't just involve the military; political-military considerations invariably bleed into them. If the senior military's leadership views are going to be just constrained to military advice … who is thinking about issues from that broader perspective?
President-elect Bolsonaro has embraced tough-on-crime measures that egregiously violate basic human rights and eviscerate the rule of law. Responding to Brazil's 63,880 homicides in 2017, Bolsonaro calls for increasing protection for police officers who kill alleged criminals and arming citizens. He calls for further militarizing urban policing, reducing the age of criminal liability from 18 to 16, reinstating the death penalty, authorizing torture in interrogations and imprisoning more people... Brazil's police are already notorious for being one of the world's deadliest in the use of force. In many favelas, Brazil's retired and current police officers operate illegal militias that extort and control local communities, murdering those who oppose them and engaging in warfare with Brazil's highly-violent gangs and in social cleansing. Bolsonaro is simply threatening to turn the rest of the police into state-sanctioned thugs.