WANT TO LEARN? GROW? CONNECT?
Brookings' vision is to empower each employee with the tools and guidance necessary to develop in their current role, and when applicable, depart Brookings with the capacity to be highly competitive in the job market of their given field. Through the following professional development activities, we aim to increase job competency and performance, encourage the cultivation of knowledge and skills, promote employee engagement and satisfaction, and advance Brookings as an employer of choice.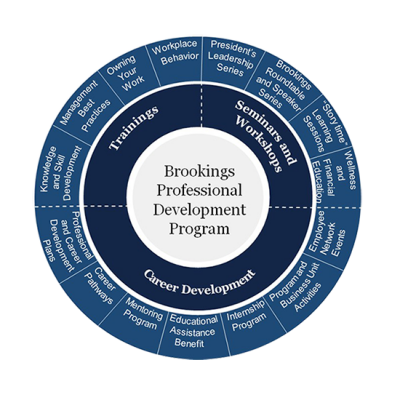 PROFESSIONAL Networks
Highlighted below, as part our professional development program, are the various employee-led, volunteer networks that help support the Brookings community
Brookings Network: The Brookings Network (BN) seeks to create a cohesive community for staff by fostering interdisciplinary collaboration and communication through professional development, community engagement, and social activities. Since its inception in 2010, the BN has organized and hosted over 250 events attended by more than 1,000 staff. These events include brownbag discussions led by Brookings staff and scholars, internal and external networking events, and volunteer outings and service programs, among others. BN is led by a volunteer steering committee of staff from across the Institution and is always looking for new and exciting ideas to further its mission.
Women's Impact Network: The Women's Impact Network (WIN) is a cross-institution group dedicated to the advancement of women at Brookings and in our surrounding community. Our core mission is gender equity, but we take strong interest in advancing diversity and equity of all kinds at Brookings and beyond. Originally launched as the Women's Mentoring Network in the spring of 2008, WIN is a cross-institution organization for the staff and scholars of Brookings. The Network consists of over 200 members who come from all programs, offices, and career stages at Brookings.
Data Network: The Brookings Data Network is a voluntary association of research, ITS, and communications staff with the goal of advancing the institution's data science capabilities. The Data Network offers monthly brownbag presentations on data tools and methodologies, provides opportunities for staff interested in data science to meet and collaborate, and partners with ITS to ensure that researchers have access to the tools that they need to perform cutting-edge quantitative research.