Op-Ed
Letter to the Editor: Displaced in Azerbaijan
To the Editor:
I have visited Azerbaijan and seen firsthand the tragic plight of its 600,000 internally displaced persons (front page, July 24). Languishing in destitution, which the government has been inclined to maintain as stark evidence of the urgency of return and of re-establishing control over occupied territories, they have become hostages to the goal of return.
But the situation is not without hope. After my conversation with President Heydar Aliyev, the government has acknowledged that improving the conditions of the displaced cannot continue to be put off.
In partnership with the international community, it has developed a new approach aimed at promoting self-reliance, including a $10 million loan from the World Bank. It is urgent that this and other programs be put into effect to support durable solutions.
Francis M. Deng

The writer is a representative of the United Nations secretary general on internally displaced persons.
Author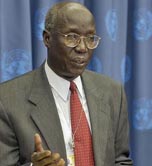 My biggest concern is that Washington is signaling to Russia that it's OK to meddle in the politics of sovereign nations which are your neighbors. Meddling is going on from Paris to Ukraine, from east to west and north to south, within Europe and at its borders, and always with the intent of undermining the credibility and effectiveness of democratic institutions. And it is being either denied or downplayed.